Thom Browne's Fall 2018 Collection Puts the Female Form on Full Display
The designer's second show in Paris was a couture-like salute to womanly curves, masculine tailoring and an unbelievable amount of grey flannel.
To have had a designer as wildly inventive, beloved and just plain delightful as Thom Browne quit the New York Fashion Week calendar for Paris's last season was — not to be dramatic or anything — a devastating blow. It certainly didn't help matters that Browne's charming Spring 2018 runway show was one of the books, and for many showgoers, a highlight of their full fashion month experience. How would — how could — his sophomore presentation in Paris live up to an experience so moving that it was exactly what the fashion industry needed to see at that very moment? 
Well, he wouldn't, and he couldn't — at least, not explicitly. That's part of the reason why Browne's shows are so fantastical, actually: While his events are all equally beautiful or creative or emotional, no two seasons are even remotely the same. 
Browne's Fall 2018 collection, presented on Sunday evening at the ornate Hotel de Ville, was a true testament to that fact. This season, Browne traded in his white lace unicorns and "The Little Mermaid" soundtrack for painters (clad in impeccable suiting, of course) and Madonna's "Vogue" played on loop. The set was arranged to create two long rows of smaller sitting areas, each positioned so that a slightly raised platform sat directly in the middle. In doing so, Browne created one extremely intimate mini-atelier after another, each equipped with their own personal artist. 
Though Browne is most known for his suiting, he very obviously, and thoroughly, adores the female form — and if that wasn't clear to you before, this collection made it so. The range featured some incredibly voluptuous silhouettes, some exaggerated to the point of absurdity, but others done just so that it appeared to be a healthy play on the hourglass or corseted shape. But Browne is a master at juxtaposition, and anything almost-comically womanly was offset by his signature masculine tailoring.
It's because of this that the range felt more like a couture collection than a ready-to-wear one; also perhaps due to the sheer level of artistry required to work in all grey flannel — which, well, he did, because why not? This mastery, especially when viewed so close-up, was just remarkable: The flannel had been draped, pleated and embellished with pearls; inlaid with breathtaking embroidery; and treated with tromp l'oeil shading and marble effects. 
Browne's Spring 2018 dreamscape moved showgoers to tears, yes, but his Fall 2018 version was touching in a different way. He quite literally put the female form on a pedestal, and did so, impressively, using the least objectively sexy fabric of them all. 
Click through below to see Thom Browne's full Fall 2018 collection.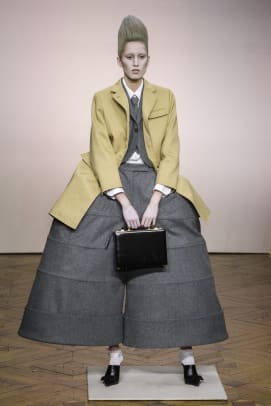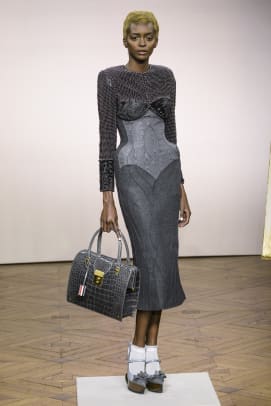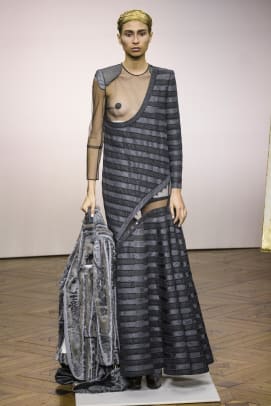 Sign up for our daily newsletter and get the latest industry news in your inbox every day.