Abercrombie & Fitch Launches a John F. Kennedy-Inspired Collection
The line takes cues from his classic Americana style and love of sailing.
John F. Kennedy and his effortlessly suave style has made him, arguably, one of the most sartorially influential American presidents to hold office. (It takes some serious clout to make the traditional men's brimmed hat a faux pas after famously showing up to his inauguration without one.) With his mismatched suits, linen button-downs, chunky crewnecks and retro trainers, the latter of which he often wore boating with a smart pair of chinos, Kennedy mastered the art of laidback sophistication. 
Abercrombie & Fitch, apparently, has taken notice: A pair of A&F chinos previously owned and worn by JFK — that the retailer went on to purchase from the Vintage Showroom in London for its own archive — has inspired A&F to create a new capsule collection inspired by our 35th president. The line, which honors JFK's timeless style and adventurous spirit, includes an updated version of those chinos, pictured below, as well as nine other pieces of men's sportswear, including swimwear, fleece and preppy, cozy knitwear. 
But the chinos remain the collection's pièce de résistance: The 2018 interpretation take most of the pants' key features, but incorporated a cropped ankle, baggier leg and a higher hit on the waist. "It is an honor to get to work with such a rich heritage, and to offer our customer products with authentic stories is a unique opportunity," said Aaron Levine, SVP of Design for Abercrombie & Fitch, in a release. "It is an iconic style, befitting of an American icon."
To further exemplify the late president's crisp Ivy League, all-American aesthetic, the design team made replicas of a white hooded fleece from the 1960s, which features a vintage A&F "Sailing Club" logo and a sailing jacket with an A&F "storm" logo in dyed hues of red, white and blue. And to pay homage to JFK's love of sailing, the brand created swim shorts in a blown-out patriotic paisley print, a white rope pattern and a deep navy colorblock with white stitch detail.
You can browse the lookbook from the JFK-inspired capsule collection below, which dropped in A&F stores and online Tuesday.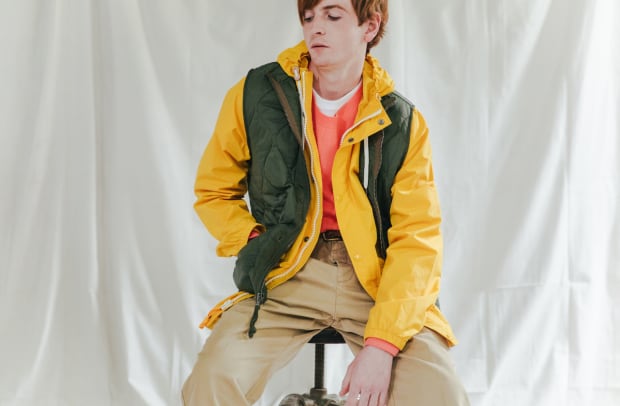 Sign up for our daily newsletter and get the latest industry news in your inbox every day.