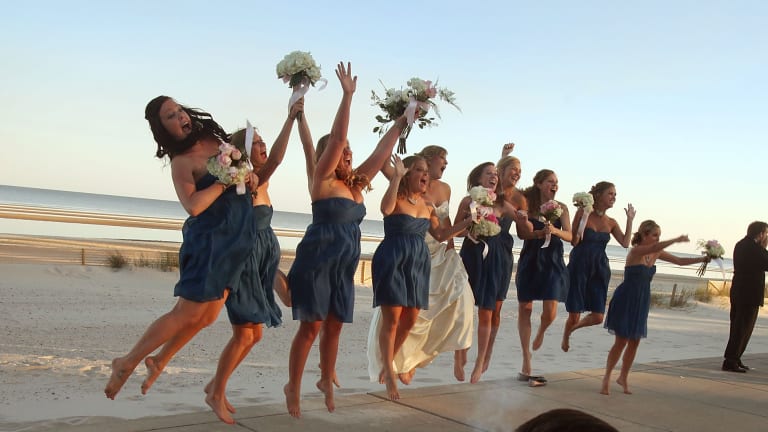 Fashion People Have Disastrous Bridesmaid Experiences, Too
As wedding season approaches, models and editors share their stories.
While they may seem to lead exceptionally glamorous lives, celebrities and fashion editors willingly (or not) sign up for bridesmaid duty for their friends and families just like us. Their responsibilities may entail planning a classy shower and debauched bachelorette party, champagne-fueled wedding gown shopping, helping a the bride go to the bathroom on the big day (been there, twice) and, of course, wearing the mandated bridesmaid dress. 
These days, bridesmaid dress options run the gamut of styles (and, thankfully, price points), but a wardrobe malfunctions, inclement weather-induced debacles and other sartorial disasters are still very possible. But hey, it all leads to a fun story to share, as model Shanina Shaik, "Arrow" actress and Tomboy KC co-founder Katie Cassidy, "Dynasty" costume designer Meredith Markworth-Pollack (who, fun fact, ended up recycling her friend's Vera Wang wedding dress on "Reign") and more fashion people, happily did below. They'll all agree that the humorous-in-retrospect moment was worth it to celebrate a loved one's special day. Well... most of them.
Shanina Shaik, Model and Actress
"On the day of my best friend's wedding, it was finally time to change into our bridesmaid dresses for the ceremony. To my surprise, when I put on my dress it was too big! I began to panic and didn't know how this problem was going to be solved as it was only 20 minutes prior to the ceremony. Luckily, the amazing Michael Costello and his team were on standby and somehow altered my dress in fifteen minutes. I had just enough time to run out the door, take photos with my bestie, and walk down the aisle — phew!"
Carrie Goldberg, Travel & Weddings Editor, Harper's Bazaar
"My best friend from high school originally told me she wasn't having bridesmaids and I was kind of relieved because we don't share the same taste and I was really excited to wear what I wanted. Then she called me and asked me to be in her wedding [and wear a bridesmaid dress]. Her mother handled the dresses and ended up choosing this ... vibrant guava color and I'm really pale, so it didn't suit my skin tone at all. I decided to make my own dress because none of the strapless dresses suited my body. I have boobs and I'm a size eight. I made a custom dress with this awful polyester fabric and basically spent double what every other bridesmaid spent. Then I was so hot and the fabric felt like it was suffocating me. 
I have since not really kept the friendship with her because she saw me feel the least confident I've ever felt about myself in front of every person that we grew up with: my ex-boyfriend, my parents' best friends. I would never have shown up looking like that to an event they were at. I couldn't believe that someone who claimed to know me that well would ever be okay with me feeling that bad about myself. That's when I started thinking it was okay to say 'no' to being a bridesmaid."
Hillary France, Co-Founder/CEO, Brand Assembly
"Anyone who knows me knows that I have a serious runny nose problem (glamorous, I know!), so I am never too far from tissues. A few years ago, I was a bridesmaid for my friend Kristen, but I was just getting back from fashion week travel and caught a terrible cold. Not knowing what to do to keep my tissues close by during the ceremony and mingling, I stuffed them down my dress (luckily it was strapless). Though I tried to go incognito when pulling them out during the ceremony and reception, it did not go unnoticed by others and the tissues even made an appearance in some of the photos."
Brides, Real Weddings Editor, Anna Price Olson
"I was in my college roommate's wedding this summer and wore a floral print dress. The bride selected the color (watercolor gray) and let us choose the style, which was so sweet and considerate of her. But if you're wearing a convertible dress, you need to actually practice tying it before you have to be ready for photos. I didn't, and we had four people watching the YouTube tutorial on how to do the off-the-shoulder style I wanted with 15 minutes to spare. Well, the video was not as easy to follow as the salesperson said it would be. I ended up having to give up on the off-the-shoulder style and wrap it around my neck — and the fabric wasn't even on each side (as evidenced by the photo). Oops!"
Marieclaire St John, Founder, Dresshirt
"I need to qualify this story by telling you that my wedding was a party — a wild, booze-fueled, food-filled party, which ended with all 175 guests, plus two photographers and a videographer fully (or partially) clothed in my parents-in-law's swimming pool. I insisted on having the bridesmaid dresses custom-made in a small town in Italy where their idea of a rager is four glasses of Chianti. My dear friend Penelope suffered what we will call 'a dance floor dress casualty' when the seam ripped open exposing her somewhere in the third verse of 'Higher Love' and she had to be sewn back in by my father and me in the middle of the tent. Luckily he is a seasoned designer, as well, and one time Savile Row tailor so the dress ended up better than it started!"
Katie Cassidy, Actress, 'Arrow,' and Co-Founder, Tomboy KC 
"I was a bridesmaid at my sister's wedding in Mexico. One of her best friends was reading this beautiful poem during the ceremony and it was so windy. The poor girl. Her whole dress flew up — it was almost like the Marilyn Monroe-effect — in the middle of the ceremony. She didn't know how to stop it and it was really awkward, so I just ran up behind her and put my hands down and grabbed her legs, so she could get through without being exposed everyone. It was kind of chaotic but it was fun."
Meredith Markworth-Pollack, Costume Designer, 'Dynasty'
"I was a bridesmaid in a good friend's wedding in Florida and in typical Florida fashion a quick, yet powerful rain storm rolled through in the middle of the outdoor ceremony. All the guests were prepared and pulled out their umbrellas, and someone ran to cover the bride and groom, but us bridesmaids had nothing — and we got soaked to the bone, custom dresses and all. With sticky wet hair and eye makeup running, we had go straight into group photo shots of the bridal party. There was no time for touch ups and we all just embraced our state and made the best of it. At the end of the day we were all cracking up over the day's events and ended up dancing the night away in a messy bliss... "
Rosalind Dean, Co-Founder and Director of Media Relations, A & D Agency
"I was in my friend's wedding, and the bride, who has great style, proposed we all wear jumpsuits and I love a pant, so it was a 'yes' for me. We had three fittings with a seamstress over a few months, but she couldn't seem to get the alterations right. Mine was too big the first two times. Then she took on a full-time project as a TV costume designer after she'd already agreed to make our jumpsuits, so we were clearly not a priority anymore. The next thing I remember is carpooling to the set of a BET three-part miniseries — based on true events — around 8 p.m. for our final fitting with the seamstress, a week before the wedding. Now mine was too tight! Another one of the girls also still had issues with hers. In the middle of it all, one of the lead actors popped into the trailer, as he needed an alteration. So I excused myself and called my aunt, who's a seasoned seamstress, to see if she could help. She could hear the panic in my voice, and agreed. She got two of our jumpsuits together with two days to spare. In the end, everything fit and the wedding was beautiful."
RELATED ARTICLES
Grace Lee, Founder, Birdy Grey
"Before I started Birdy Grey, I was in a friend's wedding and she chose bridesmaid dresses spun of itchy polyester tulle with a heavy polyester lining. We got them on sale, so mine was also about half a size too-tight, but I figured I'd make it work. The wedding was at the Andaz in Scottsdale, AZ in late spring, and the weather was, no joke, 100+ degrees! The bodice was so tight I could barely breathe, my legs were soaked underneath the dress, and I pretty much sweat my way through the ceremony. Guess where I finally found relief? At the ice luge."
Kristen Turner, Founder, Carpe Creative Studios 
"In preparation for my future sister-in-law's big day, I started making routine trips to the gym. One day, I was 20 minutes into my cardio when a message came in from my 'Bride Tribe' text group with an e-commerce link to pick our bridesmaids dresses, which were the same color and fabrication, but different styles. We had to select and respond to the group with our favorite, so no two girls ordered the same. I put my phone to the side figuring I'd take a detailed look when I was done with my workout. Almost immediately my phone began buzzing with texts from the 'Bride Tribe' selecting their dresses. I panicked and with my options getting smaller and the treadmill seemingly going faster and faster, I was frantically scrolling through the site on my phone. Feeling the pressure — and the side-eye from the guy on the elliptical next to me— I hastily picked a dress and regretted my choice immediately.
My friend suggested that I find another dress on the site I'd feel comfortable in and ask the bride if she'd mind me making a switch. I spent time preparing a carefully worded text stating my case. Within minutes, my future sister-in-law responded, 'Oh yeah definitely! I love that dress but I didn't think anyone would pick it. If you feel more comfortable in that style, then it's all yours!' I was so relieved. I literally picked the most fabulous and comfortable bridesmaid dress which P.S: It has pockets! Apparently, happy endings aren't just for fairy tales.
The interviews have been edited and condensed for clarity.
Top photo: Mario Tama/Getty Images
Want more Fashionista? Sign up for our daily newsletter and get us directly in your inbox.