How to Wear a Barrette Like an Adult
Today's episode of "Everything From Your Childhood Is Cool Again."
We've long known that trends are nothing if not cyclical, and while we've embraced recent nostalgic revivals like lip gloss, blue eye shadow and brown lipstick with open arms, hair trends are often slower to catch on. And it's no wonder: There's something about a voluminous leather scrunchie or a six-inch-long banana clip that doesn't exactly scream universal. But a simple barrette — like the ones that appeared on the Spring 2018 runways at shows like JW Anderson, Simone Rocha and Versace — is a great way to dip your toes into the hair accessories trend and also keep your hair out of your eyes.
While it may feel like we're just watching today's episode of "Everything From Your Childhood Is Cool Again," it's totally possible to wear a barrette without looking like you're headed off to third grade. The trick, says hairstylist and IGK co-founder Aaron Grenia, isn't just the type of barrette, but rather how you wear it.
"Some people can pull off a more traditional barrette placement, but you can also play with it in more modern ways," he says. "If you're using barrettes just for decoration, you could do a slicked-back look or ponytail with a couple barrettes placed in a row behind your ear. But if you're using them to hold the hair, such as to keep your bangs off your face, you could position it off your temple and to the side." Think: this style that Emma Stone wore in 2012 that's somehow still both relevant and breathtakingly pretty.
And though it might feel weird, wearing a barrette at the temple — or even at the base of a half-up, half-down ponytail, as you likely did as a toddler — is a great way to jazz up an otherwise simple look. To give it a modern update, Grenia recommends a little light teasing at the root, which has the added benefit of keeping the barrette in place. (Misting hairspray along the inner, hidden clip part can go a long way in that regard, too.) "You want to tease just a little, not so it's visible, but enough to create an anchor and friction for the barrette to hold," he says. "You can also use a texture spray, like IGK Beach Club Texture Spray, to add grip."
If you have curly or textured hair, keeping the barrette in place shouldn't be an issue. Instead, hairstylist and texture specialist Jasmine Santiago, who loves pairing metal barrettes with a classic soft-wave hairstyle, says her top concern is breakage.
"When using barrettes on textured hair, whether it be wavy curly or coily, I'd use ones that easily snap on and off," she advises. Santiago also recommends staying away from anything too intricate that can get tangled in the hair. And no matter which style you choose — Santiago also loves how Yara Shahidi wore her barrette here — she has one important rule: "Never sleep in barrettes! They'll definitely get tangled in the hair and cause breakage." (That's pretty sage, advice no matter if you're 30 years old or three.)
Now that you know how to wear a barrette like an adult (and without ruining your hair), shop 14 of our favorite styles ahead.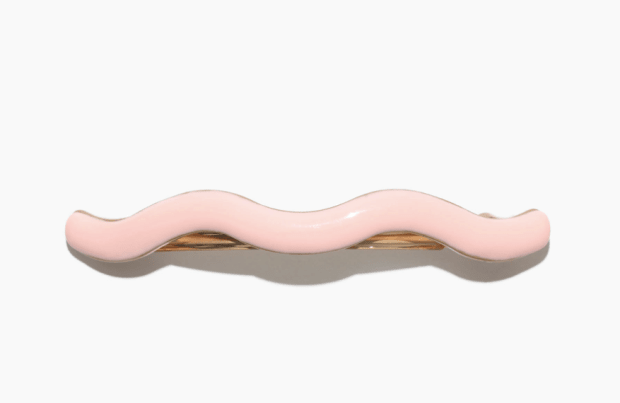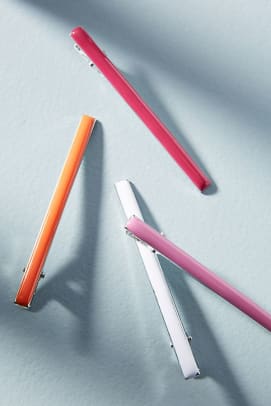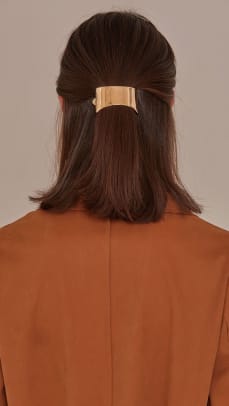 Please note: Occasionally, we use affiliate links on our site. This in no way affects our editorial decision-making.