Julia Engel, the Blogger Behind Gal Meets Glam, Launches Her Own Fashion Line
The size-inclusive collection centers around Engel's style staple: feminine dresses.
Charleston-based blogger Julia Engel may not be a New York Fashion Week front row staple or a regular at #RevolveFestival, but she certainly knows how to move product through her blog, Gal Meets Glam: In 2017, Engel drove $6.5 million in sales through ShopStyle alone. That helped land her on last year's Forbes list of the top 10 influencers in fashion alongside heavyweights like Chiara Ferragni, Danielle Bernstein and Leandra Medine.
Now, she's got one more thing in common with her mega-influencer counterparts. On April 20, Engel is launching her own fashion line, also called Gal Meets Glam, which is centered exclusively around dresses. Over the phone from Mexico, where Engel was shooting the lookbook for the next drop of Gal Meets Glam, she explained that she chose to design her own line of dresses because her followers have associated her with that particular style of garment since she started blogging in 2011. 
"I quickly realized that my readers were coming to me for a specific reason, and that's because my style was really feminine and classic," Engel says. "I don't follow trends; I'm just being really true to myself and incorporating that into all different elements of my life."
The idea first occurred to her in 2014, when Engel noticed a gap in the market for the kinds of dresses she herself wanted to wear at a decent price point. "Everything under $200 was always incredibly trendy or matronly and outdated; if I did find something that met all my needs, it was over $500 or over $800," she explains. Engel, knowing what her follower base was into and what kind of product she could move, felt confident that there was opportunity in the space.
Engel started a search for a production partner who could help her dream become a reality, which took a couple of years; Engel wanted to actually design the dresses rather than simply stamp her name on a product or a collaboration. That partner would end up being Maggy London, a family-owned, New York City-based company already known for making dresses. They linked Engel up with a head designer, and together with a fabric sourcer, began to work on Gal Meets Glam.
"They completely got my vision and where I wanted to go, based on all the inspiration I showed them and the way I described the collection, because I spent years fine-tuning what I wanted the line to be, of whatever I wanted all the pieces to look like and what I wanted them to represent," Engel says. "They had a designer who had worked within their company, and we met and spent time together. We just clicked instantly."
The key words for Gal Meets Glam are "classic" and "feminine," and looking at the launch collection, it's not hard to see why: Pale pastels and flowing shapes figure predominately in the April selection. While colors and prints may change with each drop — Gal Meets Glam will release 20 to 25 new styles in limited runs each month — Engel promises that they'll always be "timeless," something her customer can wear five years from now. Every style clocks in under $200; perhaps more importantly, the line is launching with inclusive sizing that ranges from 00 to 20.
"I think in this day and age, there's so many different body types, and women shouldn't have to shop within different sections of a department or feel like they have to go to a specific store to buy something that they like," Engel says. "I think women should be able to all wear what they feel connected to, and so I wanted to be able to have the dresses available to anybody that wanted to wear them."
RELATED ARTICLES
The collection will retail at Gal Meets Glam and through an exclusive partnership with Nordstrom. The Maggy London team, who have an established relationship with the retailer, mentioned early on in the process that they were working with Engel on a fashion line. Nordstrom expressed an interest in seeing the line, and after previewing the first collection, agreed to carry Gal Meets Glam online and in 40 doors. "They loved the vision of it, they agreed that there really wasn't anything like that," Engel says. "That was really wonderful to hear, that the vision that I had wasn't just only in my head." 
It's a smart gambit on the part of both Engel and Nordstrom; if Engel can move millions of dollars of other brands' product, it stands to reason she'll be able to sell her own as well. She's been teasing the line on her Instagram, and already the feedback from fans has been encouraging. For Engel, the fashion line is the future of Gal Meets Glam. 
"Obviously it's been incredible to build a community of women through the blog over the past seven years, but I think it's time to take that community and be able to become a bigger part of their lives, through a product instead of just content," she says. "I'll still keep the blog going, and just integrate the collection; these are dresses that I love and I'm going to wear daily, so I think it will be a very seamless transition."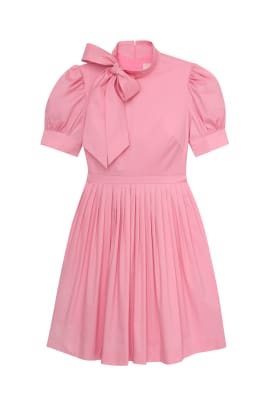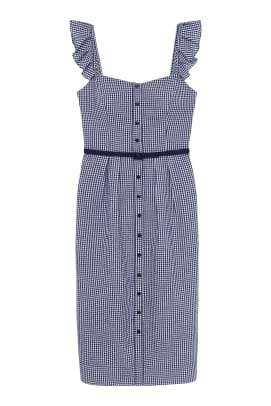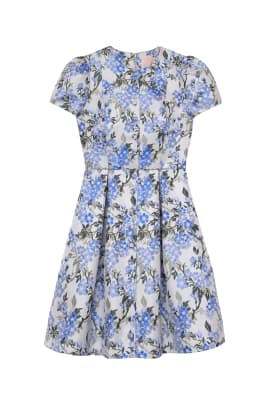 Want the latest fashion industry news first? Sign up for our daily newsletter.