What Was It Like to Visit Versailles in Its Heyday? The Met's Lavish New Exhibit Shows Us
Take a look inside "Visitors to Versailles (1682–1789)" before it opens to the public on Monday.
Even if you've neither studied nor visited Versailles, the estate that was the seat of political power in France from 1682-1789, you're still familiar with Versailles, the palace that's long been synonymous with regal opulence and excess. Our fascination with its grounds, and with those who resided on them, hasn't changed much in the 229 years since the French Revolution began. And while there's no shortage of references to Versailles in everything from literature to pop culture, one particular, fundamental facet of the château has been overlooked: its visitors.
In its heyday, Versailles, a symbol of France's wealth and power, was famously one of the most open palaces in Europe. While it was the home of such royals as King Louis XIV (otherwise the "Sun King") and Marie Antoinette, it also played host to travelers from all walks of life — local diplomats, foreign embassies, courtiers, students, tourists and the like — flocking to its palace and gardens, much of which were open to the public so long as they were decently dressed.
Although more private portions of the palace itself remained off-limits, Louis XIV made himself and his family widely available to their subjects. Several times a week, the sovereign held a ceremonial "grand couvert" in which the royalty dined before the public, while Louis XIV allowed for visitors to watch him pass through the Hall of Mirrors to attend daily mass. And then there were religious holidays and other special celebrations, which featured fireworks, fountain shows and musical performances that attracted hoards of onlookers. But the "best part of Versailles," wrote traveler Adam Ebert from Frankfurt in 1724, was still "the king himself."
Related Articles
With Versailles's visitors being such a crucial element of the palace's history, why hadn't they been properly recognized as such? Nearly five years ago, this led Daniëlle Kisluk-Grosheide, a curator in The Metropolitan Museum of Art's Department of European Sculpture and Decorative Arts, and Bertrand Rondot, a curator at the Palace of Versailles, to discuss compiling a book, only to realize that literature, even if accompanied by 360-degree augmented reality, would not do the topic justice.
Luckily, the pair had both the Met and Versailles in their corners — and on Monday, "Visitors to Versailles (1682-1789)" opens to the public at the museum's Tisch Gallery. By all standards, the show is enormous, comprised of nearly 190 works from more than 50 lenders worldwide, including the Palace of Versailles and in the case of one very special suit, the Smithsonian. (Because of the scope of the exhibit, a number of items underwent restoration, leading to several conservation projects.) There are the fashion-adjacent garments, of course, like costumes, accessories and tapestries, but there are also paintings, portraits, furniture, carpets, porcelain, sculpture, guidebooks and even weaponry, all to provide a thoroughly comprehensive overview of what visitors encountered at court.
While the exhibit certainly explores the grandeur that comes associated with all aspects of the estate, it also approaches Versailles from a purely practical standpoint. What was it like to visit Versailles? Who went there? How did one get there? And how did one dress for the occasion? 
To best answer these questions, the physical space was rendered to be evocative of a Baroque palace, complete with custom wallpapers created by The Met's in-house design team, as well as 18th-century-style parkour hallways. The costumes and tapestries are kept in low light, save for a bright, airy transitory room that houses a single rouge robe à l'anglaise in the first half of the gallery. The exhibit's audio tour has also been enhanced to incorporate an atmospheric, 3D soundscape.
Each separate gallery, linked by a gallery hallway, is devoted to one of the functional themes referenced above. The exhibit begins with "Getting Dressed for Court," a series of costumes that explain the dress code of the estate, including a plain wool travel suit, an embellished ballgown and a dress worn by the wife of a cotton-printing entrepreneur for a visit with Marie Antoinette. It then transitions to "European Diplomats," followed by "To See the King," "Off-Limits," "Overseas Embassies," "Incognito and Private Visitors" and "Tourists and Souvenirs," concluding with "American Visitors, Growing Decline." In this final room, the show's pièce de résistance, on loan from the Smithsonian, is displayed: Benjamin Franklin's three-piece silk suit, worn on a diplomatic trip to Versailles in 1778 that resulted in the Treaty of Alliance. Franklin and two other founding fathers, John Adams and Thomas Jefferson, came to Versailles on visits that helped acquire French support for the American cause.
Other hero pieces are incorporated throughout, such as a large marble bust of Louis XIV, cannons that were later used for the Storming of the Bastille and a sedan that carried members of the royal family to and from the palace. But perhaps most impressive is the wall tapestry at the start of the exhibit: Designed by Charles le Brun, the piece took four years to create from 1673-1677 and depicts Versailles in the distance with a royal carriage approaching through the gardens. The hanging, part of a series of 12 tapestries, pays homage to Louis XIV's father, whose hunting lodge Louis XIV transformed into the Versailles as it is still known today.
By October 1789, five months after the start of the French revolution, the royal family was forced to relocate to Paris, after which Versailles fell into disrepair through World War II. But the fascination with the palace perpetuated through that period of neglect. Kisluk-Grosheide explained during the press preview that this may be because not much of our world has changed; she points to a photo of France's Emmanuel Macron and Russia's Vladimir Putin riding on a golf cart around Versailles in May 2017. "I think some people are attracted to the power that was on display there," she said. "It was a place to dream."
The Met's "Visitors to Versailles (1682-1789)" opens on Monday and runs through July 29, 2018.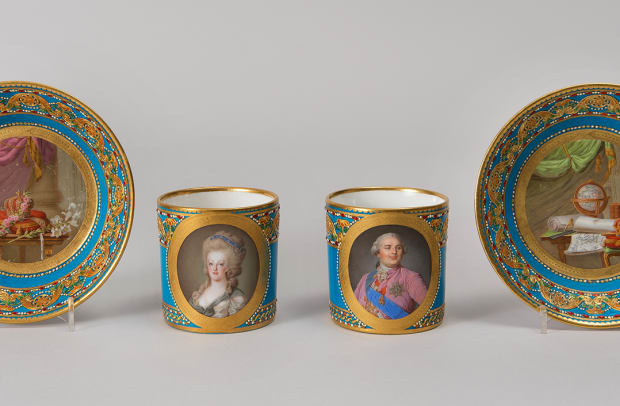 Sign up for our daily newsletter and get the latest industry news in your inbox every day.