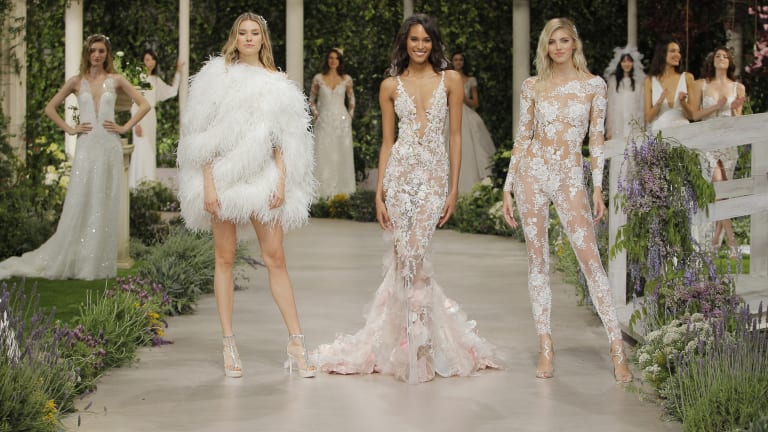 Spanish Heritage Bridal Brand Pronovias is Ready to Conquer the U.S. Bridal Market
Its new CEO Amandine Ohayon is on a mission.
With its 2019 Atelier Pronovias collection runway in Barcelona this past Monday, Spanish heritage bridal brand Pronovias introduced a brand new chapter in a more spectacular fashion than usual. But, as has traditionally been the case, the annual bridal fashion show was stacked with more than 40 looks and an impressive model lineup, including Victoria's Secret Angels —  both on the runway and sitting front row.
Last July, Pronovias founder Alberto Palatchi Ribera sold a majority stake in the Barcelona-based company to private equity firm BC Partners for an estimated 550 million euros (US$627 million, according to La Vanguardia via Reuters), with the Spanish billionaire holding a minority 10 percent share. Understandably, Palatchi Ribera seems to still be emotionally attached to the three-generation family biz. He's known to drop into the Pronovias HQ on occasion to say hello and also enthusiastically greeted well-wishers at the runway venue decked out like a lush, romantic French garden. Also in attendance: the company's brand new CEO, Amandine Ohayon. 
"I'm really excited," said the incredibly chic Parisian, a few hours before the show, as we sat the posh lobby bar of the Hotel Miramar, overlooking Barcelona. Ohayon recently moved to the Catalonian capital from London, where she was Managing Director for L'Oréal Luxe, U.K. and Ireland, overseeing luxury beauty brands, including Lancôme, Kiehl's, Shu Uemura and YSL. Taking the reins less than two months earlier on March 1, Ohayon immediately clicked with Creative Director Hervé Moreau on the vision for the Claude Monet Giverny Gardens-inspired collection for the Atelier Pronovias line, titled "In Bloom." 
"What was really important is for me to go back to the real true concept of what was d'origine at Atelier Pronovias," Ohayon said. The 2019 Atelier Pronovias collection celebrates the company's heritage through hand-crafted floral detailing and intricate embroidery, while also appealing to the modern customer through a tradition-breaking jumpsuit or functional convertible gowns and versatile separates. While Pronovias, the company, pioneered ready-to-wear bridal since 1964, the high-end Atelier Pronovias is the customized and made-to-measure luxury line within its seven brand portfolio.
"There is a lot of newness and innovation, but really the savoir faire, the craftsmanship, the couture has been at the heart of this collection," added Ohayon. 
Moreau designed the floral and nature-themed collection to speak to brides with a range of tastes, as the global brand sells gowns and evening-wear via 3,800 retailers and 45 stores worldwide. Although, he admitted to designing with specific aesthetics in mind, as opposed to different cultures or regions. "For the classic woman, for the sexy woman or for the boho woman," he said, during a media event at the company headquarters the day before the show.
The 40-plus look collection was definitely comprehensive: intricately embroidered and beaded body-con illusion dresses, a modest, a caped and long-sleeve crepe ball gown delicately detailed with 3D flowers and an adorable feather-covered cape-mini-dress hybrid made for Boomerangs. The model lineup was ethnically diverse and also dotted with Victoria's Secret Fashion Show vets, including Devon Windsor, in the aforementioned jumpsuit in lace illusion and body-con form, Romee Strijd, who opened in a strategically-embellished sheer-paneled gown, and Cindy Bruna, who closed in ombré florals. Moreau's "muse," Irina Shayk sat front row this year, instead of walking the runway.
With the show (and raging after-party, per usual) behind her, Ohayon can fully concentrate on her number-one goal as the newly installed CEO: to grow Pronovias in the U.S. The label is a recognized leader in bridal wear internationally, but it faces worthy competition in the increasingly crowded Stateside market, with high domestic recognition for American designers, such as Vera Wang and Monique Lhuillier. Plus, direct-to-consumer startups (and fast fashion) are eagerly disrupting the industry, which has been traditionally resistant to change.
But perhaps now is the right time for Ohayon to ramp up U.S.-focused Pronovias efforts. According to market research firm Transparency Market Research, the North American bridal wear industry is projected to grow from $7.9 billion in 2017 to $11.2 billion by year end 2022 — driven mostly by advancement in styles, fabrications and design, plus increased interest in wearing "designer" brand dresses.
In her second week on the job, the hands-on CEO — well-known during her L'Oréal tenure for surprise visits to retailers — spent a week in Los Angeles and New York to gain an on-the-ground understanding of the American market. She met with team members at the seven-floor Manhattan Pronovias flagship and bonded with brides trying on gowns in the spacious fitting room. 
Her first takeaway: "We've been treating the American market like an export market. We didn't have a strong presence on the ground." So following the trip, Ohayon created the President of North America position, based in New York, and hired Ralph Lauren and Michael Kors vet Amanda McCormick Bacal to fill the role.
Ohayon also gained a deeper understanding of the influence of digital and social media on the American consumer. In 2016, the Brides American Wedding study found that, in the planning process, 82 percent of brides connect with wedding brands and products through social media, while 33 percent are specifically looking on Instagram. "Driving the digital transformation of Pronovias is going to be one of my key objectives," Ohayon said. 
Pronovias was one of first major bridal brands to embrace #influencer marketings with the launch of the It Brides campaign in 2016, featuring Danielle Bernstein of We Wore What, Rumi Neely and "The Hills" and "The City" alum Whitney Port. Earlier this year, Pronovias introduced a more ambitious "Yes I Dream" effort, first starring French influencer Adenorah and, now Rocky Barnes, who also sat front row at the 2019 collection show. The super-sized campaign includes an Instagram contest for a prospective bride to win a trip to Barcelona to become their own influencer and star in a photo shoot sampling Pronovias wedding dresses.
While digital is key, having a physical presence in the U.S. is also essential to Ohayon's plan, especially since Pronovias touts its plush and customer service-oriented "destination store" concept, which originated with the Barcelona flagship. "Watch this space because you will see more Pronovias destination stores across the country. [U.S.] customers will be able to experience the brand first hand," she said. A local presence will also allow the brand to have constant and direct dialogue with the American consumer.
RELATED ARTICLES
Increased traditional brick-and-mortar stores will also be the ideal settings to test out new technology for Pronovias. "We've always been at the forefront of innovation, but I want to put that on steroids even and really surprise everyone," said Ohayon. "We're currently trying a new digital technology that's going to help us to take the perfect body measurements to guarantee that we do perfect made-to-measure dresses." 
On one hand, Pronovias is at an advantage with its significant resources and scalable manufacturing processes, but it's also competing with nimbler, direct-to-consumer startups touting various levels of customization, including Anomalie and Floravere. 
Ohayon also has her eye on growing other categories within the Pronovias portfolio, including evening-wear and bridal accessories, including veils, headpieces, shoes and gloves. "We're seeing a huge increase in accessories — a high double-digit increase year to date, and I think it's going to continue to develop," she said.
It's timely that the new Pronovias era involves a female CEO leading a global brand with a predominantly female clientele. Ohayon joins an inspiring club that includes Dawn Bromander, President of Ines di Santo and Shawne Reece Jacobs, President of Anne Barge, plus CEOs of their eponymous brands, including Reem Acra, Vera Wang and Romona Keveza. Female leadership creates brand experiences that are more authentic and resonant to their most invested audience. And that's not lost on Ohayon.
"The first thing I did was try on the dresses because I want to know how they feel. Are they too heavy? Are they too this or too that? I really like put myself into like a bride's shoes," Ohayon said. "I like to lead from the front. I'm a doer. So going in stores, spending time with my retailers, spending time with the bride is for me an important part of leadership. I'm not the kind of leader that is leading from a board room."
Her work ethic and aesthetic already have a fan in the company's Creative Director. The visibly fatigued Moreau's face lit up when I asked him about working with the new CEO leading up to the runway show. "It was really easy for me to work with her because she's my alter ego, in fact. She understands, perfectly," said Moreau, who is also French. "I am so happy to have a woman like her to represent Pronovias."
Plus, it's kismet that Ohayon is, herself, a #pronoviasbride in the midst of preparing for her own big day.
"I'm in the best place to plan a wedding!" Ohayon said, with a smile. "I know that Hervé has plenty of ideas of what he wants to do with my dress. Watch this space."
Click through the entire Atelier Pronovias 2019 collection in the slideshow below:
Disclosure: Pronovias provided my travel and accommodations to review the 2019 collections show.
Top photo: Courtesy Pronovias
Want more Fashionista? Sign up for our daily newsletter and get us directly in your inbox.