19 Shiny, Slick and Super-Fun Vinyl Skirts and Pants
Trade in your denim for something with a little more gloss this spring.
Look, I'm not going to sit here and pretend that denim isn't just the best. Jeans, and jean shorts, and jean skirts, and jean jackets, and jean shirts are some of the most versatile and durable (not to mention comfortable) clothing options on the planet. But, sometimes you just want to liven it up — you know, to get a little crazy and leave your favorite dark wash in the closet in favor of something with a bit more…gloss.
I'm talking about vinyl, of course. Shiny, slick and super-fun vinyl. The vintage-y patent leather has been making an appearance on runways, in street style and on Instagram for a few seasons now, but we've convinced ourselves that this spring is the season for it. It's not summer yet, so you don't run the risk of having the admittedly slippery fabric stick to your sweat; you can wear it with a tee and sneakers on warmer days, or boots and a coat on cooler ones (as evidenced by Fashionista favorite Nicolette Mason, pictured below). 
And! It looks extremely badass on just about everyone, so good thing there's a bunch available across the internet at all price points right now.
We've done the hard work for you and compiled a gallery of our 19 favorite vinyl skirts and pants, below, to give a shot this spring.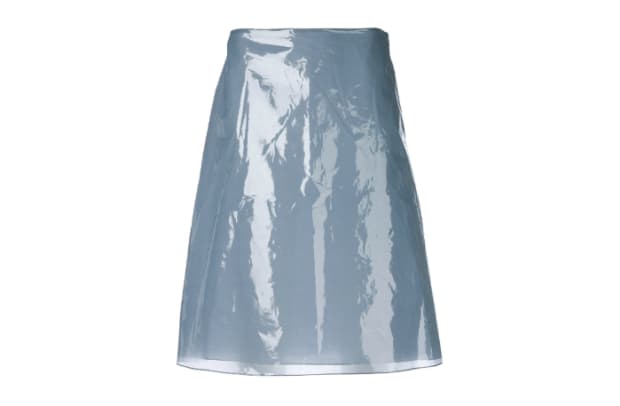 Please note: Occasionally, we use affiliate links on our site. This in no way affects our editorial decision-making.
Sign up for our daily newsletter and get the latest industry news in your inbox every day.