The Ethical Fashion Movement Can't Progress if It Ignores Plus-Size Shoppers
The average woman wears larger than a size 14. So why aren't sustainable brands pushing to offer her more ethical shopping options?
Welcome to Sustainability Week! While Fashionista covers sustainability news and eco-friendly brands all year round, we wanted to use this time around Earth Day and the anniversary of the Rana Plaza collapse as a reminder to focus on the impact that the fashion industry has on people and the planet.
In the five years since Rana Plaza, huge strides have been made by writers, bloggers and activists who want to see the fashion industry become more ethical from a human rights and environmental perspective. But for all that the movement has done to convince shoppers that their purchases ought to support companies that treat people and the planet well, it has largely ignored the fact that the average American woman is a size 16 or 18 — and that means that regardless of her income or aesthetic preference, ethical fashion is often not an option for her, because it may not come in her size.
"The reality is the majority of what is out there [on the plus market] is fast fashion," says Kathryn Retzer, co-founder of luxury inclusive-sizing e-comm site 11 Honoré, over the phone. "It is not good for the environment, because the garments don't last that long."
Part of the problem in the past may have stemmed from the fact that fashion's emphasis on thinness meant the industry didn't expect people over a size 14 to be happy enough with themselves to invest in high-quality clothing that fit them as they were. Instead, those customers were often subtly encouraged to think of their bodies as something that could (or should) be altered to fit smaller clothing, rather than the other way around. 
That's not just a problem from a body positivity standpoint — it's also a huge issue in terms of ethical consumption. Why would anyone invest in the kind of high-quality clothing that lasts for years and stays out of landfills if they're hoping to be a different size soon?
Thankfully, a growing body diversity movement and the success of well-loved public figures like model Ashley Graham, blogger Gabi Gregg and designer Christian Siriano has continued to prove that it's possible to be healthy, happy with how you look and stylish at any size. Still, brands that offer extended sizing are woefully in the minority, and the ethical fashion scene has rarely been better about size inclusivity than its mainstream counterpart.
It's not necessarily straightforward fatphobia that's made that the case. While there are a few global corporations making real strides in terms of human rights and environmental standards, the truth is that many of the most innovative ethical companies are small operations with limited resources. Mara Hoffman, a designer becoming known for her sustainable practices and who recently launched extended sizing for the first time, explains why it took her own brand as long as it did to offer more sizing options.
"It's been something that we've wanted to do for years," Hoffman explains. "This past year we were finally able to have the bandwidth to do what we needed to do with integrity."
It takes more resources, she notes, because moving beyond a size 12 essentially requires that the designer start from scratch with a new pattern. Considering that Hoffman pays her usual size 4 fit model around $370 an hour, adding more sizing doesn't just mean doubling the amount of time it takes to release one style — it also means a serious increase in cost as a new pattern is built and fit is perfected.
"It's an uphill battle to get even your existing fits the way that you want them to be," she adds. "Then to take on a completely different world where it's all about fit and you're still trying to perfect what you're already doing can be a bit daunting."
Hoffman, who now offers select styles in extended sizing on 11 Honoré, is one of a growing number of ethical designers trying to do better by their plus-size customers ("I know that we were late, I also think that it's important that we just started somewhere," Hoffman says). Tome and Zero + Maria Cornejo are two other luxury labels that have made conscious production core to their business, and both offer extended sizing on 11 Honoré, too. 
At a slightly lower price point, there's eco-friendly favorite Reformation, which just launched its own plus-size collection for the first time ever this year in collaboration with model Ali Tate Cutler. Circular economy thought leader Eileen Fisher offers a whole host of plus-size options. Indie label Tuesday Bassen's quirky and inclusive clothing line is responsibly made from deadstock fabric in a Los Angeles factory. For minimalist, natural-material-loving fashion fans, Nashville-based brand Elizabeth Suzann, LA-based Pyne and Smith and made-in-America favorite Hackwith Design all offer sizes above 14.
For plus-size consumers who want to commit wholeheartedly to shopping only with ethical brands, it's clear that there need to be more options on the market. But the fact that well-respected brands like Reformation and Mara Hoffman are making the jump is encouraging — and may indicate that more cause for optimism is on its way.
"Inclusivity and sustainability are the future of fashion," Retzer asserts. "These elements are important to Generation Z, and they are our future." If Retzer's right, then any brand who can't find get on board in both the ethics and inclusivity department should expect to be left behind.
Looking to shop for pieces that are both size-inclusive and ethically made? We rounded up some of our favorites below.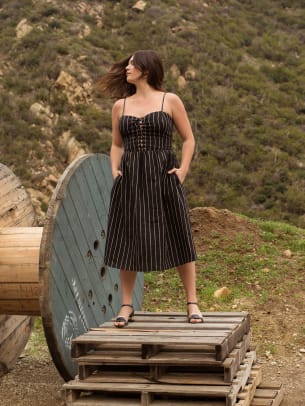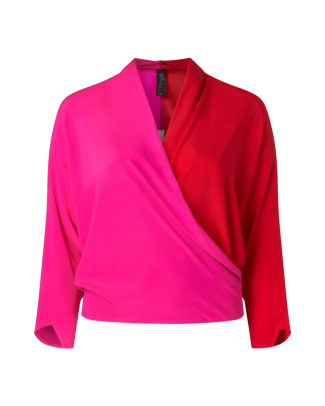 Please note: Occasionally, we use affiliate links on our site. This in no way affects our editorial decision-making.
Sign up for our daily newsletter and get the latest industry news in your inbox every day.