77 Standout Looks From FIT's 2018 Future of Fashion Show
The Fashion Institute of Technology presented its top graduating BFA students in its annual runway show.
On Thursday, the Fashion Institute of Technology kicked off graduation season with its 2018 Future of Fashion runway show. Industry experts, alumni, family and staff gathered at the highly-acclaimed design school for a presentation of 77 looks from its top graduating BFA students across sportswear, childrenswear, intimate apparel, knitwear and special occasion. Each runway look was handpicked by a group of esteemed fashion professionals, such as stylist Kemal Harris, Ken Downing of Neiman Marcus, Elle.com's Nikki Ogunnaike, The Cut's Emilia Petrarca and Nicole Phelps of Vogue Runway.
The process of being selected for this sought-after showcase is rigorous. Students in their final semester at FIT spend about 10 weeks creating two head-to-toe looks within their design concentration while industry critics, including Yigal Azrouël, Zac Posen and Sharon Tal, among others, mentor them along the way. Within each concentration, the critics also choose a winning look: Michelle Yoon for childrenswear, Kaitlin Barton for intimate apparel, Charlotte Sasko and Paola Lizano Umana for knitwear, Laurin Cabralissa for special occasion, as well as Elaine Back, Lauren Barkley, Michelle Ortega, Liana Jaime-Lopez and Stacy Isaacs for sportswear.
Before the runway show, a video played that recapped the final weeks leading up to the event. It's an interesting time for these students to be entering the fashion workforce. The advancement of digital media and technology has evolved the industry's traditional business model and strategies at a rapid rate, whether that's adopting see-now, buy-now, building a brand on Instagram or rethinking the fashion calendar. In order to truly survive in this space, these graduates will have to practice innovation, authenticity and adaptability. And judging from the looks that we observed on the runway — forward-thinking takes on athleisure and knitwear; clothing packed with social commentary; and a very strong collection of lingerie design — we have a feeling that the future of our industry will be in good hands.
See the gallery below for every look from FIT's 2018 Future of Fashion show.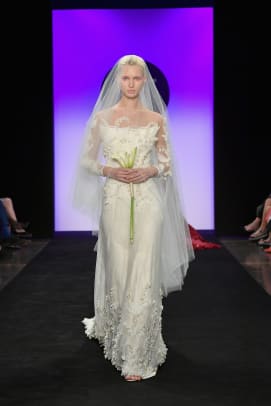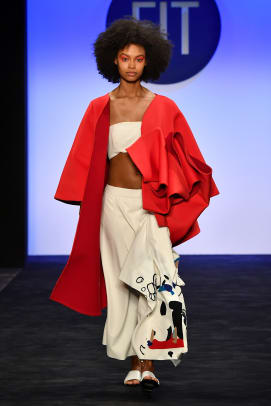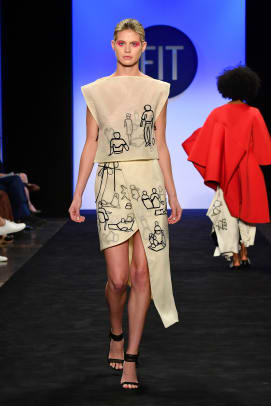 Sign up for our daily newsletter and get the latest industry news in your inbox every day.