The 2018 Pratt Fashion Show Highlighted Sustainability
Gabriela Hearst was honored with the 2018 Pratt Fashion Visionary Award.
Each year, the Pratt Institute's annual student fashion show strikes a celebratory chord as its brightest young talent present collections to some of the industry's biggest figures. This year's show did much of the same, with one notable difference: There was a sense of urgency and responsibility, for the young designers as well as those who watched the show, to come up with a responsible solution to the global climate change crisis.

The school's 119th show, dubbed "Fashion Diversiform," highlighted work from 20 students about to graduate from the country's oldest fashion program, and also honored designer Gabriela Hearst. Glenda Bailey, editor-in-chief of Harper's Bazaar, presented Hearst with the 2018 Pratt Fashion Visionary Award, an honor last year bestowed upon Laura Kim and Fernando Garcia, the creative duo behind Oscar de la Renta. 
What distinguishes Hearst from other contemporary designers — aside from what Bailey describes as Hearst's "modern armour" that makes her "feel confident and kickass" — is her commitment to sustainability through the use of recycled materials like vintage Japanese denim and biodegradable packaging.
"There's no other option," Hearst offers as explanation as to why she prioritizes sustainable practices. "I divide it into three things: First, it's personal responsibility, then it's corporate and business responsibility, then there's civic responsibility. I cannot have my work and then not have the same values personally."
As for the students' work, each collection's theme touched upon various social statements, like immigration, political polarization and female empowerment, according to profiles about the students distributed to press before the show. During the show itself, perhaps the most remarkable moments were demonstrated through the use of unconventional materials — or at least, unconventional for fashion: duct tape, garbage bags and burlap sacks.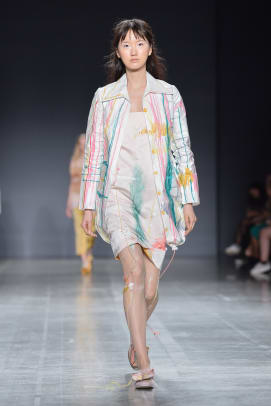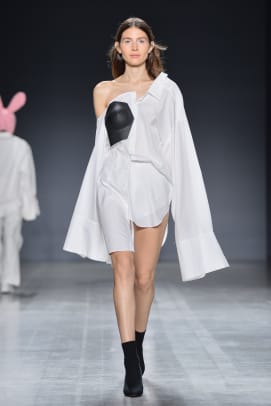 There were clear influencers from today's most critically celebrated designers: takes on suiting à la Thom Browne (another Pratt Fashion Visionary honoree), unabashed colorplay like Dries Van Noten or the intellectual-chic sensibilities of Maryam Nassir Zadeh.
Two Pratt students — Rachel Lee and Emily Ridings — won awards for their collections, and earned an opportunity to show at an international graduate showcase in London and $10,000, respectively. Ridings' collection was among those whose work commented most explicitly on sustainability.
Ridings used recycled coffee bean bags and a recycled paper jacket that read, "Keep National Park litter free" and "Raise your voice, not the sea level," but not every piece in Ridings' collection was so serious. The graduate closed the show with a full basket skirt, a tongue-in-cheek take on the ubiquity over the last few years of the Instagram-popular woven basket bag, no doubt.
"Fashion reflects what's going on in our society," Bailey says after the show. "When you looked to the runway, you saw such distinct trends, a need for simplicity, a need for conservation, a need for sustainability and a need for wanting things that feel personal and special and not like anything else."
Sign up for our daily newsletter and get the latest industry news in your inbox every day.