Dior Shows Cruise Collection Inspired by Female Mexican Rodeo Riders in the Pouring Rain
Maria Grazia Chiuri aimed to marry beauty with functionality while avoiding cultural appropriation.
The livestream for Dior's Cruise 2019 runway show — set in Chantilly, France, about 30 miles from Paris — began over 45 minutes late, and as soon as the runway scene appeared on screen, it became clear why. The open-air venue was set inside the stables at Domaine de Chantilly, an historic chateau, and it was pouring down rain. While guests were covered, the runway and the dirt ring it surrounded, were completely exposed.
Alas, the show must go on. Dior's Artistic Director Maria Grazia Chiuri is always angling to put forth a feminist message in her shows, and one could imagine her thinking that, in their willingness to perform their jobs despite the elements working against them, the women about to come out would look even tougher.
Of course, the collection already had a feminist theme: According to WWD, Chiuri was inspired by escaramuzas, Mexican female rodeo riders who perform stunts wearing beautiful dresses and embellished sombreros. The article details how Chiuri visited Mexico several times before designing the collection and tried to be thoughtful about avoiding the dreaded cultural appropriation criticism. To do so, she found parallels between the dresses worn by escaramuzas and her own heritage.
"This kind of tradition of embroidery is part of my culture, which comes from southern Italy where my father was born, but also in the south of France, as in South America," she told the trade. "In some way, I think that all the South has the same language. When we speak about lace, when we speak about embroidery, it's such a part of different countries that it's very difficult to understand where they come from." The collection also nods to the show's location of Chantilly, known for its history of lacemaking.
It was a shame to see all that beautiful lace and embroidery get wet, but also kind of exciting. The show began with a brief performance by what appeared to be a troop of escaramuzas wearing matching Dior versions of their typical riding looks. The runway show followed, and unsurprisingly, it included many equestrian touches that seem even more likely to become trends after Off-White's equestrian-themed Fall 2018 show.
Fortunately given the weather, many models wore various takes on riding boots or sneakers with their voluminous, tiered and beautifully embroidered ankle-length dresses and skirts. The femininity was toned down by a variety of sharp riding jacket-inspired outerwear, tailored, narrow trousers and wide leather belt bags that cinched the waist. Those belt bags, in addition to a variety of those saddle bags from the early aughts, updated with festive embellishments on the straps, are sure to become street-style fixtures once they're available. The sombreros had fairly understated brims and looked more wearable than comical or exaggerated, which is surprising for a runway show. 
The whole collection had a refreshing wearability and functionality to it that was further emphasized by the setting: If those women can wear these clothes and accessories to perform horse tricks or stomp through the rain, then so can we...you know, if we could afford them.
See the full Dior Cruise 2019 collection in the gallery below.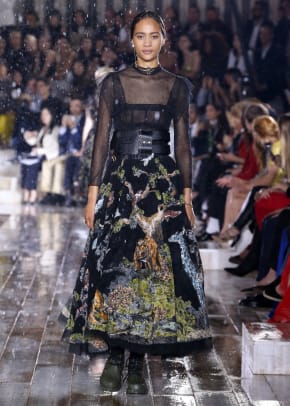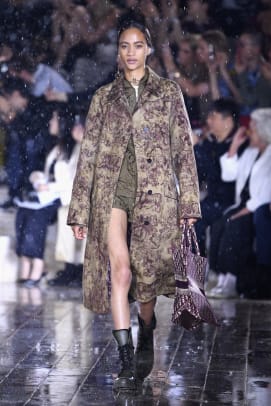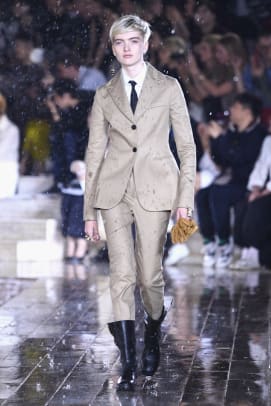 Never miss the latest fashion industry news. Sign up for the Fashionista daily newsletter.