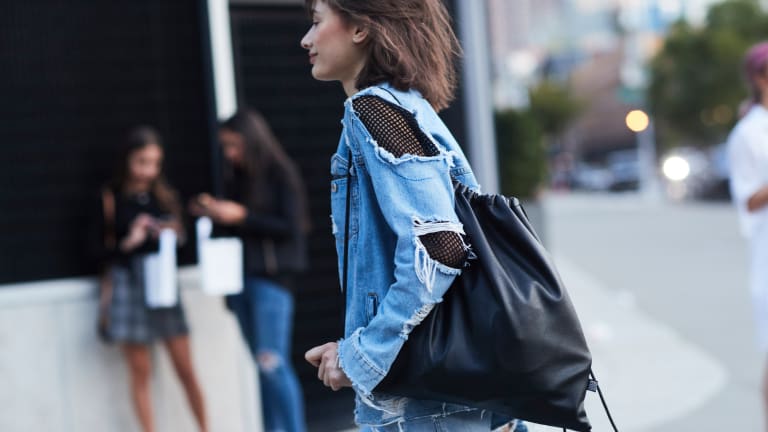 Why We Love Torn-and-Tattered Clothing and the 'Perfect Imperfections' of Fashion
The Museum at FIT's latest exhibit "Unraveled" explores and showcases flawed, altered, unfinished and distressed garments.
Just outside of The Museum at FIT's newly opened exhibit "Unraveled," a Rei Kawakubo for Comme des Garçons "lace" sweater is on display. Hand knit and adorned with intentional holes, the 1980s piece has become a signature for the designer — so much so that replicas were exclusively for sale at The Met Store during the Costume Institute's run of "Rei Kawakubo/Comme des Garçons: Art of the In-Between" last year.
The sweater is one of several Comme des Garçons pieces at "Unraveled," which explores and showcases flawed, altered and unfinished garments. Having this item specifically on display to welcome exhibit visitors is an interesting choice: As consumers, we've grown to love torn-and-tattered clothing, sometimes spending hundreds of dollars on a single piece of apparel that's gone through rigorous (and sometimes unsustainable) processes to achieve a heavily-worn look.
"Over the past few years, there's been a growing interest among fashion historians and scholars in what we can learn from clothing that is imperfect in some way," says Colleen Hill, Museum at FIT's curator of costume and accessories. "Unraveled" emphasizes garments that have been mended and altered, such as an 18th-century stay (corset) that was enlarged with panels of mismatched fabric, or a pair of shoes from the same era — one repaired and the other still in its worn-down condition. "Usually when we show those clothes, we don't talk about those alterations," says Hill. "We either rely on the work of a conservator, or we place the object at a particular angle or use low lighting to disguise those flaws. I wanted to highlight these changes that are often made over the course of a garment's lifetime."
RELATED ARTICLES
In addition to highlighting distressed and deconstructed fashion within "Unraveled," Hill begins the exhibit with a section called "Behind the Seams." Clothing from the museum's archives are featured alongside memorable anecdotes that aren't usually disclosed in a traditional exhibition setting. The "Repurposed" section is Hill's favorite, as it focuses on clothing or textiles that have been remade from one thing into another. On display is a 1966 jumpsuit by Betsey Johnson, which she crafted from her ex's old rugby shirts. (Said ex is John Cale of the Velvet Underground, in case you were curious.) "Unfinished" follows, showcasing garments that provide a deeper look into the process of creating clothes, such as a bustle dress from 1880 that was completely unfinished — raw-edge trim, undone baste stitches and all. A very rare instance, says Hill, considering how expensive clothing used to cost during the 19th century.
Finally, "Unraveled" concludes on the topic of distressed and deconstructed clothing. Hill strategically chose its placement at the end to serve as an epilogue to the exhibition. "It's taking the idea of imperfection and reusing these techniques to make some kind of fashion statement," she explains. "What's really intriguing is that in the past, museums often overlooked objects that were seen as imperfect or flawed, but what's very fascinating is that those objects are intentionally flawed or imperfect and we embrace them as part of the fashion lexicon."
While distressed clothing has become largely popular during the 20th century, the act of achieving such an aesthetic spans centuries. Hill illustrates this notion with a Vivienne Westwood red satin jacket from Spring 1991 in an all-over pattern of small cuts, juxtaposed with a somewhat similar piece from the Renaissance that showcases "slashing," a decorative technique that exposes a colorful layer of fabric underneath.
According to Farfetch Buying and Merchandising Director Candice Fragis, one of the major players in the distressed and deconstructed space is Maison Margiela, which is featured within "Unraveled," including a pair of Spring 1990 "Tabi" boots covered with multiple layers of thick white paint intended to crack and tear over time. "The distressed look goes beyond being a trend," says Fragis. "It is more about a key characteristic to a brand's DNA and a very considered approach to making something perfectly imperfect." She also credits newer, more contemporary brands, such as Unravel Project and R13, for pushing this aesthetic forward in the retail space.
When Ben Taverniti and Joyce Bonelli founded Unravel in 2015, it instantly gained recognition for its street-meets-luxury vibe (and a Kardashian-Jenner co-sign). Slouchy, oversized hoodies boast cut-outs at the shoulder for a peek-a-boo effect; denim is destroyed and deconstructed with rips, holes and tears; and cashmere sweaters are finely frayed at the cuffs and hem. Rihanna was most recently seen in Unravel's denim corset, which gained notoriety for being, quite literally, a piece of seven-inch fabric — as if it was sliced off of the top of a pair of jeans. "Unravel is [taking] what you know and looking at it in a different way, getting a different perspective," says Taverniti. "How do I get these pieces that when you look at them, you feel like you've owned them for years? Because it makes it personal."
Three years later, Taverniti has evolved his distressed aesthetic, offering everyday casuals in high-end materials or unexpected silhouettes: A puffer coat made from silk; a button-down shirt transformed into a hybrid of white poplin and striped voile; and a denim jacket with the silhouette and details usually associated with a bomber. "What I'm now doing is reworking my basics," he explains. "The distressing and unraveling part needs to be in the deconstruction or reconstruction of the garment. It's mixing materials and styles."
"It's really evolved very much into our aesthetic," says designer Chris Leba of R13's popular distressed denim. One of the label's bestsellers is the "Double Classic," a denim mash-up of frayed jeans and a torn mini skirt. (Gigi Hadid and Priyanka Chopra both have been spotted in this daring look.) Leba often references vintage garments, as well as the underground rock style of the Ramones and Sid Vicious, to achieve these worn-in details. "Almost all of it comes from actual, real garments that have been torn," he explains. "That's the only way that you can create something that looks natural and authentic."
Though music scenes and vintage garments are very common sartorial odes when it comes to distressed dressing, WGSN's Youth Fashion Editor Marian Park sees brands cashing in on consumers' collective desire to look relaxed and unpretentious. "Distressed details, from an aesthetic point of view, allude to a worn and beloved look," says Park. "Boyfriend jeans loved-in for you, your favorite T-shirt worn out from obsessive wear. We've all seen those marketing messages before."
Dawnn Karen, fashion psychologist and instructor at the Fashion Institute of Technology, believes that this particular type of clothing can hold much more meaning behind the wearer's own authenticity. "When someone asks how you are doing, you're not supposed to say, 'Oh I'm having a bad day.' You're supposed to say, 'I'm good. How are you?'" explains Karen. "It's the same thing with clothing. We're supposed to cover up our feelings, layer our emotions and when you wear this distressed trend, it really just shows that we're not well put together and that's okay."
There's also the psychological value that torn-and-tattered clothing can hold, whether that's of the past (heirlooms of a loved one), present or future (an engagement ring, for example). "We tend to overuse them to the point that they're very worn out. It's because of the weight of the psychological value that we place on it," explains Karen. "Without it, we feel this sense of emptiness or nakedness."
Since November 2017, the Museum at FIT has been crowdsourcing for "Unraveled" with the online project "Wearing Memories." More than 300 submissions (and counting) from the public will be showcased on the museum's Tumblr page, highlighting photos of garments and the special meanings and stories — and psychological value, perhaps — behind them. "What I want viewers to take away from this exhibition is the fact that we should really be connecting with our clothes," says Hill. "We have this truly physical and intimate relationship with clothing and I think we sometimes forget that."
See more images from the Museum at FIT's "Unraveled" exhibit below. The exhibit is now open through November 17.
Homepage image: New York Fashion Week street style. Photo: Imaxtree
Sign up for our daily newsletter and get the latest industry news in your inbox every day.