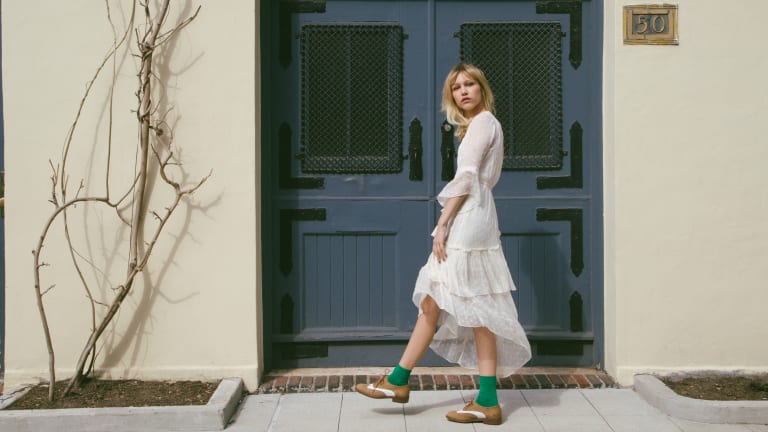 Grace VanderWaal Is a 14-Year-Old Music and Vintage Shopping Prodigy
The singer-songwriter has grown — vocally, sartorially and, height-wise, physically — since winning "America's Got Talent" in 2016.
The afternoon Whitney and I meet Grace VanderWaal, the 14-year-old, ukulele-toting singer-songwriter who, in 2016, rocketed to national stardom after winning "America's Got Talent," it is one of those early spring days — the kind where the very existence of sunshine tricks you into forgoing a sweater altogether. But it is cold, and Grace arrives to our Greenwich Village shoot bundled up in a buttery brown leather jacket that looks like it had been discovered in the depths of a vintage store. Indeed, the jacket is vintage — it once belonged to Grace's mom, as did the shoes she's wearing — as is so much of what Grace wears on a daily basis.
Grace has been famous for, give or take, about a year and a half, during which time she's grown five inches, a spurt that began during her summer on "AGT." "I already was growing out of my style, anyway, and I was literally growing out of it, too," she tells me as we stand in a sunny patch of Washington Mews. "I'd get the dress that I wanted to wear on the show, and then I'd put it back on and my mom was like, 'Whoa. It's way shorter!'" That, understandably, was a problem.
Related Articles
She explains that between the ages of 12 and 14, since winning "AGT," signing with Columbia Records and releasing a debut album ("Just the Beginning," in Nov. 2017), her taste in clothing has changed, both on and off the stage. Grace has found a uniform in things like dresses, clip-on earrings and hats — some vintage, some sourced from retailers like Etsy and Urban Outfitters. Grace knows what she likes — she's a very self-assured 14-year-old, a trait of which 14-year-old me is extremely envious — and isn't afraid to experiment with trends or pieces that fall outside her comfort zone. 
This summer, Grace is hitting the road with Imagine Dragons on a 40-date tour across North America. (She has a brand-new dress for it, and she's very excited about it.) We spoke to Grace about all of that: how she shops for and wears clothes, where she sources style inspiration, thrifting for vintage yearbooks and more. Read on for our conversation.
Your schedule is jam-packed with travel, so where are the first places you go to shop when you have the time?
I like Etsy and Urban Outfitters, even though it's overpriced. I still like it.
What are some of your favorite things to get from Etsy? 
I get my dresses and earrings off of Etsy.
What kind of earrings do you like right now?
I like the big, circle clip-on ones.
Do you have your ears pierced? 
I do, but it's hard to find really cute vintage earrings that actually have the piercing; a lot of them are clips-ons. So I wear those a lot.
How would you describe your personal style, and when do you think you figured it out?
My personal style changes a lot. I like vintage things, but I also really like super-current things as well, like the straight-skirt trend right now, and, you know, those boots that are really in ... those shiny, patent leather ankle boots.
I was looking through your Instagram, and I like how you've been wearing a lot of hoodies — pieces that are a little more streetwear-inspired. How do you balance your style when you're performing with when you're just hanging?
Actually, I used to always struggle with performing outfits because I was always so confused. I always felt uncomfortable, like I looked out of place. But then, obviously, I can't go out in a shimmery leotard. I'm 14. [Laughs]
So, it was really hard for me to figure out what to wear on stage, and I only just recently figured it out. I can't wear stage outfits, but then also, I feel like I'm going to my 5th grade graduation. I just messed around with it. And then when you find that dress — for me, it's a dress — or outfit, or whatever, I just went off of that and got it in a different color, and then got another dress in the same style.
I finally found my thing that I feel comfortable with and that makes me look normal on stage. It's just a flowy dress and no shoes. I think you just have to do that, and have a lot of performances where you might think you don't look good on stage to find the right thing.
And weed out what doesn't work. 
Yeah, weed it out.
Like I said, I love your Instagram. 
Thank you!
Do you ever use Instagram to look for your own style inspiration?
I use Pinterest! I love Pinterest. I'm constantly on Pinterest.
For beauty inspiration, I really love Anna Karina. She's a French actress, and her hair and makeup and stuff, I always copy it.
Are you an impulse shopper or do you like to take some time to think about each purchase?
It depends on what ... Like Urban or something that's kind of pricey, I usually sleep on it for probably a couple days. I always put tons of stuff in my cart and then never buy it. I do that all the time.
I know, I do that, too.
But sometimes, I do buy it. And then if I go back a week later, there's stuff in the cart, and I'm like, "Ew, I can't believe I was going to buy that!" Then there's that one thing that I'm like, "Okay, it's been a month and I still really want this. I'm going to buy it."
I'm the same way. I'll think about things for, like, two months, and when I finally decide I'm ready to buy it, it's sold out.
Yeah, I used to buy all these things, random tops and random pants, just because I thought they were pretty, and they were pretty, but they didn't go with anything I had in my closet. And now what I do is try to buy things that are, maybe not matchy-matchy, but coordinate with each other. And then, after a while — because, you know, I've grown a ton...
Right! How tall are you now?
5'4", I think. After a while, your whole closet, everything, goes together and you can mix things. It's a great place to be.
When did you have your biggest growth spurt? Did that affect your style in any way?
I already was growing out of my style, anyway, and I was literally growing out of it, too. It kind of worked together. I started growing near the end of ["America's Got Talent"]. I was growing, like, an inch every week.
I remember when I was in seventh grade, I grew something crazy like three inches in a month.
Yeah! [Calls over to her mom, standing 20 feet away] Mom, what was it? How many inches did I grow in the summer, the doctor said? 
Five inches in the summer! And that was the summer of "AGT." Which was hard, because I'd get the dress that I wanted to wear on the show, and then I'd put it back on and my mom was like, "Whoa. It's way shorter!"
What's the last thing you bought?
The last thing that I bought was the dress that I'm planning on wearing for the Imagine Dragons tour. I'm so excited.
I usually get styled, but I just saw this. It was way cheaper than the other dresses I was thinking about borrowing. I'm like, okay, it's cheap, it looks great, I'm going to buy it. Even if I don't wear it for the tour, it's still a good thing to whip out for another performance.
Going back to your shopping habits: Etsy is generally very vintage-inspired. Do you do any vintage shopping?
Oh, yeah, a lot. But it's hard. I do most of my vintage shopping online because there are tons of really good vintage shops around me, but not really clothes-wise; it's, like, novelty stuff and decorations, and there's really no good clothes stores except online. Plus, I just love online shopping.
Also, I love vintage shopping for random stuff, like plates and stuff like that. I actually just went vintage shopping with my friends. We got these yearbooks, and it was really fun because we said who all the people were. The yearbook was from 1972 or something.
What thing have you had the longest that you still actively wear?
I lose so much. That's a hard question because I lose everything.
Oh, I actually wore it today, but I took it off because it didn't match my dress, but I have this beret. Remember a couple years back, I'd say four years ago, when everyone wore their berets on the back of their heads? Well, I did that — or, my sister did. So, she had it, and then gave it to me, and now it's in to wear it normally. Now I wear it normally, and I've had it for so long.
And this jacket is your mom's?
Yeah. I wear a lot of my mom's [pieces]. These shoes are my mom's, too. We have the same shoe size.
I'm jealous. That's awesome.
Yeah, she's not very happy about it, though. All of her stuff is slowly disappearing.
Homepage photo: Whitney Bauck/Fashionista
Sign up for our daily newsletter and get the latest industry news in your inbox every day.