Gucci's Cruise 2019 Show Eerily Took Over a Roman Cemetery in Provence
This season, Alessandro Michele was fascinated by "the idea of death."
On Wednesday evening, Gucci became the third big-name, legacy design house to show its Cruise 2019 collection in France. For both Dior and Louis Vuitton, this presentation meant that the brands could stay a little closer to home: Dior's respectful, rain-soaked ode to female Mexican rodeo riders was at Domaine de Chantilly, an historic chateau about 30 miles from Paris, while Louis Vuitton's eccentric, '80s-tinged parade took over the medieval town of Saint-Paul de Vence on the the French Riviera. Gucci, however, chose a different locale, the Provencal city of Arles; more specifically, at the Alyscamps, one of the most famous Roman necropolises of the ancient world.
Gucci has long had a lingering fascination with France: Just last week, the brand announced that, for one season only, it will skip Milan Fashion Week for Paris as a "three-part homage to France," developed by Creative Director Alessandro Michele. But as evocative of or inspired by French history as Gucci's Cruise 2019 range may have been, Michele isn't wont to steer too far from the aesthetic for which he's become known.
Set at 9:30 p.m. local time, the presentation was, surely per Michele's expertise, quite eerie, yet another display of the brand's now-recognizable gothic attitude and streetwear accessibility. This season, Michele was reportedly fascinated by "the idea of death" this season: The runway — which was literally, treacherously split by fire — was set along the Promenade Des Alyscamps, the avenues of which are bordered with tombs for notable citizens from 4 A.D.; the soundtrack featured choral music and owl hoots; and at least one model wore a doll-like sheer mask, you know, the kind that lovable, but deeply flawed bank robbers wear in a heist film. The finale dress, a high-collared, Victorian and almost ghost-like nightgown, came accessorized with a weighty cross pendant, as if to remind showgoers that, yes, they were, in fact, in a graveyard, and isn't that creepy?
The majority of the collection was not quite as spooky, with plenty of staples that could pair as well with jeans and simple white plimsoll sneakers as they could with something more stereotypically ghoulish, like a turn-of-the-century hair ribbon and a sunken complexion. It is the resort season, after all, and Michele offered plenty of candyfloss silks, crepes and velvets for the more extravagant vacationgoers. Satin pieces came in a range of new prints, including some that resembled a bandana handkerchief someone more glamorous than I might tie around suitcase handle. Leggings and tights made appearances, too, including in leopard print, sequins and lace. And for the hoards of Gucci's Los Angeles-based fans, there were a number of Chateau Marmont merchandise items, like a sweatshirt and a bowler bag. (To which we say, it was only a matter of time.)
It was, in all, a very Gucci showing: perfectly commercial, but still evocative of the 14th- and 15th-century influences Michele does best, despite its debut in France.
Click through below to see Gucci's full Cruise 2019 collection.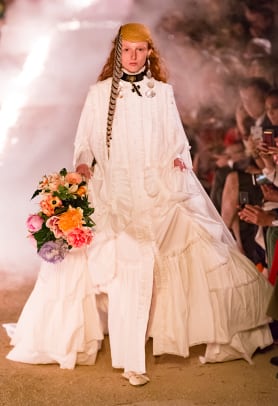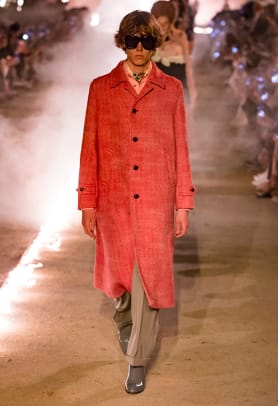 Sign up for our daily newsletter and get the latest industry news in your inbox every day.