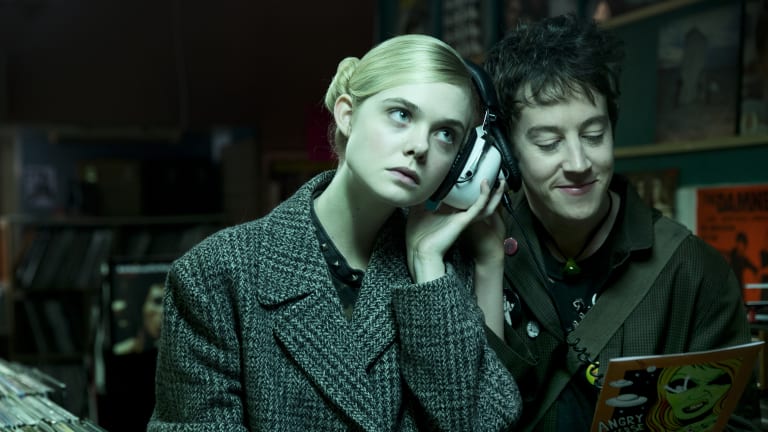 How Costume Transformed Elle Fanning Into a '70s Punk Rock Alien in 'How to Talk to Girls at Parties'
Oscar-winning costume designer Sandy Powell also discusses dressing Nicole Kidman as a 'punk fashion designer.'
Based on the short story "American Gods" by Neil Gaiman, "How to Talk to Girls at Parties" is a punk fantasy brought to the big-screen by writer and director John Cameron Mitchell ("Hedwig and the Angry Inch"). But it's also a tale of teenage love, when an awkward boy falls for a girl from, literally, a different world.
Set in 1977 in Croydon (aka the birthplace of Kate Moss), zine artist Enn (Alex Sharp) and his two misfit schoolmates are on the hunt for an after-party. After leaving the local club run by punk den mother Boadicea (a platinum blonde Nicole Kidman in a deconstructed Elizabethan ruff), the three stumble upon a decrepit townhouse filled with sexy, rhythmically lithe beings clad in colorful latex ensembles, who clearly are not from South London. Enn and friends will soon discover that the inhabitants are actually not from this planet, as in they're aliens, including Zan (Elle Fanning), a rebellious young extraterrestrial who wants to experience the outside world or "the punk," as she says.
With Enn's help, Zan essentially embarks on a 24-hour-long alien Rumspringa, which includes a visit to Boadicea's Victorian-punk studio that looks straight out of Vivienne Westwood and Malcolm McLaren's decorating journal, an impromptu — and absolutely fire — stage performance and a punked-out fashion evolution for Zan, courtesy of three-time Oscar winning costume designer Sandy Powell. 
When I interviewed Powell in 2015 about her Oscar-nominated costumes in Cate Blanchett's "Carol," she was actually in the midst of filming "How to Talk to Girls at Parties." So it was especially exciting to catch up and find out how she used her own personal experiences with "the punk" to create a gritty, subversive '70s aesthetic, who exactly she referenced for Kidman's badass look and what it took to get Fanning into her custom-fit latex outfit. Read on for highlights of our conversation.
What references and inspirations did you look for while creating the costumes representing the film's 1977 Croydon punk scene?
Actual photographs and real life punks of the period. I do think that I was one of the few people on the film set who actually was around during the time, as well. I was a teenager during that period and I lived near Croydon. Personally, I wasn't a punk, but I knew people who were. They were around me. I was the right age and I came from the right part of London, so that was my reference point.
The aliens, with their specific colors and silhouettes, were such a contrast to the punk aesthetic and representative of each of their colonies. What was the inspiration behind the collective looks?
The actual color-coding came from the original story and the script. The concept for the aliens all together was they had to look obviously different from humans. But then I thought about, 'What would aliens do who are coming to earth? How would they dress if they had a choice? What would they look like?' They would try to sort of infiltrate. They would try to be like humans, but get it a bit wrong. So I had to think of different styles for each of the different colonies and I don't know why I decided on all of them wearing rubber and latex and vinyl, but that was just the material I just thought I had to [use to] give them a uniform. 
The whole point is it's a 1970s version of an alien. It's not a contemporary version of an alien. You have to imagine the reaction of a 17-year-old boy in London seeing people that look like this. They've never seen anything like it in their lives. They just thought, 'oh my god, it's just another sort of weird subculture.' They look really weird, but so did punks. Imagine what the world actually thought when they first saw punks. They saw nothing like it ever. It was like a completely extraordinary thing. So for these guys, the look of the aliens in all the multi-colored latex was also equally extraordinary.
What was the meaning behind the yellow and loosely woven sleeves of Zan's colony look?
I had to bring the looks together, so it was just doing different versions of regular clothes, like the singers in blue who were wearing jackets and trousers. That whole concept was based on a David Bowie image of him wearing a blue suit in The "Life on Mars" video.
So the [aliens] in the yellow, they were wearing kilts, which is a Scottish form of dress, and sweaters. They were just wearing versions of very ordinary knitwear, cardigans, sweaters, skirts, but made out of latex and then it takes on a whole different feel. The whole thing is very tongue-in-cheek and shouldn't be taken too seriously, of course. So it was like the aliens come from another planet. The only material they have is latex and they are trying to emulate humans. They're looking at what humans wear and they're like, 'OK those people down there wear funny knitted things held together with buttons and skirts' and so. 
The other reason why they're all wearing skirts is that I wanted to make all the aliens [gender non-binary]. So they're all wearing the same thing and it works.
When Zan leaves the alien house, she changes into a wool coat and studded collar t-shirt outfit. What was behind the design of that look?
The idea is that she's woken up in the morning and she's found some clothes that are lying around from Enn's closet. Some of the punk stuff was original pieces from the period and others were things that were custom-made, but everything she's wearing [in that outfit] are original vintage pieces.
Later, Zan gets a full punk makeover by Boadicea with the tube top set and woven off-the-shoulder latex sweater. What inspired that full look and how did you create it?
I was just carrying on the knitted theme. What it actually is, is the plastic bags that you pick up your dry cleaning in — that really fine plastic. I cut loads of those up into strips and tied it all together and knitted her outfit out of that. Basically, that's what punk was. Punk was not spending any money and using what's around. Recycling. Making use of what's there and destroying it and sticking it back together again to create something new. That was basically how I treated all of the costumes. A lot of it, it was just what we had, what could we use, plastic bags you get from the supermarket. Cut them up and turn them into clothes. Pins, paper clips... and it's actually what happened for real. 
RELATED ARTICLES
Speaking of, you incorporated Elizabethan references, including nods to your own work on 'Shakespeare in Love' and 'The Tempest,' into Boadicea's zippered and safety-pinned ruff ensemble. What inspired the Elizabeth I homage?
Her character actually is a fashion designer, but a punk fashion designer. So she was a little harder to do because I had to think of something new. Obviously, there were references to people, like Vivienne Westwood and Malcolm McLaren, but she wasn't either of those people and I didn't want to copy them exactly. So it was thinking of a different concept for her and what her references would have been. Because she was basing herself on Boadicea — a warrior character, a strong woman — it also took me back to the Elizabethan era and somebody like Queen Elizabeth I. There is a very specific reference that I made — that maybe not maybe most people won't understand — which was a reference to a Derek Jarman film called 'Jubilee,' where there was a punk character in it who did dress as Elizabeth I. It was coming up with a sort of armor-like image and then using Elizabethan as a reference just because it was nice reference.
I read that some of the costumes are from Vivienne Westwood's collection. Which pieces were those and why did you use those specific ones?
They're not from her personal collection. They came from somebody who had collected a lot of her stuff. Some of the very original t-shirts, [like John's 'boobs' t-shirt] that were designed by her and sold in her store: Sex, on King's Road. Those were the original pieces.
As I was watching the movie, I was trying to read the buttons and the t-shirts that Enn and his two friends, John and Vic were wearing. Were the pieces vintage or built? Are there little easter eggs in there that I might not see at first glance?
Some stuff really was from the '70s and other things that we created and made our own versions of. I mean, those t-shirts even at the time were quite expensive, so only people who could afford to buy them or who worked for Vivienne Westwood would actually wear them and then everybody else would copy them and do their own versions. That was the whole point of punk. It was homemade. You used what you had so people would do their own and just write over things. Like Enn, he basically customized his school uniform. He wrote all over his shirt and his school uniform, that's what people did. The original things are worth an absolute fortune. 
I also read in the production notes that getting Fanning into her yellow alien look was a process.
Yes, it always is. Getting anybody into any latex is quite difficult. The body has to be covered in lubrication and then it slides on [laughs]. It used to be in the old days, you used to wear talcum powder and put it on, but now you just put lubrication onto your flesh and then everything glides on, nice and easy.
This interview has been edited and condensed for clarity.
'How to Talk to Girls at Parties' opens in theaters on Friday, May 25.
Top photo: Dean Rogers, courtesy of A24
Stay current on the latest trends, news and people shaping the fashion industry. Sign up for our daily newsletter.