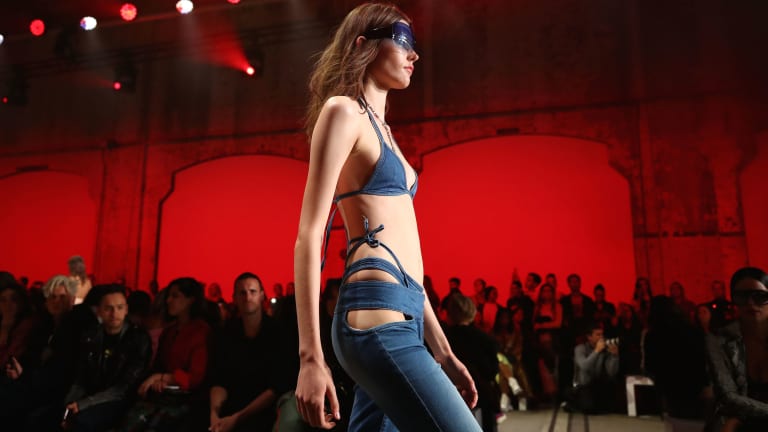 Influencer-Favorite Label I.Am.Gia Brought Instagram to the Runway in Sydney
The one-year-old brand that counts Bella Hadid, Kylie Jenner and Kaia Gerber as fans showed its wares IRL at fashion week for the first time.
There's a valid argument to be made that Instagram has replaced the runway as the fashion industry's most effective method of showcasing and, thanks to legions of worldwide influencers pushing an endless stream of products, selling clothing and accessories to millennial and Generation Z consumers. It was a curious thing, then, to see one of Instagram's most pervasive fast-fashion brands, I.Am.Gia, pop up on the Mercedes-Benz Fashion Week Australia show schedule with a primetime evening slot last Wednesday in Sydney. 
Founded almost exactly one year ago by designer Alana Pallister — who splits her time between Melbourne and Los Angeles, and who's also behind the trendy online boutique Tiger Mist — I.Am.Gia has the sort of online reach about which most fledgling labels could only fantasize. With 566,000-plus Instagram followers, its feed doubles as a directory of today's most influential pretty young things who happen to regularly pose in pieces by I.Am.Gia — many of whom have audiences that extend well into the millions. From models (Bella Hadid, Elsa Hosk, Kaia Gerber, Emily Ratajkowski) to actresses (Nicola Peltz, Vanessa Hudgens, Sophie Turner) to musicians (Selena Gomez, Dua Lipa, SZA) to a slew of ladies who are simply famous for being famous (Sofia Richie, Kourtney Kardashian, Jordyn Woods), the brand earns a staggering amount of daily impressions through "outfit of the day" posts alone — which, undoubtedly, convert into similarly staggering sales figures.
For the uninitiated, I.Am.Gia's wares are an amalgamation of the top runway trends du jour, but at a wallet-friendly price point (with most items ringing in under $300) and with fresh product released on a monthly basis. Think Vetements and Balenciaga-inspired puffer coats; the leather, latex and bondage motifs made popular by brands like Hood by Air and Alexander Wang; modern riffs on workwear and oversized logo sweats akin to those by Off-White, Yeezy and Heron Preston; and sleek takes on sport gear, as seen on the runway at Fenty Puma by Rihanna. There's also plenty of nostalgia-bait for lovers of the '90s and mall culture, with Cher Horowitz plaids, tattoo prints, gothic ball necklaces, Hot Topic-like metal wallet chains and Juicy Couture-esque bedazzled tops. 
Sure, very few of the elements listed above are new or particularly innovative, but with its super-fast product turnaround time, I.Am.Gia's various "inspirations" often veer into knockoff territory; the brand has been accused of lifting ideas from brands large and small. Instagram account Diet Prada frequently takes I.Am.Gia to task; most recently, the duo called out a series of designs and lookbook shots that were conspicuously similar to those of fellow Australian brand Daisy, which, despite its higher price point, is also extremely popular among the "It" girl set. New York-based designer Danielle Guizio, who started her Instagram-friendly, youth culture-steeped brand back in 2014, is also a main target for I.Am.Gia. Guizio's tracksuits, chokers, lace-up bodysuits and pants, bomber jackets and plaid trousers caught the attention of Hailey Baldwin, Kylie Jenner, both Hadid sisters and even Kanye West early on, and an untrained eye couldn't deny the similarities in both aesthetic and attitude. 
In Sydney, I.Am.Gia unveiled a collection entitled "Inception" consisting of more than 60 runway looks (including the surprise debut of menswear) that Diet Prada immediately compared to Tom Ford-era Gucci and Brazilian label Zoomp. In a savvy "see now, buy now" marketing move, 10 of the looks were immediately available for purchase online, while the rest of the pieces will drop in batches over the next two months. "Gia's been very much known as a social media and internet brand, but there's more to her than that, and I think the runway is where she belongs," said Pallister backstage regarding her decision to put on a show for the first time. "Gia is a person; she's a rebel; she goes against the grain and does whatever she wants. The most exciting thing for us in designing the collections is that we create around Gia — there's no trend forecasting, it's all very authentic as to her character."
According to Pallister, both the show and the collection were all about creating Gia's world. "What we did was brainstorm some of Gia's favorite things, and what we would like to put into her world to show on the runway," she explained. "It was all about creating her virtual character inside the world." In a landscape where digital influencers like Lil Miquela and Shudu are steadily rising in popularity, it's easy to imagine Gia as a Jenner- or Hadid-adjacent California beauty, albeit with a bit more edge — maybe some tattoos, a buzz cut or a septum piercing — that a CGI designer could effortlessly whip up. An "Instagirl by numbers," if you will. 
However, I.Am.Gia might never actually need to create its own influencer: The audience itself looked a bit like a sentient Instagram feed. Dozens of Cool Teens™ and twenty-somethings with, it could be presumed, filler-enhanced lips, extension-enhanced ponytails, contour- and highlighter-enhanced cheekbones and Pilates-enhanced abdominals filled the front row, all wearing skimpy pieces by I.Am.Gia and posting photos of themselves on social media. It was the kind of organic marketing for which most companies would deplete their budget. "We've never to this day paid an influencer to wear our stuff, which has been such an exciting thing to see, and a lot of DMs happen," asserted Pallister. "It goes down in the DM." Asking around after the show, this statement checks out; I.Am.Gia's gifts of free clothing are apparently sufficient for Insta-famous faces in need of new outfits every day, though many of the label's competitors reportedly offer up free clothes alongside four-, five- or six-figure checks in exchange for posting and tagging. 
So, how does clothing that's essentially meant for street style-type photos viewed on a small screen hold up on a runway? Not particularly well, but the high production value (booming rave music, a smoke-filled catwalk, a red neon sign spelling out "GIA") paired with a mixture of professional and street-cast models made the show the most exciting of the week. It's difficult to imagine the collection on anyone who's not comfortable baring it all, as it left little to the imagination. The exposed thongs that we saw on the runways at Tom Ford, Fenty Puma by Rihanna and Baja East were a major motif, as were tattoo prints similar to those we've seen at Alexander Wang and Barragán recently (conveniently printed on the backs of low-slung pants, tramp stamp-style). 
Much of the clothing was short, sheer, body-con, lace-up, cropped, cut-out or some combination of the above, and the quality of the fabrication was questionable. (Not to mention, I.Am.Gia's sizing only extends to a U.S. size 8, according to its website, which demonstrates exactly to whom it's catering.) But the bottom line is that the women to whom this aesthetic appeals, and who have the confidence required to wear these pieces, will do so — and they'll most likely look good, garnering millions of collective likes in the process. And in fashion today, isn't that the ultimate marker of success?
See a selection of looks from the I.Am.Gia runway show in the gallery below.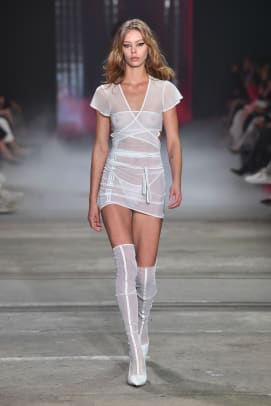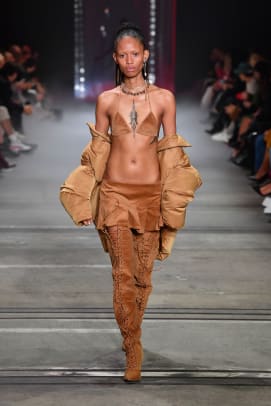 Disclosure: IMG provided our travel and accommodations to cover Mercedes-Benz Fashion Week Australia in Sydney.
Want the latest fashion industry news first? Sign up for our daily newsletter.