Kris Jenner 'Hacked' the Kylie Cosmetics Instagram to Tease Her Mother's Day Collection [Updated]
@kyliecosmetics is dead. @kriscosmetics is alive.
Kris Jenner — who would want you to know you are doing amazing, sweetie — is already the doing the most, literally, in terms of her calendar. But why not add another activity to her workload, especially if she's already riding high on securing 2018 Met Gala invites for three of her most famed clients?
On Tuesday, one such client (Kylie Jenner) announced that her business's Instagram, Kylie Cosmetics, had been "hacked." (Bermuda, who?!) Indeed, the @kyliecosmetics handle had disappeared, only to be replaced with "@kriscosmetics," with a video revealing the hacker to be — surprise! — none other than Kris. (In almost all other circumstances, this behavior would probably, definitely, get you fired by your talent, but as we know, Kris is no regular manager.)
It turns out the aforementioned rigmarole was all to tease Kris's Mother's Day collection for Kylie Cosmetics, which indeed drops on Mother's Day. Cute! Kylie has previously collaborated with older sisters Kourtney, Kim and Khloe Kardashian on makeup lines; could Kendall be next?
There are no other details yet, but we'll update this post as we get them. 
UPDATE, May 9, 8:00 a.m.: Kris took to Instagram stories to share a closer look at the forthcoming products, and damn, are they good — at least on the naming and packaging fronts, anyway. The collection is thoroughly self-aware, capitalizing on iconic Kris Jenner moments and working them into both the aesthetics and shade names. "The Momager Lip Collection is eight minis that are fabulous," says Kris during the Insta story unboxing, before doing her own Kylie-esque swatching session, set to a throwback Kanye soundtrack. 
The collection includes a mix of matte velvet finish products and glosses, with perfectly on-brand names such as Middle Finger, That's Wild, This is Everything, Really?, Overwhelmed and, of course, Boss.
Even better, the face palette comes in a box covered in Kris faces, complete with a lid emblazoned with the words "You're doing amazing sweetie!" (One of the shades inside is "Your Sister's Going to Jail," which is amazing, sweetie, indeed.)
Click through the gallery below for a glimpse at the Kris Jenner x Kylie Cosmetics collection.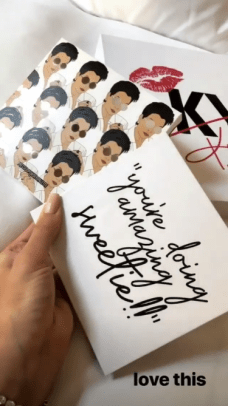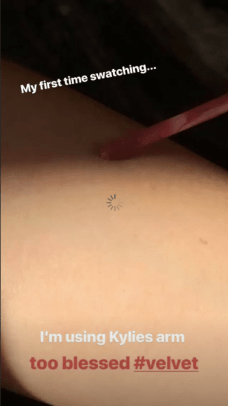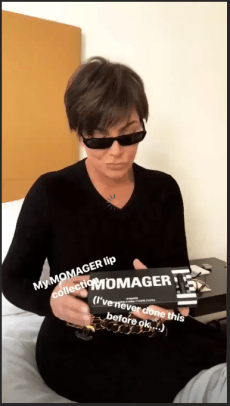 Sign up for our daily newsletter and get the latest industry news in your inbox every day.