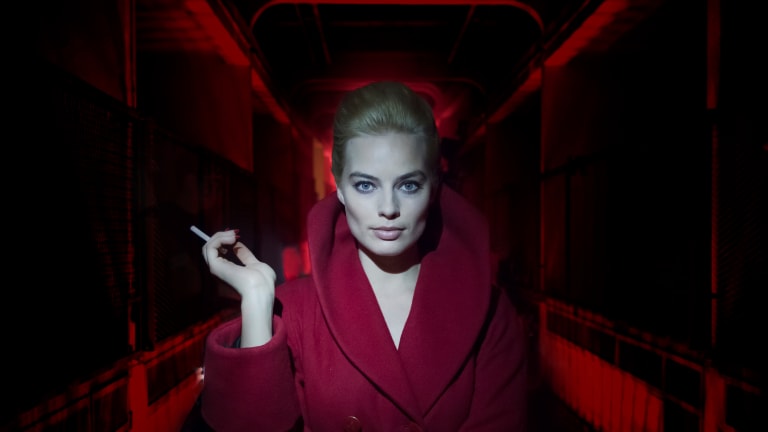 How Fashion Transforms Margot Robbie Into a Femme Fatale Through the Ages in New Thriller 'Terminal'
Costume designer Julian Day walks us through her character's looks, from a salty '50s diner waitress to an underground club owner with a taste for Agent Provocateur sets.
Throughout the new dark comedy thriller "Terminal," Oscar nominee Margot Robbie keeps viewers guessing with her mysterious character, Annie. (Or is it Bonnie? Not knowing is part of the journey.) She takes on different personas via dead sexy ensembles — diner waitress, seedy club owner, otherwise noir femme fatale — which all deliberately drop slivers of hints on her motivations and identity, leading up to the big twist.
"Because the film is fairly timeless, we wanted to create a look that was quite timeless," says costume designer Julian Day. He referenced (and blended) a range of eras with costume, from Victorian to the '30s through the '80s. "But classic noir was very much at the forefront of what we were after." 
Day designed Robbie's looks with director Vaughn Stein's sexy, mysterious film noir vision in mind and enjoyed peppering as many cinematic, literary and television references as possible into the costumes. He points to the aesthetic of Danish director Nicolas Winding Refn for the "the pinks and the blues" of the production — his high fashion horror film "Neon Demon" came to mind. (During the sweeping camera shots of the neon signage around the train terminal, Frank Miller's graphic novel come to life "Sin City" jumped into mine.) The patchwork of eras and cultural references — in concert with the "neon-noir" production design and lighting — not only offer copious opportunities for costume eye-candy, but also throw more twists and questions into the puzzle.
The movie opens with a close shot of a snake design slithering down the back of Robbie's black stockinged calves as she saunters into a confessional. (Her fur-trimmed coat and serpentine necklace look, above, was based on "femme fatale, '40s film noir heroines.") Along with making a stronger case for sheer hosiery than Kate Middleton, Robbie's tights, either black or white — and always worn with stilettos — also reveal hints about her character.
"There are clues to say this person is not all she seems, really, and there's way more to her than you imagine," says Day, who has extensive experience designing period costumes in "Rush" and "Pride, Prejudice and Zombies," plus the upcoming Freddie Mercury biopic "Bohemian Rhapsody" starring Rami Malek and a new "Robin Hood."
Robbie also portrays a salty diner waitress wearing '50s Americana-inspired collared and striped uniform throughout the film. "It was based on the idea of a diner with [David] Lynch-ian characters," he said, mentioning Sherilynn Fenn's "Twin Peaks" character, Audrey Horne, as an inspiration. But in another diner scene, she smolders in a '40s-style cropped jacket and high-waisted black and white skirt suit and black beret. "It was all about being the seductress," Day says.
In addition, "Alice in Wonderland" themes abound in the movie, especially when the story goes down the rabbit hole (sorry) to Le Lapine Blanche (The White Rabbit), a seedy underground club where Robbie's character both pole dances and conducts questionable activities out of a back room. Here, we see her in divine lace halter lingerie set from Agent Provocateur, topped with a luxe white fur coat. "I wanted her to be sexy, but sophisticated as well, and not be too exploitative," says Day. "Margot is one of those people who can pull off looking sexy [while] being strong at the same time." 
If you look closely at the club scenes, you might catch debauched versions of the Lewis Carroll characters: Alice, Queen of Hearts and the White Rabbit, in the form of a delightful Jourdan Dunn wearing an Agent Provocateur lace top and shorts set with a cottontail fur-trimmed mini-robe — plus bunny ears, of course.
RELATED ARTICLES
Robbie's red sculptural '50s-style wide-collared coat, based on a vintage piece, plays an important role in her character's storyline throughout the film. "I always try to put a red coat in all my films," Day says. He took extra care to land on the perfect shade of red, looking to various cultural references to express the character's complexity through color. 
"One of my favorite films is Nicolas Roeg's 'Don't Look Now.' Somebody is wearing a red coat in a very scary bit in the film," he continues. "It's also playing with the idea that Little Red Riding Hood is in fact The Big Bad Wolf. So it's like turning the tables really on what you imagine her to be."
For pop culture fans and movie buffs, Robbie's crisp, pristine white nurse's outfit will likely bring an iconic and terrifying figure immediately to mind. "I based that very much on Nurse Ratched from 'One Flew Over the Cuckoo's Nest,' which is the archetypal crazy, bad nurse," he says. 
"Terminal" also co-stars Mike Myers — resurrecting his best Austin Powers accent — as a train station manager who seems to show up at all the right times and Simon Pegg as Bill, a diner patron with secrets. Given a limited budget for costumes, Day was "resourceful," finding pieces from vintage costume houses, especially European entertainment mainstay Angels in London, buying looks from contemporary labels and loaning himself pieces from his own costume archive amassed through the years. Unsurprisingly, Robbie, who was also a producer on the film, was more than game to wear Day's inventive noir creations and knock it out of the park, per usual.
"Margot is a very fantastic person to dress," says Day. "She's a real collaborator and she wants to get involved in the clothes and she loves dressing up. She loves clothes herself. So all of that really helped in creating this strong female character."
'Terminal' arrives in theaters and On Demand in Digital HD on Friday, May 11.
Stay current on the latest trends, news and people shaping the fashion industry. Sign up for our daily newsletter.