Parsons' Class of 2018 Focuses on Sustainability and Activism
Five graduates on what the future of fashion looks like, and what their plans are post-graduation.
At Parsons' busy campus at Fifth Avenue on Wednesday afternoon, students were rushing to put the final touches on their collections and thesis projects before everyone from Dean of Fashion Burak Cakmak to designer Kay Unger stopped by to view their work. Each year, Parsons opens up to the public to host this event — its annual Parsons Festival is a school-wide event, debuting work from the graduating class across fashion, art, photography, film, architecture and more.
It's a busy time for the graduates of this very famous school. The day after the Parsons Festival opened to the public is also the day of both the school's graduation and the annual Parsons Benefit (which, this year, honored Solange) where a select group of designers will get to show their work in the form of a runway show that takes place the following Monday. This year's graduating class of BFA and AAS students aren't short on talent — even the most simplistic of collections touched on cutting edge topics such as sustainability, activism and gender identities. Here, we spoke to five graduates taking these concepts to the next level about what the future of fashion looks like and what their plans are post-graduation.
Katrina Simon
Situated in a corner of the bustling Parsons Fair, Katrina Simon's work stood out. A blank sheet of paper sat beneath an all-white chair and her all-white garments. On her table, there were shoes with soles made out of crayons (all replaceable), plus bracelets, rings and garments with crayons attached in different varieties, all made so that the wearer can draw or create art with each piece. Think: a white sleeve you slide on, covered with different pieces of crayons on the elbow area so you can draw while wearing it.
When she first began experimenting with these kinds of unconventional garments, she reached out to the Crayola headquarters in Pennsylvania. Lo and behold, the CEO ended up sponsoring her final collection, which takes on a form of activism through analyzing what it means to age. "The crayon is a child's tool that has no life in the adult world," she says. "It's about using that tool and the freedom that a child has. When we're free like that, that's how we break down the aging assumptions that we have."
"It's playful and silly, and a lot of people can't imagine how you're using crayons outside in the real world," she says. "It's pushing the boundaries of things like this." Sustainability is a huge passion for her, too. "Everything in this collection was melted down and reused. Nothing was thrown away," she adds. Now that she's graduating, she plans to continue delving into experimental design.
William Stautberg
Vintage sewing patterns from the 1950s through the 1970s are what inspired the silhouettes of William Stautberg's pieces. Ivy league aesthetics and masculinity also influenced his singlet jumpsuits made of merino wool, which he paired with silk jacquard ties and matching trim. His collection also included drop-shoulder jumpsuits emblazoned with varsity numbers and heavy outerwear jumpsuits designed to withstand rain.
"It started all with vintage patterns," he says. "Then, I subverted them all into one jumpsuit." He used a 1970s Pierre Cardin trench coat pattern and turned it into a belted jumpsuit, for example. "I've collected vintage patterns over the years because of the aesthetic and collectible quality of them." He also turned a 1920s-style boxer short pattern into a singlet jumpsuit.
Wearing a cream-colored wool jumpsuit from his own collection, Stautberg gestures toward his collection: "I focus on individual production," he says. "Buying fabrics just for what you need to make. I've always been that way, too. I make my own looks for many occasions and am always wearing looks that I make."
Subin Hahn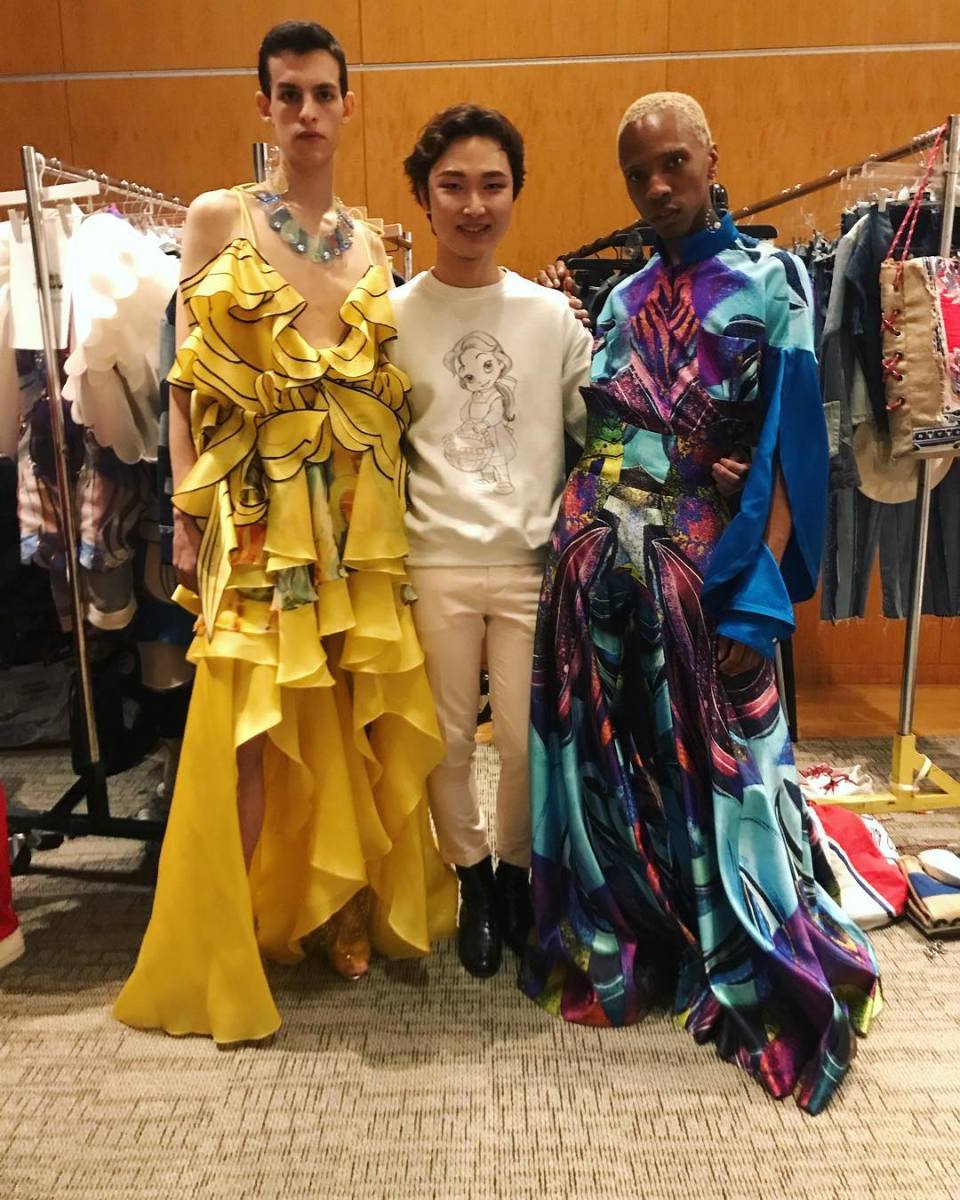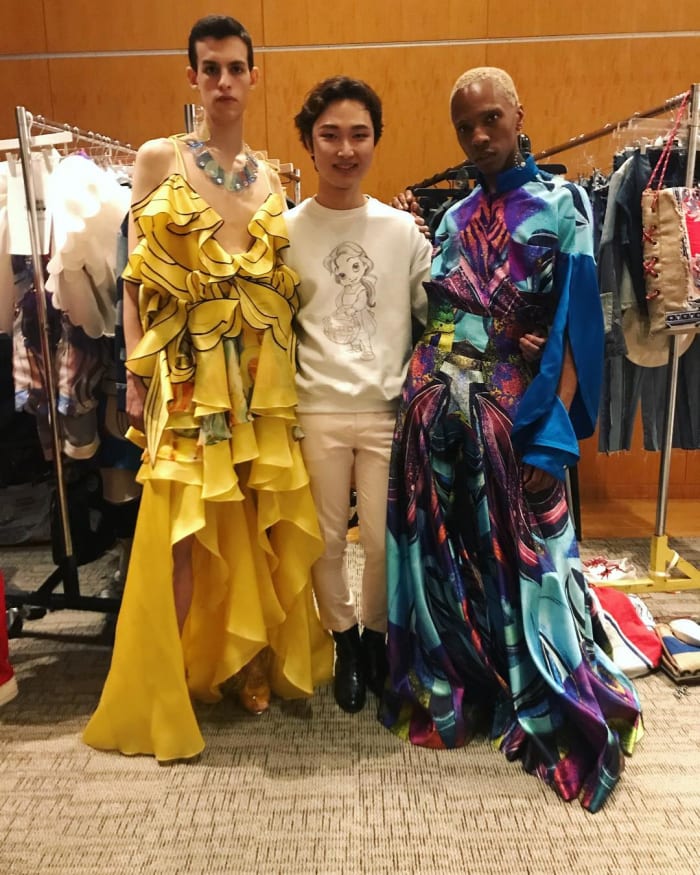 Subin Hahn is the Parsons graduate with a whimsical aesthetic, addressing sustainability through gender. As a designer, he creates "gender fluid" eveningwear with a touch of handmade elements. For example, his printed silk dresses replete with ruffles and Swarovski crystals are embellished with his own colorfully eccentric illustrations. He was originally inspired by his upbringing in South Korea; as a child, he made outfits from fabric scraps or his mother's scarves.
"It challenges the ideas of what gender is," he says of the collection. He was inspired by the concept of how traditional eveningwear for men usually stays in a menswear aesthetic, and thus created hybrid bodysuits and shirt dresses with plenty of flounce. In designing his collection, he was also thinking about the impact of the overall presentation and how it affects the industry. "If you do a gender neutral or fluid show instead of doing womenswear and menswear separately, it's going to be a lot less of an impact."
When Hahn graduates, he wants to work in the women's  eveningwear arena and possibly push the limits of gender fluidity at a more traditional design house like Oscar de le Renta or Zac Posen. "I will definitely do that when I have my own brand," he says. "But I want to start with something a little more marketable."
Gal Yakobovitch 
Inspired by her father who had a career making surfboards, Gal Yakobovitch makes clothing with forward-thinking sustainability methods, inspired by surfboard manufacturing techniques. In fact, everything in her final collection is made entirely of ingredients from her local New York City bodega, and she cooks it all up in her own kitchen. Her pieces are also often waterproof and windproof — for withstanding surfing.
A dainty but sturdy-looking sweatshirt with lace-like perforations, for example, is constructed of her own formula of gelatin foam. She also uses tapioca bioplastic and gelatin glass. "I tried to find all-natural, biodegradable materials that mimic the application properties that the original toxic materials do," she says. "I found recipes for bioplastic which are already out there, but I modified them. Along with that, came an investigation about gelatin." Glycerin, water and honey are just a few of the main ingredients in her clothing recipes.
So devoted to sustainable fashion is Yakobovitch that she even created her own website to teach anyone how to make biomaterials. She also does workshops and meet-ups around the city, and plans to continue creating fashion out of biodegradable, sustainable materials while creating resources for anyone else who wants to do the same. "Through this platform, other makers can add recipes. My recipes are already up there. I want to get the word out and have other people make things with biomaterials."
Deshon Varnado
"I really dove deep into my identity," says Deshon Varnado of his collection. "I grew up in the church, so I talk about my transition from the church space to going into the subculture underground world and really talking about the parallels between the two."
A kelly green button-down is paired with matching knife-pleated pants that look like a shirt, while a Yves Klein blue ensemble borders on coat, dress and blazer all-in-one. The designer was also sponsored by the eyewear brand Safilo, and accordingly created colorfully rimmed glasses in addition to jewelry and neon pink and bright red shoes. Varnado represented activism through his use of bright colors. "I was really trying to make sure that I gave something that really illuminated these bodies that were silent for so long," he says.
"I work with all local artisans," he adds. "I was really trying to connect with the people in my community. I used a Black tailor. The collection is also completely unisex." He started with the idea of taking pieces that were made for women and placing them back onto the male form — to create less waste. Post-graduation, he plans to immediately start working on his second collection.
Sign up for our daily newsletter and get the latest industry news in your inbox every day.