Derek Lam Believes Sustainability Is the Future of Fashion
The designer accepted the SCAD Étoile award at the design university's annual Fashion Weekend.
Derek Lam isn't afraid to admit that it's a tough time for the American fashion industry. 
"If you look what's happened in Europe — who are the big brands in Europe and what are they making? — it all looks like American sportswear," the designer told the crowd gathered in Atlanta to hear him speak at Savannah College of Art and Design's FASHWKND on Saturday. "I think now, people are looking at American fashion wondering, 'What are you offering us that's new?'"
It's surely a question that's top of mind for the university's recent crop of graduates who had shown off their work for friends and family in Savannah just the day before. Thankfully, it's something Lam himself — there to be awarded with SCAD's Étoile award — has been considering in his own business, and he had some advice to share with the next generation. 
"I think it's important to dig really deep and not try to be everything that already exists," he said. "Don't think about American sportswear; don't think about American sensibility. Think about something that's even more relevant." And what's more relevant, according to Lam, is sustainability. The veteran designer looked back to peak moments in American fashion, talking about icons like Claire McCardell who were forced to get creative with design in times of deprivation. While we live in an era of excess, thinking about sustainability is a way of reinventing, according to Lam.
"We do need to look at what's sustainable, what's ecologically important, because that, to me, is the modern interpretation of deprivation. It's a self-deprivation; you're saying, 'We can't consume the way we've consumed, so let's go back and figure out how we can do more with less,'" he says. "I think that's the future; for me, [it's] definitely something I've been investigating."
Lam claims to be in the educational stage of achieving this within his own company; he set up a board of "key people" who can help him figure out how sustainability is possible at every level of the business, from retail partners to fabric mills. Being armed with that knowledge, and setting firm sustainability goals, will help Lam move forward with this next phase. "Maybe sometimes the transition is a little bit daunting, but we already have partners," he says, adding with a smile: "[I'm] a little bit of an old horse learning new tricks." 
Of course, another relatively new trick is mastering the new world of social media and its stable of influencers. It's a change from the traditional celebrity-driven business, but Lam, who doesn't do much red carpet to begin with ("Are you sure you're not looking for Jason Wu?" he joked about stylists who approach him for famous clients), doesn't mind. Celebrities, with their army of assistants, don't need to live their lives in his clothes the way his customer does.
RELATED ARTICLES
"I think celebrity dressing is weird, and I always have," he said. "They don't care about fashion; the only moment fashion comes up is the red carpet."
Influencers, then, can portray a more realistic vision of a Derek Lam lifestyle; the only challenge is finding the right partners. Lam shared the story of a recent visit to China, where insiders told him that a very popular Chinese key opinion leader — one who regularly partnered with major European luxury brands and was highly in-demand — actually carries little to no influence in her native country, an audience that considers her too Western. 
"You really have to do your homework to find those partners; that's how my brand will survive, that's how my work will survive, through social media and reaching out to people," he said. "In the luxury arena, it's more rarified, and there's really no honest broker that will tell you, 'Okay, these five people will take you exponentially here, whereas these other people will be more for mass appeal.' I have to do the work with our team and make those decisions, and it's scary."
Lam ended his chat on a positive note, telling students that now might be a better time than ever for graduating students, with plenty of opportunities — if they can cut through the noise and capture people's attention in a world where Instagram is a driving force. His recommendation was that students "pick a lane," something he says took him a while to learn. "If you specialize in something and you can really take that to the Nth degree, you might find a lot of satisfaction and success," he said. "Do what you think is your best thing and let that be your calling card." 
If a designer is great at dresses, put out a line of dresses; if they love working on knitwear, specialize in that. But the one thing both he and moderator Nicole Phelps, director of Vogue Runway, agreed upon? The biggest opportunities are happening in accessory design. 
"The world needs more accessory designers, so if you're interested in accessories, get into it. Clothing is a pain in the ass, let me tell you," he said with a laugh. "There's too much that goes into fashion, but shoes, it's amazing — you don't even need that much space."
"It's true," Phelps chimed in. "At Vogue, we're always being asked by designers, 'Who should I hire to do my accessories?'"
Considering the pool of talent on display at the graduate show, perhaps Phelps and the Vogue team should direct those inquiries to SCAD. Students first presented their work in Savannah with a traditional runway format, and then brought their collections to Atlanta to show in a more experimental, interactive format. Miss J. Alexander of "America's Next Top Model" fame directed groups of people through a "backstage area," bustling with hair, makeup and stylists, to show off the most recent crop of graduate work. 
"SCAD breeds talent," he said, gesturing towards one student's work. "And this is talent."
See the highlights from the 2018 SCAD FASHWKND below.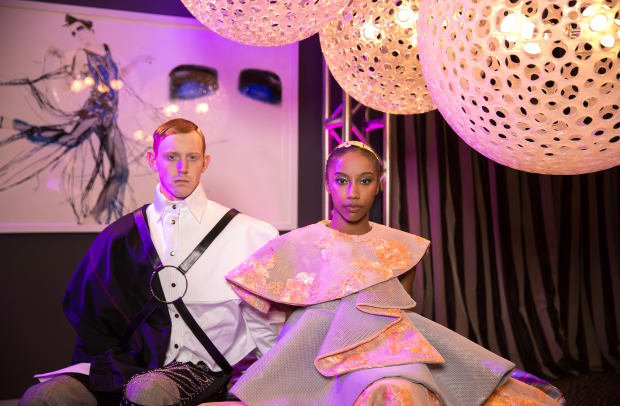 Want the latest fashion industry news first? Sign up for our daily newsletter.