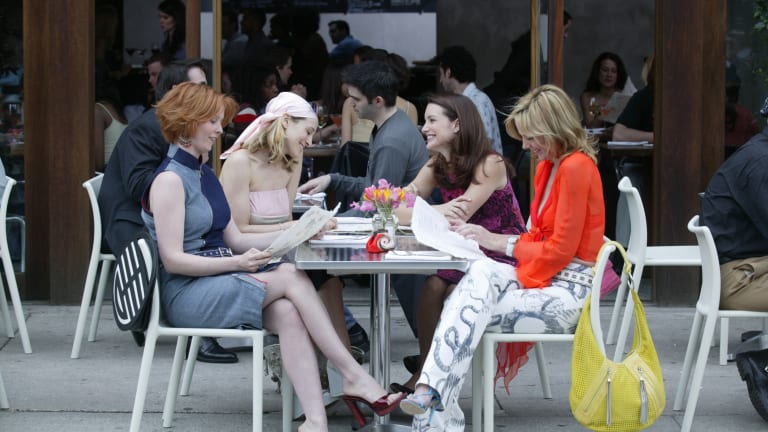 Patricia Field Changed the Way We Dress Through Her 'Sex and the City' Costumes
The legendary costume designer takes a look back 20 years after the game-changing series premiered on HBO.
"We were not doing fashion shows," legendary costume designer Patricia Field tells Fashionista over the phone about her still-discussed, much-referenced and categorically game-changing costumes in the "Sex and the City" TV series, which celebrates the 20th anniversary of its premiere on June 6. "We were telling the stories and showcasing the characters through the way they dress. It's a storytelling situation."
But her work means so more than that. Through Field's distinct, irreverent and often envelope-pushing work on the pop culture juggernaut, she changed the landscape of how fashion is represented on on-screen — and ultimately, on all of us, whether we watched the show or not. 
The HBO series, which ran for six seasons from 1998 to 2004, broke boundaries by celebrating female friendships in a way never before seen on TV, also bringing an honest and refreshingly frank conversation about both sex and relationships to the forefront. The fashion impact from "SATC" proved to be comprehensive and enduring, as well. Through the show, Field pioneered the lending relationship between high-end design houses and TV show costume designers, as well as introduced her irreverent downtown styling methods to the masses, showing women how to confidently express their individuality through wardrobe. She also left an ongoing legacy — beyond the "Naked Dress" and making Manolo Blahnik a household name — through her costume team, who are also bringing the fashion, with a capital F, to your favorite shows today.
Of course, Field's unique and nonconformist fashion aesthetic was already well-known to New Yorkers since 1966, when she opened her first downtown store, Pants Pub, which evolved into her eponymous boutique on 8th Street (later moved to the gentrifying Bowery). Field was the go-to for the below-14th Street creatives, club kids and generations of stars, like Blondie's Debbie Harry and Missy Elliott. She shuttered her shop in 2015. But, like the visionary she is, Field launched ArtFashion — her concept shop offering affordable pieces customized by local artists and friends — in a buzzy section of the Lower East Side.
"How did I do it?" asks Field, about translating her trailblazing vision from her boutique to the franchise. "I did what I always do. I did it in my shop. I believe that the experience of being in a bazaar is the most interesting because you never really know what you're going to find. You find surprises you weren't expecting." 
Field had the same attitude during her initial meetings with "Sex and the City" creator Darren Star. He had clear character descriptions for all the leads, except protagonist Carrie Bradshaw, which presented maximum opportunity for creative license.
"But we were lucky because we had Sarah Jessica Parker, who loves fashion," says Field, about the series star and executive consultant, who brought the costume designer on board after working together on "Miami Rhapsody" in 1995. "Together, we were a great combination. She understood me, and the collaboration is what made Carrie so successful. She was very involved in a contributing way. It's like, if you if you want to tango, you need a good partner to tango with."
Field's close collaboration with Parker brought the character's now-iconic trademarks to the forefront of pop culture. "She came in with the idea of the flower," says Field, about the signature flourish that remained a through-line into the movies. "She was very participatory. Of course, I came in with the idea of the 'Carrie' necklace. It was give-and-take and it worked out very well."
Assistant costume designer from seasons two through four, Eric Daman — who went on to create his own fashion legacy with "Gossip Girl" (and designed The CW's "SATC" origin story, "The Carrie Diaries") — remembers Field and Parker breaking boundaries with the now-famous dirndl that Carrie wore on a Central Park picnic. 
"It was an iconic moment of vintage fashion," says Daman, over the phone, after finishing season three of "Billions," about the "pushback" from producers and network brass. "'Why is she wearing a dirndl?' It doesn't really matter because it's just this great Heidi picnic, Carrie-fashion-moment. It was an 'ah ha!' moment for myself and the world: You can just be whomever you want to be and it doesn't always have to be a Lacroix dress."
In a 1999 interview with The New York Times, Field addressed the response in her awesomely straightforward — and very N.Y. — way. "The straight types just don't get the irony," she said, later adding: "We had to say to the guys, 'Look, the girls in this show just aren't going to wear miniskirts with high heels. No one in New York dresses like that. Period. That really was a blow to a lot of people.''
The New York authenticity ties back to Field's legendary boutique, which also served as a hiring pool for her costume team, including Paolo Nieddu, who currently dresses Cookie Lyon in a deliciously bonkers mix of vintage and designer runway pieces on "Empire." He originally worked in the shop and so impressed the boss with his talent on the sales floor  that she hired him to assist on both "Sex and the City" movies. 
Nieddu recalls marveling at Field's effortless and inventive styling when she engineered the mix-and-match green ensemble Carrie wears to peruse everyone's dream walk-in closet with Big (Chris Noth). "It was a green '50s dress with a matching coat," he explains, over the phone. "I watched Pat belt it, shorten it, make it modern and put it with the Dior shoe and the little Timmy Woods Eiffel Tower bag. It was such an unorthodox way of styling somebody — it wasn't like a new dress from a department store — and so I did learn to how to incorporate vintage and rework it from her."
RELATED ARTICLES
Field's high-low approach made an impression on former assistant Jacqueline Demeterio, too. Field "plucked" her to join the movie from her personal shopping days at Barneys New York, where the two collaborated on designer pulls for the series and still work together today. Currently, Demeterio is costume designer and Field is costume consultant on Darren Star's also-fashion-forward TV Land show, "Younger." 
"I just sit around and do nothing," jokes Field. "She's doing a very good job."
Demeterio remembers initially being "a little bit in awe" at Field's out-of-the-box approach, which, even to her, felt progressive. "It could be a $9 piece of clothing from a thrift store or it could be a $9,000 couture piece and she'll mix them together," says Demeterio. "That was something new for me, too, because I was used to all constant high-end clothes." Nieddu points out that Field's sartorially egalitarian mindset originated from her store, which offered trend-driven and accessibly-priced fashion back in a pre-H&M- and ASOS-saturated era.
Through weekly installments of "SATC," Field essentially disseminated a proto-version of "street style" to the world outside of the East Village, as opposed to the Instagram or influencer content of today. "Before 'Sex and the City,' New Yorkers had seen girls like Carrie," says Nieddu. "They're around: a city girl who loves clothes and goes to parties. I think it was the first time people in the rest of the country totally saw that style of dressing."
We have Field to thank for showing us how to wear designer stilettos with a thrifted '80s terrycloth cover-up, a fur coat over a cocktail dress to a Yankees game or even a mix of vibrant colors and prints, another Carrie signature.  "I remember her being like, 'Oh, you can mix floral print and leopard prints. Leopards are among flora and fauna, so they go together,'" says Nieddu.
Field's unique and innovative knack for styling accessories, usually in coordination with Parker, also made a lasting impression on her team — and pushed the viewers to be adventurous, too. "Wearing a jeweled shoe with sweatpants? White pumps and a newsboy cap?" asks Nieddu. "That's the sort of thing that I don't think was in people's consciousness in terms of fashion when that show came out."
Although, to Field, the logic behind her approach is pretty straightforward. "I love putting pearls on white T-shirts," she says. "I always feel like white pearls go with a classic, which is a white t-shirt, so they belong together. And they have an eternal life." 
The Emmy-winning designer would build an entire outfit off of one interesting detail — instead of the usual vice versa — often unintentionally making an accent piece iconic. Take Carrie's avant-garde wedding ensemble of a voluminous Vivienne Westwood gown and the outrageously chic turquoise bird clipped into her up-do, for example. 
"I really remember the bird," says Nieddu, about Parker's and Field's spontaneous moment of inspiration while perusing the accessories options that he and another assistant pulled. "They were all in her dressing room on location and were talking about putting it in her hair and that became such a thing in the movie. It was never like, 'We're looking for a blue bird to put in her hair.' That's the cool thing about working with Pat."
Interestingly, when I ask Field about her favorite costume moments from "SATC," they're not from the series or everyone's favorite "SATC" movie. "It's really hard to say. There were a few I loved from Dior: the J'adore Dior T-shirt with the long skirt," she says, of the outfit Carrie wears when she first spots ex-fiancé Aidan Shaw in the Abu Dhabi market in the polarizing "Sex and the City 2."
"From the point of view of the costume, I loved movie number two," continues Field. "I loved the desert when the four gals emerged from the sand dunes in what I call their 'camel riding outfits' on the grounds of pyramids." She designed the foursome's costumes based on her own trip to Egypt and her own "appropriate camel-riding outfit," of which we'd love to see a photo. "On a personal note, I was not disappointed."
But musing on where Field would take Carrie, Samantha (Kim Cattrall), Miranda (Cynthia Nixon) and Charlotte (Kristin Davis), costume-wise, 20 years later is a moot point. As you may have heard, "Sex and the City 3" is a no-go.
"That's a loaded question because there were all these rumors about another movie, and blah, blah, blah, and people ask me, 'What would you do?' It would depend on the script," she says. "It's not cut-out dolls; that you just throw clothes on people. It has to do with the circumstances, the environment, whatever's going on. So, I never took it any further, because it never developed into anything more."
But what if an imaginary third movie script featured Miranda running for Governor of New York? "I know, isn't that great?" says Field, excitedly, about friend and primary ballot pick, Nixon. "She looks absolutely great." 
But Field is revisiting another TV icon via costume: the reboot of "Murphy Brown," the 1988 to 1998 sitcom starring Candice Bergen as an investigative journalist. The show feels especially relevant today, also for its legacy as one of the first heavily-publicized instances of politicians-making-awkward-pop-culture-references when, during a campaign speech in 1992, Vice President Dan Quayle criticized the fictional TV character's values for making the choice to become a single working mother.
"I just thought it was very timely to return to 'Murphy Brown' now with all the hubbubs," says Field, who's completed promotional spots for Bergen. "I want her to be updated, but classic. I don't want anything trendy. I want it to have a long life. We'll see what the future holds."
We'll definitely be watching that space, as the fashion is sure to be game-changing — like it always is with Field.
Follow Patricia Field on Instagram at @patriciafield. Patricia Field ArtFashion is located at 200 E. Broadway, Suite 3D, New York, NY 10002.
Six seasons of "Sex and the City" are available for streaming on HBO Go and HBO Now.
Top and homepage photo: Craig Blankenhorn/HBO.
Stay current on the latest trends, news and people shaping the fashion industry. Sign up for our daily newsletter.