18 Toe-Loop Sandals That Are Worth the Weird Tan
Please, hear us out.
Every summer a new, relatively subtle sandal creeps in and reigns supreme as everyone's default shoe — slides, mules, wedges, you know the deal. It's typically a no-brainer choice: something that's comfortable to walk in, easy to put on and can work with just about anything you wear without really having to try. This time around? It's all about the toe-loop sandal.
Before you close this tab, we know that the name alone is completely unsettling, and maybe too closely related in theory to the flip-flop. But despite the literal hugging of your big toe and inevitably weird tan, the style as it exists right now is pretty damn chic, backed by brands all over the spectrum from the humble Birkenstock to indie and designer faves like Loq and Isabel Marant. They offer something fresh without being too out there, and from a practical perspective, allow you the security of knowing you won't accidentally step out of your sandal onto the grimey subway platform ever again.
Whether you're looking for something flat and functional, or lean towards bright colors and a bit of heel, the 18 pairs ahead will help you get in front of the trend. Sure, it may be a slow burn that you feel like you have apologize to friends for liking at first, but we have no doubt you'll be saying, "I told you so," by August.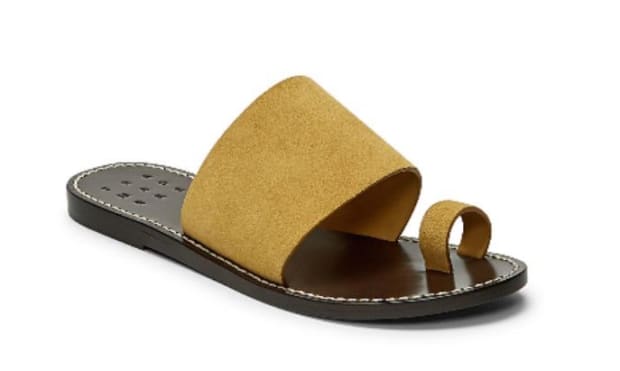 Related Articles
Please note: Occasionally, we use affiliate links on our site. This in no way affects our editorial decision-making.
Stay current on the latest trends, news and people shaping the fashion industry. Sign up for our daily newsletter.