Hey, Quick Question: Would You Wear These Alife Sock Crocs?
The New York City streetwear label is the next fashion brand to revamp the famous shoe style.
Welcome to our column, "Hey, Quick Question," where we investigate seemingly random happenings in the fashion and beauty industries. Enjoy!
Now that Crocs is banking on its unexpected chicness, the Colorado-based company and its famous clogs are about to undergo another revamp. On Thursday, New York City streetwear label Alife announced its collaboration with Crocs, which will be released on June 14 and include three limited-edition styles — one of which is an entirely new creation for the footwear brand. Ladies and gentlemen, we present to you: the "Sock Croc."
Officially called the "Sport" and priced at $140, the new shoe pays homage to the socks-and-Crocs lifestyle — a topic of debate since 2007 and a recurring sartorial choice by Crocs enthusiast Shia LaBeouf.
"There are so many things happening in the footwear space now in terms of collaborations. It got to the point, for us, where it's very monochromatic. It's always the same thing," recalls Treis Hill, partner and general manager of Alife, while brainstorming with Creative Director Rob Cristofaro. "What's something that could be totally different and left-field and not so boring and expected?"
A clog permanently affixed to a white tube sock, that's what. Hill says achieving this footwear idea was a lengthy process, from choosing the exact sock type to nailing down a final hybrid product that could be washable together.
"When working on collaborations with other brands or designers, we really encourage them to flex their creativity while embracing the Crocs design DNA that caught their attention in the first place," says Michelle Poole, SVP of global product and marketing for the company. "Brands have been experimenting with sock runners for a few seasons now, and it's a feature that Rob and the Alife team were hopeful they could incorporate into the Classic Clog."
Hill and Cristofaro are no strangers to surprising shoe designs. In a previous collaboration with Reebok, the duo released a Court Victory Pump sneaker made from the same fluorescent yellow felt as a tennis ball. With Asics, they embellished a Gel Lyte III with monster-looking googly eyes. Another upcoming Crocs clog from Alife, named "Art," is an ode to New York City and comes with the footwear label's trademarked Jibbitz depicting major landmarks like the Statue of Liberty, Brooklyn Bridge and Empire State Building. It's a conversation piece, and rightly so: Only 100 pairs are available and cost $600 each.
What will be more readily available — and less expensive at $80 — from the collaboration is a Crocs Classic Clog in gray and emblazoned with an oversized Alife logo in black. (Fun fact: The colorway choice is a throwback to Alife's first-ever T-shirt release.)
And in case you were wondering, the partnership between Alife and Crocs germinated well before Balenciaga's nearly-four-inch platform Crocs graced the runways at Paris Fashion Week last September. When Hill first reached out to Crocs, he was required to sign an NDA and was given a heads up about an upcoming, somewhat-similar project. "They said, 'But you'll have to trust us — it is in the fashion space but not necessarily a competing brand like a Supreme or Palace," remembers Hill. "We took that for what it was and it ended up being Balenciaga."
In fact, the timing of it all was actually ideal, as Demna Gvasalia and the French house brought even more attention (both good and bad) to Crocs. "For us, it's perfect," says Hill. "We're a brand that speaks to a similar audience — obviously our price points are completely different — but the way today is, youth culture is dipping into high fashion and you can see a lot of Louis Vuitton and Supreme and Gucci with streetwear. It's great for us. We had no hesitation after that."
See more of the Crocs x Alife collection, which is available to purchase online and at Alife's store in New York City on June 14, in the gallery below.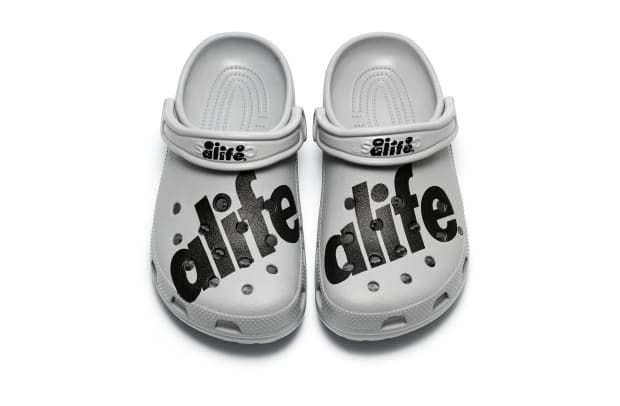 Sign up for our daily newsletter and get the latest industry news in your inbox every day.