Urban Sophistication Is Expanding Its Viral-Worthy Clothing With New 'Out of Reach' Collection
The Tel Aviv-based label has garnered celebrity endorsements, a fashion week presentation and an Urban Outfitters collaboration, all since its launch in 2015.
With a quick scroll through Urban Sophistication's Instagram feed, you'll probably wonder if it's a meme account, fashion brand or a celebrity fan page. Interestingly enough, it's a bit of all three, which is why 30K followers turn to Tel Aviv-based founders (and siblings) Elad Yam, 22, and Neta Yam, 20, for their take on the fashion-adjacent memes and hot topics currently trending on social media and in pop culture. It's what their streetwear and accessories label is built upon — and the reason why the brother-sister duo has garnered celebrity endorsements, an on-the-street New York Fashion Week presentation and an Urban Outfitters collaboration, all since its launch in 2015.
Much like how music merch can highlight a special event for an artist, such as a worldwide tour or album release, Elad and Neta see Urban Sophistication as a canvas for pop culture moments. "It's about cherishing an experience with an object and then you have it forever," says Elad. "We thought about our pieces as merch for pop culture that you'll look back at five or 10 years from now." The label's very first piece was an oversize black hoodie printed with the phrase, "Oversized Black Hoodie," a sartorial ode to fashion's classic "Little Black Dress," as well as Vetements' breakout year. 
RELATED ARTICLES
"Many times people have an idea of something they want to do but they don't think it will actually work, so they don't do it," says Elad. "Whenever we have an idea, we do it — we make it — and then it may not work. Most of the time it doesn't work — nothing happens. But it's just about being persistent and actually doing what you want to do. It doesn't guarantee that it will work or catch but if you don't do it, you've already given up."
Persistency has certainly paid off for Urban Sophistication's growth and following over the past three years. And because the brand is built on the internet, Elad and Neta aren't exactly breaking the bank to maintain their website. They follow, like and comment on the social accounts of fashion stylists and editors, as well as cold-message their favorite celebrities. The latter strategy has contributed heavily to the label's success.
When Urban Sophistication released its "Momager Tour" T-shirt — parody Kiss merch featuring Kris Jenner with her face painted like Gene Simmons — in 2016, Kylie Jenner herself reached out to Elad and Neta to gift her mother and sisters each of their own for Mother's Day. While we chatted with Elad, he pulled up his DMs with Miley Cyrus to remember how they first started corresponding, recollecting a time when he was messaging Lena Dunham about the brand's "American Bitch" hoodie. Each season, the brand releases a variation of its "Fashion Month Tour" collection, often worn by both up-and-coming and established models backstage between shows. Recently, Gigi Hadid has been spotted numerous times carrying an Urban Sophistication "Mental Health Warning" phone case. Similarly styled like the warning labels found on cigarette packs, the case reads: "Social Media seriously harms your mental health," a silly-but-true reminder of the effects of Never Logging Off.
The creative process behind Urban Sophistication is pretty much done on the fly. Their everyday conversations, whether it's via text, online or in person, usually stirs some sort of inspiration for their next release. "I feel like this is what makes the message of our designs relatable — it honestly comes from day-to-day thoughts and feelings towards our culture," says Neta. "After that, we start to go into details in terms of the graphics, and I sketch a design that will portray the message of the piece in the best form." The two decide on the best way to display a message, such as a hoodie, a cap, or a phone case, and then they choose the aesthetic — colors, fonts, placement.
"As we comment on trending subjects, there's always a challenge to make sure that the final piece reflects the essence of the trend in a way that transcends its 15 minutes of fame, and relates to a bigger matter," says Neta. 
With a new collection titled "Out of Reach," which launches on Tuesday and is priced between $35 and $88, the pair will expand their viral-worthy clothing across range, concept and technique. Inspired by the concepts of consumerism, resale and the fast-paced, never-ending cycle behind drop culture, the capsule's messaging touches upon resellers' vernacular, often found on the pages of Grailed and Depop. "Only worn once. Extremely rare. 5/5 Feedback," is sewn across a khaki-colored dad cap; fashion's recent obsession with paparazzi-style imagery is highlighted with pieces sporting the phrase, "As seen on," together with a mimicked logo of a major photo agency. The collection is also offering sweatpants for the first time and experimenting with embroidery.
"We're at this point where we're starting to think three steps forward, more strategically," says Elad. As for where the two see Urban Sophistication going next, they hope to tap into another heavy practice within streetwear. "I would say that collaborating with other artists is a goal," says Neta. "It will allow us to experiment with translating our vision to other forms, and I'm excited to see what comes out of it."
See Urban Sophistication's "Out of Reach" collection — available to shop online now — in the gallery below.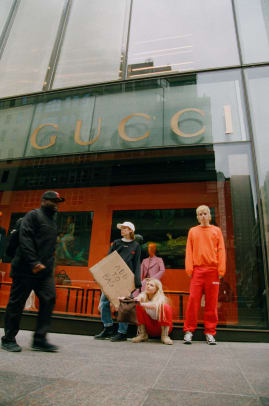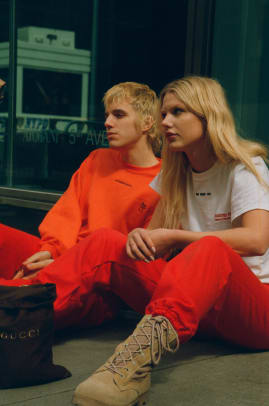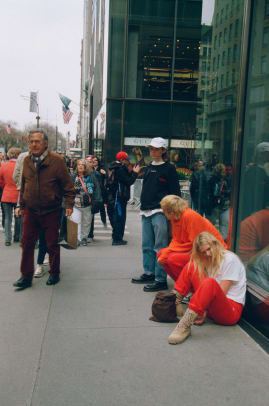 Sign up for our daily newsletter and get the latest industry news in your inbox every day.