For Good Luck Transforms Prom Dresses and Evening Gowns Into Going-Out Tops
Olivia Horan, a New York City college student, has a history of launching sustainable fashion businesses with secondhand clothes.
For The New School student and vintage purveyor Olivia Horan, vintage is a deeply personal pursuit. The 20-year-old believes that each vintage clothing item tells a unique story, while it also allows for maximum self-expression through style. As a teenager growing up in Doylestown, Pa., she realized that vintage clothing fit her better than anything she found in stores. "This got me interested in how clothing was made and the shift in production that occurred when fast fashion began to drive consumerism in the industry," she says.
It was on a family road trip to Asheville, N.C., one summer that the idea to turn her passion into a business first sparked. Upon exploring thrift stores full of affordable and eclectic treasures, she began brainstorming a business plan that would use Instagram as a platform for selling her coolest finds. At the same time, Horan found herself deeply interested in sustainability and urban design. A vintage business offered her a way to explore all of her passions simultaneously without compromising her integrity.
RELATED ARTICLES
From there, Horan launched her first business, Teenjuice, at age 15. Working closely with her mother, she rounded up her closest girlfriends, styled them in her vintage finds and transformed her bedroom into the set of a photo shoot. While prices were consciously kept low in an effort to encourage people to buy secondhand instead of fast fashion, the company also connected young people within her community and educated them about sustainability. She learned early on that changing this mindset and perspective on clothing is the first step into becoming a conscious consumer. The brand will turn five this year.
Later, as an urban planning student at the New School's Eugene Lang College, she found herself inspired by the history of New York City nightlife culture, thanks to a college class that explored urban design during the disco era of the 1960s and '70s. Form did not follow function back then, says Horan, and that reflected the Radical Architecture movement, along with the way people dressed for these spaces. As the fashion of that time period grew more experimental, Horan was inspired to curate a collection of vintage clothing under the name Paradisco Vintage. "I wanted to encourage people to experiment more and find that special vintage piece that makes them feel like magic as a nod to this pivotal moment in design history," she explains.
These two brands led to her latest label, For Good Luck, which is centered on reworking and deconstructing vintage eveningwear pieces, such as prom gowns, collected over the years. "This project was a way of giving these special pieces a new life in a way." says Horan, who transforms ruffled and embellished dresses into covetable crop tops and going-out blouses. For Good Luck's imagery showcases the dressed-up tops with vintage Levi's Jeans and beaded accessories by Susan Alexandra, the New York-based jewelry and handbag line Horan once interned for. The one-of-kind pieces are hand-sewn, sourced in New York and range in price between $67 and $180.
"Each aspect of For Good Luck holds some sort of meaning and purpose," Horan says. "It's my way of making vintage clothing and secondhand more upscale but at the same time making it for everyone." While the pieces are meant for fun and special occasions, For Good Luck's efforts help break down the not-so-ethical practices that still occur within the fashion industry.
Horan hopes to start selling her pieces at retail stores in New York this summer. Additionally, she plans to do pop-ups in international cities, such as London and Paris. Eventually, Horan hopes to transition into a zero-waste company and consult other brands on how they can be more sustainable.
See more of For Good Luck in the gallery below. All products can be found online at forgoodluck.co.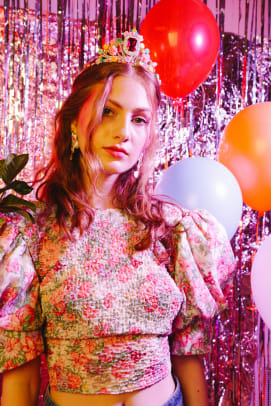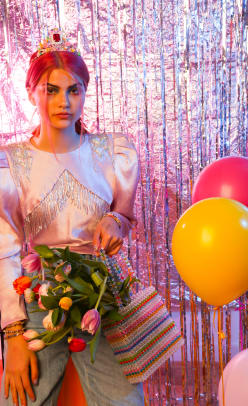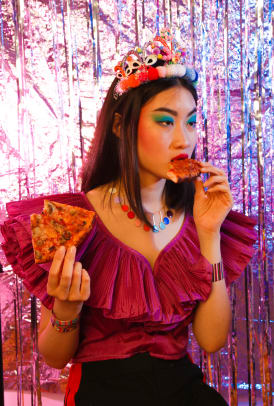 Sign up for our daily newsletter and get the latest industry news in your inbox every day.