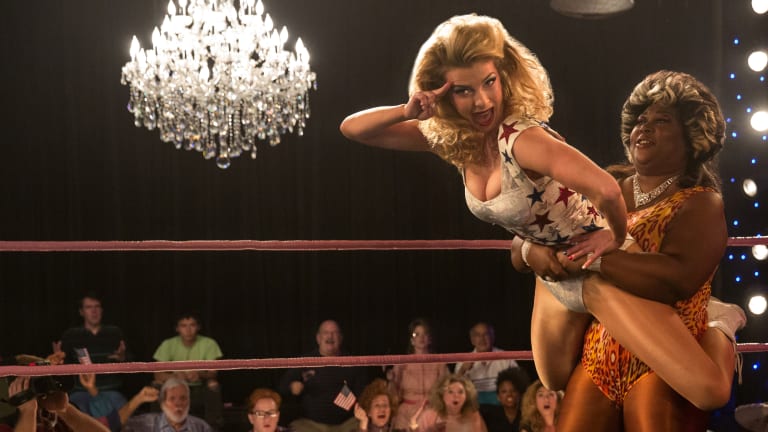 How Costume, Hair and Makeup Help the Ladies of 'GLOW' Call 'Time's Up' in Season 2
Like the mall bangs, everything is bigger — and more fabulous — the second time around.
It's true. The second season of the badass Netflix series "GLOW" is even better than the first, which, of course, was already excellent. Season one introduced us to struggling and plucky — to the point of embarrassing, but endearingly so — actress Ruth (Alison Brie) and best frenemy (seeing that Ruth majorly broke the girl code), former soap star and new mom Debbie (Betty Gilpin). A group of diverse newbie wrestlers completed the roster and debuted their racially stereotypical — and reflective of the real-life '80s-era Gorgeous Ladies of Wrestling — in-the-ring personas in the finale ("Fortune Cookie" for Cambodian-American aspiring fashion designer Jenny, played by Ellen Hong, and "Welfare Queen" for hard-working mother Tammé, IRL pro-wrestler Kia Stevens).
This time, the show-within-a-show "GLOW" hits the small-screen — as in KDTV, San Fernando Valley's premiere cable channel — setting the stakes sky-high for everyone, including director Sam (Marc Maron, right at home in '80s 'fits) and rich-kid producer Bash (Chris Lowell). Season two explores the backstories and consequences of exploiting racial stereotypes, plus the ongoing dynamics of Ruth and Debbie's friendship — the real "will they or won't they" of the series, as Brie has said in interviews. While the series is set in the mid-'80s, the themes are just as relevant to 2018: women fighting for their worth and place at the table, #MeToo and the importance of representation. 
Of course, a bigger season and a mid-'80s setting brings fabulous fashion (in and out of the ring), glorious mall bangs with crispy side swoops and all the glitter to support the stories. We talked to the expert behind-the-scenes team — costume designer Beth Morgan, hair department head Theraesa Rivers and makeup department head Lana Horochowski — for the crucial details before the "GLOW" season two release on Friday, June 29. (Fun fact: Horochowski and Rivers are longtime friends and colleagues who have collaborated through the decades from the '60s and '70s on "Mad Men" back to the '30s on Amazon's "The Last Tycoon.")
THE COSTUMES: 'SOMETHING THAT EMPOWERS THEM.'
Last season, Morgan and the team focused on building a "gritty, authentic" '80s world, but this time around, they enjoyed the freedom to expand the vision beyond the "grounded" JC Penney catalog inspirations. A a child of the era, Morgan fondly looked to the 1985 movie "Weird Science" and (to 2018 eyes) low-budget hair metal videos — Twisted Sister, Cinderella and "her jam" Poison — for fringe-y, cut-up hair-metal-inspired looks for new wrestling personas and delightfully '80s episode later in the season. Plus, a more generous budget allowed for bigger ticket purchases from First Dibs and The RealReal, especially for party girl Melrose (Jackie Tohn).
While the ladies didn't unveil their "GLOW" personas until the season one finale, they spend roughly half of the second in their wrestling regalia, which, per the story, are designed by budding couturier Jenny. As the cast has discussed, the physical stunts are even more intense this season. So, with the input of fight coordinator Chavo Guerrero, Jr., Morgan sourced the most technically functional materials — "the gloriousness of Spandex!" — to design the practice and match ensembles. 
"They feel [the costumes] as a support and something that empowers them. It never feels like it's constraining," says Morgan, over the phone, from the set of Jenji Cohan's upcoming Renaissance Faire-set series, "American Princess." "They feel free and comfortable, like they'll be covered for whatever they need to do."
Out of the ring, Debbie, whose alter-ego is All-American star Liberty Belle, leans in for a producer credit and a seat in the old boys' club, i.e., Bash, Sam and the network execs. Her empowered wardrobe evolves from a fringed leather skirt and body-con sweater to a buttoned-up pink power suit, coordinated with a Meghan Markle-level hat. "So, she starts to stop leaning on her looks, with her dress at least," says Morgan. "Even though that suit is amazing," says Morgan. (Debbie's pristine white, green and red-piped Gucci tracksuit also makes a second appearance for a work meeting.)
Speaking of repeats, Ruth is still wearing those vintage ultra-high-waist jeans from season one. "Because she has no money and they're still living in the GLOW-tel," exclaims Morgan. Ruth does buy a new outfit (or so Morgan and the team mused) for what she thinks will be a career-making meeting with San Fernando Valley's Harvey Weinstein. For this scene, Morgan put together a polished floral peplum top and pink pencil skirt ensemble that "has a little bit of demure femininity, but still feels strong and serious." 
One of the most touching episodes features Tammé's relationship with her college-age son. Usually dressed in and out of the ring with a splash of Jackée Harry, Tammé proudly drives all night to a Parents' Weekend wearing a Cardinal Red Stanford sweatshirt, which Morgan custom-built. She toyed with a pin or a logo hat, but ultimately settled on the sweatshirt styled conservatively with a collared shirt and pleated pants, probably carried over from Tammé's previous office jobs. 
"We really wanted the audience to feel her pride and the sacrifice that she made as a mother to get him to where he was," explains Morgan. Pro-tip: Have tissues on hand for this one.
Bash also spends the season on a journey of self-discovery, accompanied by a lively wardrobe evolution beyond his "Miami Vice" suits. Morgan looked to pop stars like David Bowie for a tucked-in suit jacket look accessorized with a studded belt. Lowell was especially game, even when his authentic '80s trousers were too snug for his 2018 gym build. "His pants never fit," laughs Morgan. "Anytime his bottom half is not on camera, his pants are unbuttoned." Although, she discreetly worked in gussets when possible.
"Women for centuries have worn uncomfortable fashion that they have done for the sake of fashion," adds Morgan. "On this show that's mainly women-driven, it's so fun to watch the man suffer a little bit."
THE HAIR: 'GIVE ME MORE!'
"We've pulled out some of the oldies, but goodies on the show," says Emmy-winning Rivers, who, yes, broke out the Aquanet, plus '80s mainstays like mousse and gel, for those ratty, slightly crunchy and gravity-defying coifs — i.e., no smoothing serums of today. The trick to Melrose's and Rhonda's mall bangs of my '80s dreams: showcasing the "webbing," or the visibly teased and crisp-dried meshwork of hair, as opposed to a polished Betty Draper bob. 
To play Ruth, Brie permed her hair again for a natural-feeling and workable texture, enhanced with another shag cut by Rivers. And, no, Brie's Zoya the Destroyer mohawk isn't boosted with extensions. "That's all her hair, and a lot of skill, a lot of teasing and a lot of spraying," laughs Rivers, who employed copious amounts of Aerogel and Bed Head hairspray.
Speaking of teased, Debbie's hair notably follows her character's wide-ranging emotional arc: towering and expansive in the side-swoosh when she's at her most unhinged in the ring, impeccably curled and sleek, but still voluminous (it is the '80s) when countering (and collaborating with) Sam and Bash, and then clean and pulled into ponytail when she's feeling most exposed. "Maybe she is vulnerable in one scene, but does she want everyone else to know that? She tries to pull herself together in some kind of way," explains Rivers.
Lowell also spent a decent amount of time in the hair trailer; as Bash's hair sports some extra zhuzh this season, especially when he's in announcer mode. "[Lowell] comes in and I wet his hair, I use a lot of mousse and I blow it out for volume. Then I take an iron and curl his hair and we try to shape it," explains Rivers. "He sits down in that chair and he's like, 'Yeah, do it! Give me more!'"
Stunt performer-turned-wrestler-turned actor Cherry Bang (Sydelle Noel) also goes through a multi-faceted hair evolution that tackles a series of themes relevant to the era and today. While struggling through a lead role in a very '80s-looking KDTV police procedural, she's coerced into a demeaning (and demoralizing) relaxing process mandated by the older white men at the network.
"That's a deeper story: It's not just just about hair. It's about the time, the '80s, and there not being much diversity on TV. Also, people not knowing how to deal with African American hair and what's acceptable to other cultures and looking at African American hair. That's a whole ball of [wax] and actually one that I can relate to," explains Rivers, who is African American. "It's relevant not just to African American people, it's relevant to women and beauty, and what others see as beauty."
RELATED ARTICLES
THE MAKEUP: 'IT'S LIKE A CRAZY RED, WHITE AND BLUE EXPLOSION OF GLITTER.'
The ladies' amped up wrestling match makeup, like Arthie's (Sunita Mani) sparkly purple eye-mask, were only shown at the end of the season one finale. Horochowski and her team enjoyed the slow build of beauty looks as season two progressed — similar to how the ladies' DIY makeup skills would improve as the KDTV season ran. 
"Maurine [Burke], my key, one day, was like, 'I'm worried because Kia [Stevens] definitely looks very different than the end of season one. I finally figured out how to make the color pop on her eye. But is it too different, is it too good?'" recalls Horochowski. "I'm like, 'Tammé would get better at it." Keep a lookout as Rhonda's (Kate Nash) Brittanica green and yellow eyes brighten and Melrose's glitter intensifies and gradually takes up more real estate through the 10-episode season.
"We're not using regular eyeshadow," adds the makeup artist, who enhanced pure pigment colors from MAC and Make Up For Ever by adding water or layering colors and loads MAC glitter of different shapes and sizes. Plus, "old school glitter in a glue and in a hairspray — all different textures — we layer them all because, you know, why not?"
Debbie's entry into the ring as Liberty Belle was a surprise move in last moments of the season one finale, so her boldly patriotic Liberty Belle makeup is all new this time around. "It's like a crazy red, white and blue explosion of glitter and a red white and blue ombré eye," explains Horochowski. "It's like five different shades of glitter on her eye. We start from navy blue to turquoise into a silver into an iridescent silver into a white into a pure white. It's ridiculous. If you look at it close up, you can really see how the color degrades into the white." 
While Ruth sports a makeup-free face out of the ring — but maybe with liner to make her eyebrows look "a little more '80s and unmaintained" — her Zoya alter-ego wears dark black lipstick and a super-pigmented copper eyeshadow. Horochowski was inspired to contour the colors and shadow in a "geometric" shape to match with Zoya's angular mohawk and her Cold War-era vibe.
Of course, "GLOW" has its fill of heartfelt, emotional and touching moments boosted by Emmy-worthy acting and the most perfect mascara-stained tear streaks. And, of course, Horochowski has a method. "I just take a disposable saline eye drop and, while the mascara is still wet, I drop saline in each of their eyes," she says. "They squeeze their eyes shut and let the tears run down their face. It always gets worse and worse and when they cry it off, we just keep adding more mascara and they just keep crying more of it off." 
But removing the bulk-level amounts of glitter at the end of a shooting day is a much bigger challenge. (Last year, a few residual specks wandered onto Matt Bomer's beautiful face on "The Last Tycoon" set, because wouldn't you do the same?)
"Well, there is no trick to taking glitter off, unfortunately," says Horochowski. "We do the best we can. We use oil and hot towels and a bunch of lint rollers or tape on the face. The cleaning-up process is ridiculous." 
Follow Beth Morgan on Instagram at @patternattack and Lana Horochowski on Instagram at @lanahorochowski. The second season of "GLOW" premieres on Netflix on Friday, June 29.
Stay current on the latest trends, news and people shaping the fashion industry. Sign up for our daily newsletter.