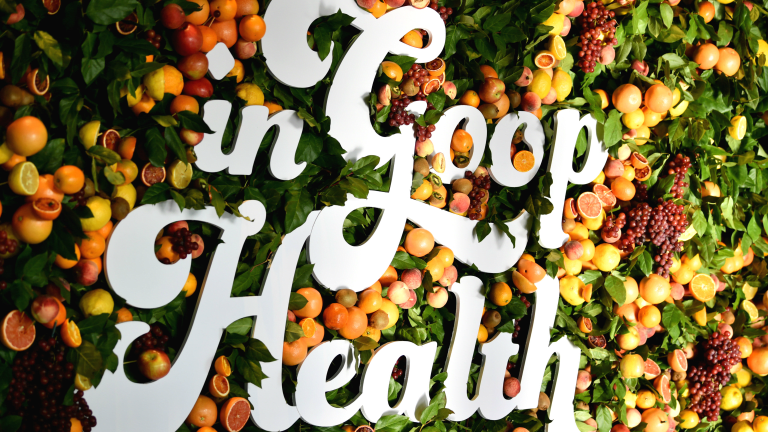 In Its Second Year, the 'In Goop Health' Wellness Summit Gets More Grounded
Panels on timely topics like sexuality and cannabis overshadowed the wacky, out-there subject matter of its inaugural event.
Last year's inaugural "In Goop Health" — the all-day wellness summit put on by Gwyneth Paltrow for her Goop devotees — was a dive into Paltrow's world of alternative medicine and personal gurus, full of eccentric, bold personalities and noteworthy moments. There was the memorable Dr. Habib Sadeghi, the person who coined the term "conscious uncoupling," with his snappy one-liners; model Miranda Kerr, who shared her bizarre leech story; and, lest you forget, that live, 10-minute facelift demonstration by plastic surgeon Dr. Julius Few. For those who may have been new to Goop, it was, well, a lot, and in all, a pretty wacky day. But this year, returning to the West Coast in the same 30,000-square-foot reconstructed warehouse in Culver City, California (after a New York City edition in late January), Paltrow's team focused on specific, timely issues — and in turn, the experience felt decidedly more grounded.
"Every summit we do, we try to really bring different content, and of course it gets trickier each time, but we really try to think about what's gonna resonate with people, what is everybody talking about," said Paltrow. "We have a cannabis panel this time...autoimmune and how it relates to gut health, sexuality."
Sexuality was certainly more of a focal point than in the year prior. Along with beauty goods and athletic wear, the retail section featured a sex shop with a variety of toys — including the infamous Goop co-signed jade eggs. But there was also, more importantly, talk of gender identity and intersectionality during one of the many panels of the day when Paltrow sat for an interview with transgender activist and writer Janet Mock of FX's new series "Pose." The conversation felt important and relevant to the times in front of a receptive audience — largely well-to-do, White women between the ages of 30 and 60 years old — that seemed just as curious as Paltrow herself.
"I think the culture feels this sharp learning curve...a lot of people are completely open to the shift, but are terrified to say the wrong thing or ask the wrong question," Paltrow told Mock. "Am I a cis? Normative? What am I?"
"Well, number one, how do you identify?" asked Mock.
"But I don't want to say the wrong thing...I identify as a female born into a female body."
"So you're a cisgender woman," Mock continued. "There's trans and there's cis, so these are prefixes to the words gender or sexual. There's transexual, transgender, cissexual, cisgender. Trans means to cross, and cis means to stay on the same side of. They're chemistry terms. Your sex, the genitals, matched the way you saw yourself in the world in terms of all the rituals and roles and rules that they say girls are supposed to be. That was aligned for you."
"Now, if I was a lesbian?" Paltrow interrupted.
"But that's your sexuality."
"Then I would be a cis...?"
"Cis lesbian."
"Ah, this is so liberating!" exclaimed Paltrow.
Other highlights from the event included a discussion on the cannabis industry with MedMen, moderated by actress Lake Bell (whose husband, Scott Campbell, co-founded the high-end cannabis company Beboe) who was entertaining from start to finish as she smoked from a marijuana vape pen.
"I am now high as a kite and have been the whole time," she said at the very end of the talk, which was essentially marijuana 101 as cannabis experts explained the difference between indica and sativa.
As expected, health-driven food options were provided all day, as well as a variety of panels. There was "unlocking your potential" with author and poet Cleo Wade; a postnatal talk with Loom's Erica Chidi Cohen and Dr. Oscar Serrallach; "career health" with female entrepreneurs; plant-based nutrition with actress Mena Suvari and nutritionists Kelly Leveque and Keri Glassman; a discussion on the autoimmune spectrum and health span; and one on Tantra, traditions of Hinduism and Buddhism, with Michaela Boehm that Paltrow was particularly excited about. ("What can we do?" Paltrow asked Boehm on the topic of women who lack sexual drive with their partner. "Help us help him.")
Abundant activities were available to guests — donning gifted tote bags and vegan slides by Native Shoes with "Goop Vibes" written across — from facials to massages, reflexology, B12 shots, life-path readings with Susan Grau, psychic readings with Deganit Nuur, numerology with Josh Siegel, meditation with Light Watkins, aerial yoga with Lululemon, an LED eye mask station by Dennis Gross, "no-makeup makeup" by Glamsquad and nontoxic manicures by Côte.
The price for it all? It began at $650, while VIP, which included a sit down lunch with Paltrow hosted by Jessica Koslow of Sqirl and an evening cocktail hour, was $2,000. The new $4,500 "weekender" option came with, among other extras, a two-night hotel stay at oceanfront Hotel Casa del Mar.
The day began at 10 a.m. sharp with a collective breathwork session with Ashley Neese, and would end with the biggest name of the day (other than Paltrow, that is), actress Meg Ryan.
"You know, I never wanted to be an actress," Ryan told Paltrow. "I never aimed for it. The whole idea of being a famous person, the whole thing, I felt like a witness to. I didn't feel exactly in it. I think that was a really good thing, because I felt like a student of it in a way or that I was watching it in an anthropological way."
Ryan, dubbed "America's sweetheart" for rom-coms like "When Harry Met Sally," "Sleepless in Seattle," and "You've Got Mail" said she didn't know what to make of the label.
"I didn't even know what that meant," she shared. "It doesn't necessarily imply that you're smart or sexual or complicated or anything. It's a label. And what can a label do but guess at you?"
Ryan also addressed the #MeToo movement ("I don't have a big bad story, I'm lucky. I think success, which happened fairly early for me, is a real iron bubble, and I was really lucky.") and opened up about why she left acting and later turned to directing.
"I was a journalism major at school and a curious person," she said. "And I wanted to go back out into the world and figure out who I was, am, in relationship to other things and other people and other environments."
"Oh no, we're out of time," Paltrow said suddenly, ending the conversation. "I want to keep going."
Alas it was time for cocktails — by Ketel One Botanical — a non-GMO vodka infused with natural essences, of course. 
Homepage photo: Courtesy of Goop 
Stay current on the latest trends, news and people shaping the fashion industry. Sign up for our daily newsletter.