Versace Made a Very Extra Resort Collection Inspired by Its Iconic Medusa Logo
Sometimes the muse is just right there in front of you, you know?
If you thought Versace's historic Medusa motif was nothing more than an eye-catching logo intended only for branding purposes, think again. She's a powerful symbol of female strength and empowerment, and with its latest resort collection, the Italian house is bringing that to the forefront.
As runways have become more politicized in recent seasons, Versace and its iconic leader Donatella have been amplifying the brand's female empowerment messaging, from showing feminist-themed collections with undertones of athleticism and power dressing in lieu of Versace's signature provocative silhouettes, to putting words like "equality" and "power" right onto clothes and accessories. The brand has also been keen on drawing from its past lately (see: its excellent Spring 2018 tribute to Gianni), and for Resort 2019, it's combined those two strategies by creating a collection inspired by the snake-haired Greek mythological monster, proving that sometimes, the inspiration is just right there in front of you.
But instead of overusing the Medusa motif on every inch of every piece of clothing and accessory, the brand took a less literal approach, drawing from what the creature symbolizes. "The eternal symbol of power — the Medusa — represents the independent woman whose allure is oh so strong. Especially today," reads a brand statement on the collection.
"Who is she today? All of you out there who are not afraid to speak up, to state your truth," it continues. "The modern-day Medusa carries her DNA into the contemporary city scape, where she is a true warrior, proudly carrying her Versace flag."
The collection's bold printed pants illustrate how the Medusa "doesn't have to prove anything to anyone." Little cocktail dresses are crucial because she's a "goddess of the night." "Athluxury" details — i.e., sporty formalwear and elegant activewear — show that a modern-day Medusa is "handling it all."
Cheesy branding language aside, the collection represents an excellent amalgamation of all the trends that a brand like Versace should be addressing right now: power dressing, '80s and '90s silhouettes and prints and, of course, logo mania.
For other brands with less of a backstory, that all might read as a desperate attempt to jump on a bandwagon, but for Versace, it reads as authentic because it's been part of the brand's DNA from day one.
Truth be told, this collection is, as the kids are saying, very extra. But so was Medusa, it can't be denied. And there are actually a number of wearable styling tricks we kind of want to start working into our wardrobes now, from the belted jackets to the giant gold earrings. See it all in the gallery below.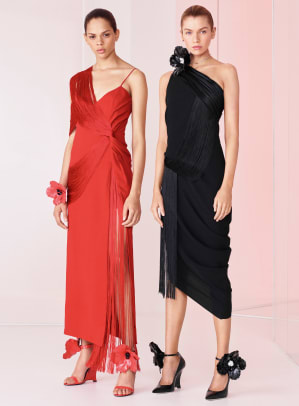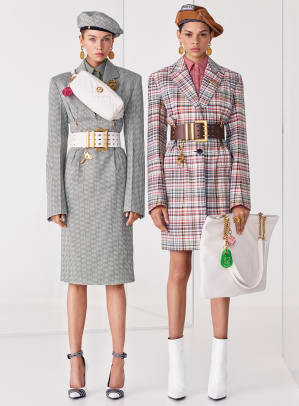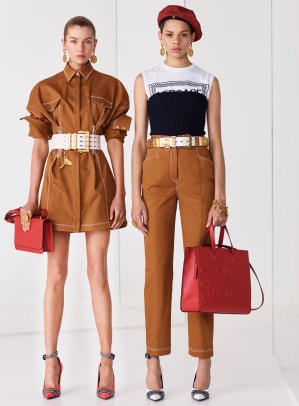 Never miss the latest fashion industry news. Sign up for the Fashionista daily newsletter.