Virgil Abloh Did His Debut Louis Vuitton Show for the Kids
The thousands of art students he invited were paid just as much attention as his celebrity front row — and isn't that what the French house's latest chapter is about?
It has been just three months since Virgil Abloh, he of Off-White acclaim and unchartered hype, was named the new menswear designer for Louis Vuitton. In those three months, there's been much speculation — no shortage of it, actually — among both critics and fans alike about what Abloh's Louis Vuitton will look and feel like. There's been much discussion about what Abloh's Louis Vuitton will represent for the brand's most loyal, decades-long clientbase, as well as for those who have never had the opportunity to own a piece of Louis Vuitton in their lives. 
This significance was, obviously, not lost on Abloh. As the French legacy house's very first Black artistic director, Abloh's appointment has signified a new chapter for Louis Vuitton (and for luxury fashion in general). In interviews leading up to his design debut, Abloh spoke openly about inclusion, and what that means for those consumers who previously haven't seen themselves or their ideas represented on runways and in ad campaigns. 
"Laying a foundation, that's what this season's about," he just recently told Vogue's Sarah Mower. "I want to speak to the generation presiding. But I also want a young generation to come in and know, hey, there's someone here who's listening, and speaking back to them."
On Thursday, 24 hours after showing Off-White's Spring 2019 collection, Abloh presented his Louis Vuitton debut in Paris, and with it, the beginning of his conversation with that young generation. Though both Abloh and Louis Vuitton had previously been fairly tight-lipped about the range, he spent the last 24 hours teasing it on Instagram — showing the soles of a new sneaker, sharing a single pair of red gilded sunglasses, spotlighting the new format for future after-parties. 
Hours before the presentation began, he discussed the collection's show notes, the physical copies of which are often only reserved for showgoers to review in their seats. In an Instagram caption, Abloh explained that he put a heavy emphasis on the "global view on diversity linked to the travel DNA of the brand," and as a result, the show notes featured a world diagram depicting each model's birthplace, as well as the birthplace of their parents. ("They will be able to identify who the models are, what they do," Abloh told Mower. "It's about giving them an identity, about them no longer being anonymous bodies.") Also teased on Instagram was a T-shirt that was left on every seat. "like some kids today I started the surreal mission without 'fashion school' but a blank t-shirt, a screen printed idea for it and a dream," he captioned, noting that he made the tees as soon as he learned how to use the photocopier in the Louis Vuitton offices.
It's very Abloh-ian to make a debut for one of the world's most prestigious fashion houses about a T-shirt. And in the moments leading up to the actual show, the T-shirt — The T-Shirt — was everywhere: Abloh reportedly invited some 3,000 art students from all over the world to watch the show, and gave them each T-shirts (surely to found on Grailed in the immediate future) to match the section where they would stand. The result was a rainbow-toned runway that looked surreal from a bird's eye view; together, each section, perhaps unknowingly to attendees, created something beautiful. A nice metaphor.
The clothing itself featured T-shirts, too, but not The T-Shirt — T-shirts in luxe-looking knits paired with sleek cotton trench coats and plush, quilted Western-style jackets. It was "sporty" (an adjective that's been thrown around quite a bit recently in regards to menswear), but not altogether different from the wares Kim Jones created for the brand with such success. The 56-look show — showcased by an incredibly diverse model cast — began with a series of 17 all-white looks, some featuring gauzy, just-slightly-oversized pleated trousers and lightweight collared blouses and others (one look, in particular) including a mesh top with an embellished collar and the Louis Vuitton insignia across the chest. 
The runway faded into monochromatic suiting and elegant outerwear in gentle browns and mossy greens, followed by tie-dye (!) in pinks, purples and highlighter yellows, then a slew of utilitarian garments with cargo-pocketed vests and button-downs. The runway concluded with a graphic sweater in the style of the Yellow Brick Road, five printed looks — three in a poppy red floral, two in a black-and-white paint splatter — and, finally, an iridescent silver, NASA-esque poncho.
The finale was set to an instrumental version of Kanye West's "Ghost Town," and garnered a standing ovation; the art students were on their feet behind the celebrity-packed front row, which housed a bevy of Abloh-adjacent friends and fashion people, from A$AP Rocky to Rihanna and Takashi Murakami to, of course, West, whom Abloh wrapped in a tearful hug at the end of his bow. Elsewhere, Kid Cudi, whose latest album cover features art from Murakami, walked the runway himself in a mint green hoodie. 
The front row was very visibily, incredibly and emotionally proud of Abloh's collection and the greater achievement it constitutes. But Abloh's droves of fans — the "young generation," as he said — might be just as proud, as evidenced by the thousands of Instagram comments flooding the @virgilabloh handle. And isn't that just what he wanted in the first place: to make those who hadn't been heard, be heard? And maybe, for Abloh, that really does all start with a T-shirt.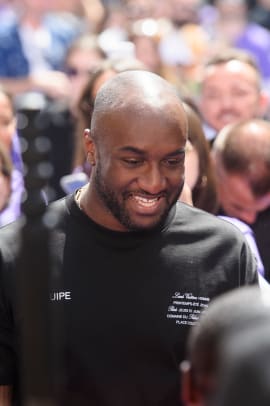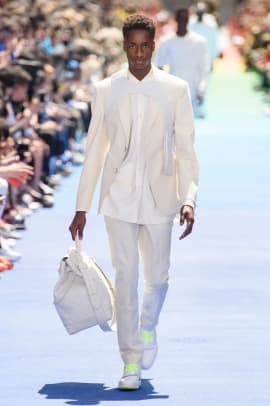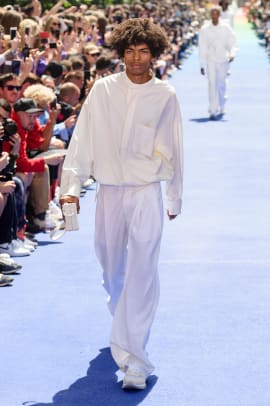 Sign up for our daily newsletter and get the latest industry news in your inbox every day.