As More Americans Work From Home, These Chic Brands Are Ready to Dress Them
A new fashion category bridges the gap between athleisure and ready-to-wear.
While I love clothes and fashion, I consider myself to be a pretty casual dresser, especially by New York standards — perhaps it was my upbringing in Seattle, where it would not even occur to most people to dress differently for a nice dinner out versus a hike through the Olympic mountains. But as much as I've tried to make jeans and a T-shirt work for a fashion show or cocktail event, there was one line I refused to cross: Unless I was traveling directly to or from a workout (which almost never happened), I did not under any circumstances leave my home in sweatpants or leggings — not even for the airport.
But over the last few years, a few forces and circumstances have converged to dissolve that line: Athleisure happened; streetwear infiltrated fashion; and I moved to Los Angeles and spent a year working from home. Already associated with a more chill, casual aesthetic than New York, LA is also a hub for people with nontraditional working arrangements: Whether they're actors, writers, entrepreneurs, influencers, celebrity offspring or any type of freelance professional, this is a city is filled with people who do not go into an office every day, and likely do much of their work from home in between jaunts to Erewhon and Joanna Vargas. 
And when you work from home, at least in my experience and that of stylish work-from-home friends I've discussed this with, you feel silly putting on proper clothes just to sit at your couch or dining table and type — and yet, the most common piece of advice I've gotten about working from home is to change your clothes before you start work in the morning so you don't end up in your pajamas all day. Another silly feeling is when your significant other comes home at the end of the day and you're still wearing the same sweats you had on when they left.
This casual lifestyle, of course, is not exclusive to LA, and increasingly exemplifies a shift in how people are living and, thus, dressing throughout the country — and even the world. A study released last fall revealed that 36 percent of the American workforce, or 57.3 million Americans, was freelancing — representing an increase of more than 30 percent over the prior year. The study predicts that within a decade, freelancers will become the majority of the U.S. workforce. With the exceptions of, say, farmers and cowboys, Americans are already dressing much more casually than they did 50 years ago, and that trend is only poised to accelerate. 
At the same time, we also care more than ever about health, self-care, beauty and the way we look. Aesthetically, the Kardashians can be seen as the intersection of these trends, personified. With curves, flawless skin, long, healthy hair and stunning, contour-enhanced bone structure, they are symbols of 2018 beauty standards — all while wearing Yeezy sweats and dad sneakers.
But Kanye West is not the only person making clothes for people who lack professional dress codes, but don't want to look like slobs all day — or who want something other than activewear or athleisure in which to be both comfortable at home and presentable in front of humans. As a category, you can think of it as leisure without the "ath."
In Japan, Sleepy Jones founder Andy Spade once told me, they call it "roomwear." Spade was among the first in the U.S. to focus on this niche with his line of elevated pajamas intended to be worn outside the bedroom. "I see the whole category growing in the same way that athleisure exists today," he told me in 2016. "I think that, in our near future, there will be departments in some stores that represent this idea, which I'm just calling 'atleisure' right now, but basically it's 'relaxwear' or casual/comfortwear." 
A new wave of brands and products are making such departments look increasingly feasible — some of them, unsurprisingly, are coming out of LA. One is Sloan, launched in 2016 by Ali Hoffman. So far, the line comprises a pajama-esque top, bottom, shirtdress and lightweight hoodie, all made from soft, all-natural fabrics. The pieces all have a timeless, ageless sensibility. 
"Prior to Sloan, I was a fashion editor and I noticed a hole in the market for comfortable, well-made pieces that weren't intended for exercise – and, at the same time, didn't compromise style," Hoffman explains. "I wanted a uniform that I could spend a weekend in and feel as comfortable as sweats or flannel pajamas, but still feel good about wearing out of the house and running into people." She feels that the brand aligns with a lifestyle shift both in an outside of LA. "Sloan answers the need for everyday pieces that you can spend the morning writing emails in and then pair with jeans and a sandal before running out to a lunch meeting," she says, adding: "You're way less likely to see women in high heels in the daytime in Los Angeles than 10 years ago – and thank God for that!"
This idea of not having to sacrifice style for comfort also inspired Lili Chemla to launch Liana, a line of cozy, elevated basics designed in New York and made in LA. "I work from home a lot and my go-to uniform is our Burnout Pants, a Margo Tee and a pair of socks," she says. "It's casual enough in feeling to be considered loungewear, but I can easily leave for meetings by just throwing on a great pair of shoes and some accessories." She also hears from customers that the line is ideal for work-related travel. "They say it's the perfect answer to staying cozy while still being ready to go straight from landing to a meeting without feeling underdressed."
Even brands that aren't necessarily trying to address these needs expressly are making elevated, comfortable, lounge-y basics central to their offerings: Everlane, Entireworld, Lou & Grey, AYR and Oak + Fort are a few modern, millennial-friendly examples. Lunya, an elevated-yet-affordable direct-to-consumer sleepwear brand also comes to mind. So, too, does Juicy Couture, an early-aughts brand that, along with tracksuits, is in the midst of a resurgence.
"I think everyone values comfort nowadays: Life is hard enough as it is, so I think people are leaning more towards being able to move and breathe freely," Isadora Alvarez, founder of LA-based ethical basics line BackBeatRags tells me. "Plus, with so many rad style options for more relaxed clothing nowadays, why wear stiff, uncomfortable clothing?"
In that spirit, we've rounded up some of our favorite pieces from the aforementioned brands, and a few others, in the gallery below. Whether you work from home, travel a lot, live a life of leisure or just ran out of fucks to give, we hope they add some comfort and style to your wardrobe.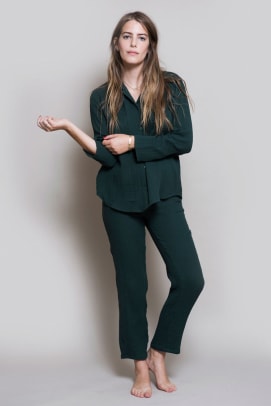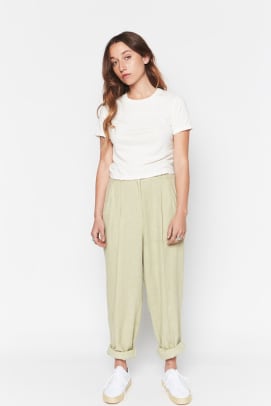 Never miss the latest fashion industry news. Sign up for the Fashionista daily newsletter.