Balmain's Stark Fall 2018 Campaign Trades 'The Matrix' Inspiration for 'The Fifth Element'
The 1997 sci-fi film's star Milla Jovovich even fronts the images.
It might feel like cooler weather is still months away, but in the world of fashion, Fall 2018 has officially arrived. We're tracking every single campaign from the season — keep up with us here.
Nearly 20 years after its release, "The Matrix" and its accompanying stylistic cues are already well on their way to becoming 2018's on- and off-runway trend frontrunner. But Balmain's Olivier Rousteing is ready to trade Neo's itty-bitty sunglasses and Morpheus's slick, floor-grazing overcoat for a new kind of sci-fi thriller — particularly, for "The Fifth Element."
Released on Friday, Balmain's Fall 2018 ad campaign not only features the 1997 Luc Besson film's star, Milla Jovovich, but it also embraces the picture's stark beauty and strong, simple styling. An Le photographed Jovovich in London in what appears to be a sprawling warehouse, completely bare save for the collection's iridescent, almost space-age metallics and sharp silhouettes. 
In a statement, Rousteing admitted that his "The Fifth Element" inspiration was a long time coming, but this season, it perfectly complemented the clothing itself: 
Like every French kid growing up in the'90s, I was obsessed with "The Fifth Element." So, obviously, there's no need to tell me that Milla Jovovich is an incredible actor and a stunningly beautiful woman. I've long admired her strength, style and talents and I've often dreamed of finding a way to work with Milla on a Balmain project. That's why I was beyond excited when she agreed to sign on for our Fall-Winter campaign. I couldn't wait to see the first images from the London shoot. I knew enough to expect great things — but, honestly, I wasn't expecting to be so blown away, so quickly. From the moment I saw the raw footage, I knew that we had already captured exactly what we needed.
In addition to the still images, Jake Nava directed a short film to accompany the photo campaign, which you can watch here:
See Balmain's full Fall 2018 ad campaign below: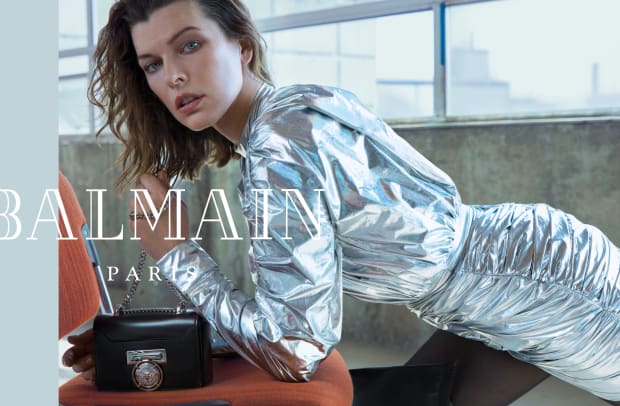 Sign up for our daily newsletter and get the latest industry news in your inbox every day.