No One Can Dress Up Jean Shorts Like Beyoncé Can Dress Up Jean Shorts
That's just science.
Beyoncé Giselle Knowles-Carter is, obviously, good at a lot of things — making music, making money, making clothing look exceptionally good, etc. So exceptionally good, in fact, that her singular first name has become synonymous with just that: an epitomization of all that is good (perfect, even) in the universe. Falling into the "making clothing look exceptionally good" category, as published on Beyoncé's Instagram on Thursday morning, is making jean shorts look not only exceptionally good, but suitable for dressier, typically not-jort-appropriate occasions. 
In a series of three Instagram squares (one of which is a gallery comprised of three photos), Beyoncé sports embellished denim cut-offs together with a color-blocked white blouse, an electric yellow bra and brown suede sandal heels. For accessories, she's wearing red cat-eye sunglasses (indoors, of course) and a sky blue Dior tote bag with an orange interior and snakeskin paneling. 
As of press time, none of the products worn are formally identified nor are they tagged, because it's Beyoncé, and she doesn't need to identify nor tag what she wears. But like most things in life, the truth will come out eventually, and we'll update this post when the brand names are available.
The photo shoot takes place in what appears to be an indoor running track, which, again, isn't traditionally a place you see a lot of high-cut denim, but, again, Beyoncé makes her own rules. We're just here to report on them. 
Want more celebrity style? Check out the latest best-dressed stars.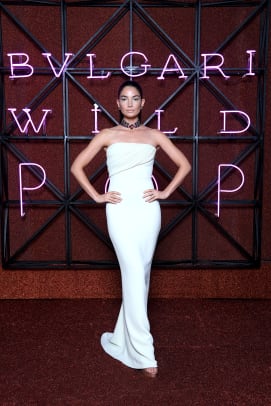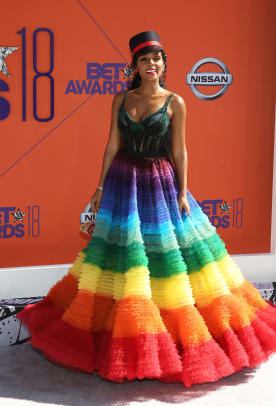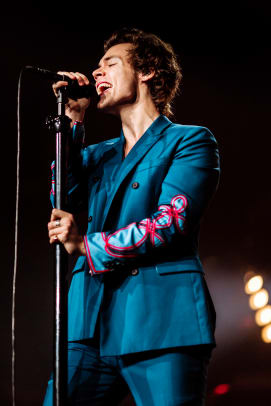 Homepage photo: Photo by Kevin Mazur/Getty Images for City of Hope
Sign up for our daily newsletter and get the latest industry news in your inbox every day.