Calvin Klein's Fall 2018 Ad Campaign Explores the American Landscape Through an Otherworldly Lens
See Raf Simons' latest visual installment for the brand.
It might feel like cooler weather is still months away, but in the world of fashion, Fall 2018 has officially arrived. We're tracking every single campaign from the season — keep up with us here.
For Calvin Klein's Fall 2018 ad campaign, Raf Simons has, once again, treated us to a look at the underside of the American dream. Lensed by Willy Vanderperre, a cast of seven models were captured in an isolated Utah landscape dressed in Mylar frocks, knitted hoods and hazmat gloves from the label's popcorn-filled runway show. 
"The Fall 2018 collection is an allegory for a meeting of old worlds and new worlds, relating to the discovery of America, the 1960s Space Race and the twenty-first century information age," said Raf Simons in an official statement. "Reflecting the notion of democracy, there is no cultural hierarchy: the mixes emancipate clothing and references from their meanings, from their own narratives, and collage them to discover something different — a different dream."
In the series of images, the models appear much larger than the expansive mountains that form the natural backdrop, creating a purposeful juxtaposition designed to evoke what the press statement describes as a "nostalgic yet otherworldly feeling." And despite the stark grounds, which suggest this ad takes place in a post-apocalyptic world, the clear blue skies and glowing figures paint a calm picture of hope for the future. 
See the full Calvin Klein 205W39NYC Fall 2018 ad campaign below: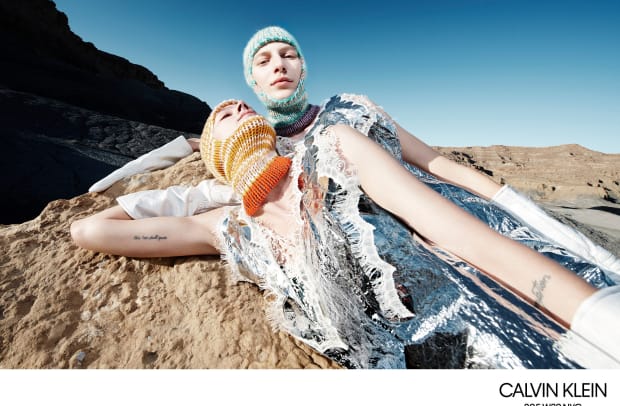 Stay current on the latest trends, news and people shaping the fashion industry. Sign up for our daily newsletter.