Choosy Combines Celebrity Style, Fast Fashion and the Drop Model All Into 1 Clothing Brand
The newly launched online-only label is using Instagram's comments section for inspiration.
Scroll through the comments section of any celebrity or influencer's Instagram account and chances are there will be a few earnest inquiries regarding the specificity of their outfit. The only things we can rely on are the rare instance of a reply, the photo being tagged with brand names or some serious Google searches. It's one of the reasons why CEO and co-founder Jessie Zeng — who's worked in trading, venture capital investing and her family's textile manufacturing business in China — launched Choosy, an online-only clothing label that sources Instagram's comments sections for design inspiration.
"I'm a huge user of Instagram and I started seeing that more and more women were commenting whenever a celebrity or influencer posted something saying things like, 'Where is that from? Where can I buy that? Etc.,'" she tells Fashionista from Choosy's headquarters in New York City's SoHo. "Then the item in question would be couture or vintage or sold out or, if available, thousands of dollars. It makes sense to create a new way to shop."
Coined by Zeng as "social shopping," fans of Choosy can comment and tag the brand's handle (@getchoosy) on Instagram and its team of AI experts and style scouts will track the most-requested items to design, manufacture and put up on Choosy's website over the course of one week. Though the pace is similar to fast fashion, Zeng notes that Choosy doesn't hold any inventory (so there's no extra waste) and follows a twice-weekly drop model. New styles (five total) debut online every Tuesday and Friday afternoon and are offered for only three days. "After that, you can't shop anymore," says Zeng. "It's on to the next drop." (Customers who do make a purchase will receive their order within two weeks.)
From Choosy's first collection, a red lace dress pays homage to Rihanna's gown by Christopher Kane; a black leather tube dress is inspired by her Versace version. A green dress is similar to when Meghan Markle Wore a Thing and a white dress shirt is like one of Emily Ratajkowski's past outfits. The silver iridescent jacket screams Beyoncé, since she's wearing her very own while on tour. Each item rings in under $100 and is available in sizes 0 to 20.
Though this business model could potentially attract some copyright issues (and the attention of Diet Prada), Zeng is quick to note that each collection is solely a product of inspiration. "It's not like we're buying the pieces and we're going to make it exactly like them," she says. "It's more like they use this type of fabric, this color and then from there, we make a design that consumers would like. We even make tons of changes to the pattern to fit the consumers better."
Choosy has already garnered approval on the funding front, raising up to $5.4 million, which has helped the company quickly expand its team. The goal of Choosy long-term, says Zeng, is to offer more items per drop, along with more merchandising. There's also plans to launch a few pieces in collaboration with influencers, which will essentially be designed after their followers' favorite looks.
When asked what Choosy has in store for the next few drops, we couldn't get any intel, as the team is still tallying up the top looks on Instagram. Perhaps a Comic-Con inspired ensemble is in the works? We'll have to check online next week to find out.
See Choosy's first drop in the gallery below.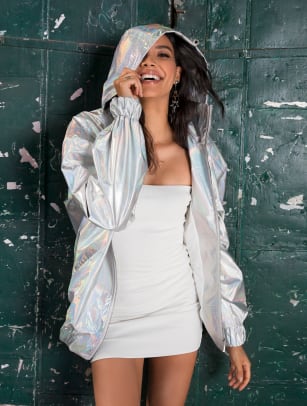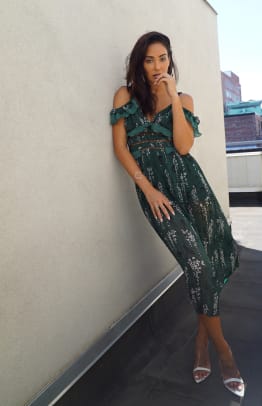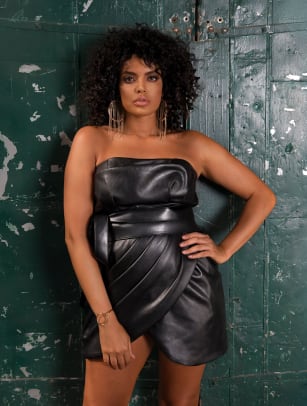 Sign up for our daily newsletter and get the latest industry news in your inbox every day.