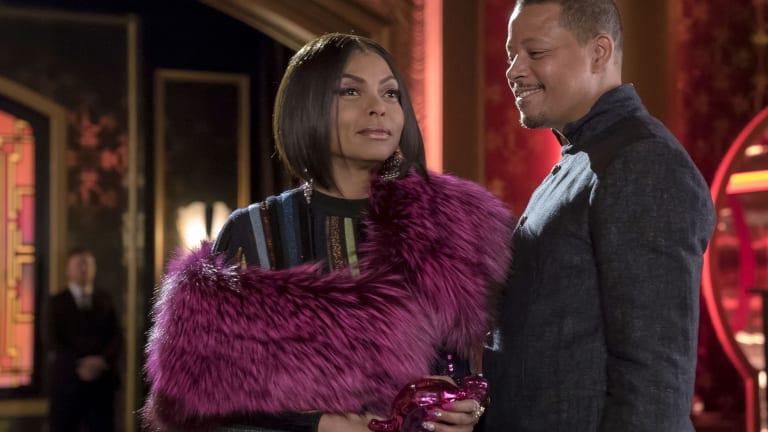 The Unsung Challenges of Contemporary Costume Design
Emmy-nominated costume designers explain why an "everyday" outfit can help develop some of your favorite characters on TV — despite getting less recognition than period costumes.
Last month, an intriguing quote popped up on my Twitter feed. "Contemporary design is THE most challenging. You're not done designing a show until the producer's wife has signed off on everything," tweeted costume designer Kristin Burke, crediting the sentiment to multi-award-winning costume designer Paul Tazewell. She followed with the co-sign: "SOOOOO TRUUUUE!!!" 
I am, admittedly, a costume nerd who appreciates the nuanced character reveal of an unsightly tank top as much as a spectacular '60s haute couture gown, but I really needed to unpack that quote — starting with the source. "Yes," confirms Tazewell, with a laugh, over the phone, while on a fabric run for his Tony-winning "Hamilton" costumes. "Yeah, I did [say that]."
Because of our ingrained perceptions and close relationships with our own wardrobes, our assumptions about what goes into dressing TV and movie characters in regular, modern-day clothes are probably incorrect.
"There is this idea that anybody can wear contemporary clothes. We go shopping for ourselves every day," explains the Broadway, movie and TV costume designer. Tazewell is an Emmy nominee this year for his modern day- (and Rick Owens and Ann Demeulemeester-) influenced work on "Jesus Christ Superstar Live!" It can be human nature for the audience — and the actors and industry players involved — to assume not as much work goes into designing, sourcing and formulating a present day-costume.
"It's disappointing for us a little bit to maybe be undervalued if something is in a contemporary silhouette, cut and style," says Hala Bahmet, Emmy nominee in the Contemporary category for the time-jumping hit "This Is Us." "We want people to know, 'Oh no, no, no. This is very special. We've spent a lot of time choosing that tie and that shirt.'"
There's historical context, too. From Hollywood's inception through the Golden Age, costumes of all eras — and lots of off-camera clothing — were custom-made. But with the rise of ready-to-wear and early fast fashion in the '60s and onward, it became easier (and more budget-friendly) to purchase off-the-rack clothing for costumes set in the present day. So, on contemporary television shows (and some films, like the first "Jurassic Park" in 1993), studios would often hire costumers, who, per union regulation, are allowed to shop and rent, but not design or build. Or they'd utilize the costume supervisors already hired for the shoot to procure ready-made pieces, instead of having costume designers conceptualize, design and possibly custom-build wardrobes to comprehensively support the script, story and characters.
Veteran movie and television designer ("Say Anything," "Seinfeld," Steven Spielberg's "Amazing Stories") and four-time Emmy winner Jane Ruhm recalls her time as a costumer in the '70s and '80s. "Pretty much all the TV shows I ever worked on, there was no costume designer on these shows," she says, over the phone from Los Angeles, about that period. "Because they featured contemporary clothing, [studios thought they] didn't need to have a designer. Men dressed men and women dressed women in those days. It was so weird," adds Ruhm, who is also guiding the next generation of Emmy contenders as a guest lecturer at the UCLA School of Theater, Film and Television. Without a designer to create an overall palette or oversee consistency, costuming in support of the story or building characters was a challenge — and not always that aesthetically stimulating, either.
"The clothes were very utilitarian," says Salvador Perez, Mindy Kaling's go-to costume designer for "The Mindy Project" (and sometimes stylist) and President of the Costume Designers Guild (CDG). "They were — and I hate to use the word — basic. It wasn't until 'Dynasty' [which ran from 1981 to 1989] when [costume designer] Nolan Miller made fashion a big deal, people started to realize they wanted costumes with a design flair to it." 
Perez also cites the heavily stylized (and now-iconically pastel-suited) "Miami Vice," which ran from 1984 to 1990, and, of course, Patricia Field's work on "Sex and the City," which debuted 20 years ago, as creating critical "shifts" in attitudes with distinctive and character-defining costumes. With audiences responding favorably, studios realized the value of hiring costume designers for current-set shows.
"With contemporary, it was taking the ordinary and making it extraordinary," Perez says. "We are storytellers." 
But the sartorial narrative and character development in contemporary can sometimes come across in very subtle ways. Unlike a grand 16th-century gown or an intricately beaded '20s flapper dress, a pair of jeans and a t-shirt can actually almost be distractingly too relatable for actors trying to immerse themselves into their characters.
"An actor is probably more likely to embrace [an Elizabethan gown] immediately because it is period," says costume designer Cynthia Summers, whose resumé includes extensive contemporary design experience on shows including "Girlfriends' Guide to Divorce," "UnREAL" and "The L Word." She also just received her first Emmy nomination in the new Fantasy/Sci-Fi Costumes category for Netflix's "Lemony Snicket's A Series of Unfortunate Events."
"You do feel very different in a period piece, whereas you may also wear jeans and t-shirts in your daily life. [An actor might think,] 'So how is that making my character different?'" says Summers, over the phone from LA, in describing past conversations.
With period costuming, there may not be as much pushback from actors, who will readily defer to the costume designer, who has done extensive historical research for accuracy. "There's a lot of difference in opinion," says Paolo Nieddu, four-time Contemporary nominee for "Empire," over the phone on break from shooting in Chicago. "With a '50s movie, you're like, 'No, this is how hemlines were worn.' But on contemporary, you can get caught up with somebody being like 'well, it should be shorter.' You don't have those rules [in contemporary as] you would otherwise have in a period piece." 
Especially in the age of stylist-cultivated personas, fitting an actor — especially one known for street style and the red carpet — can sometimes involve intense negotiating and massaging. "It takes a really seasoned, grounded actor to buy into a character," says Tazewell, about trying to convince an actor to wear non-designer brands or not as "flattering" pieces in line with the script. "My job is not about dressing them — I mean, it is, or it becomes that — but ultimately it's about choosing appropriate clothing for the character, so that the story is told in the most accurate way. So all of that is wrapped up in the challenge."
Summers, who chuckled knowingly at Tazewell's tweeted quote, has experienced pushback from directors, producers and assistants (although no spouse was mentioned) with misconceptions about contemporary-bought costumes, which can undermine progress with an actor. "'Well, you can just go buy that,'" says Summers, repeating comments she's heard. "Or, 'My mother, my daughter, my girlfriend goes to this store to buy something that looks just like that. Why can't you go there and get it?'" 
Never mind that the shopping needs for the scope of a contemporary television show, which may shoot up to 22 episodes a season, are underestimated and dismissed. A costume designer needs to procure enough clothing and accessories to help develop and differentiate upwards of 10 leads, account for multiple costume changes per episode and dress background players. "The volume is astronomical," Summers says. 
On "This Is Us," Bahmet explains how last-minute script changes (or new bombshell plot twists) can result in spontaneous shopping code reds. "We might get a character at 6 p.m. that shoots the next morning at 6 a.m.," she says. "So we'll run out and try to find what we can."
Nieddu, who regularly dresses Taraji P. Henson and co. in on-point vintage and off-the-runway designer pieces, considers the shopping (and borrowing) aspect of contemporary more difficult than custom-building period or fantasy to bring a designer's exact concept to life. "You have what you want instead of trying to find it — and it might not exist," he says, also citing the time limitations on shooting a multi-episode television show. Plus, even if a contemporary piece is off-the-rack, costumed designers often add unique details to help tell the story, like meticulous distressing.
That said, just because a show isn't set in a past decade doesn't mean contemporary costume designers aren't custom-building pieces. "The fun part is when you get to take what's out in the world and put your spin on it," Perez says excitedly, about his now-famous color- and print-happy original pieces for Kaling's character Mindy Lahiri on "The Mindy Project." "That's where costume design comes in. It's taking what somebody else is playing with and putting your own spin and style on it."
Bahmet also regularly customizes for both the vintage and current-day timelines of "This Is Us," partly to avoid "sameness" — "I don't want people to be watching the show and be like, 'oh yeah, I saw that shirt at the Gap yesterday" — but mostly to support the script and the character.
"It's not easier, but it's much easier for us to be able to control the message and the symbolism when we use custom-made clothing," she says. For instance, perfectionist Randall (Sterling K. Brown) sports designer suits that are "really tailored the heck out of" and Kate (Chrissy Metz) often wears completely reworked off-the-rack or fully custom-designed, unique pieces, like the lace and silk organza wedding dress she wore in the season two finale. The design process for that began with sketches of 10 different looks and it took three weeks to build. It even has delicate nature-inspired floral embroidery, which pays homage to the Pearson family cabin that holds so many memories of Jack (Milo Ventimiglia).
"We spend just the same amount of time, effort and thoughtfulness when we are doing contemporary as when we are doing period," says Bahmet.
As for critical recognition, the Emmy Awards only recently created a standalone Contemporary category in 2015. (This year, the Television Academy added a fourth by separating Fantasy from Period). For the big screen, the Oscars only have one costume design category, which has been historically dominated by period and fantasy epics. (Although in 2016, Mary Zophres was nominated for her contemporary, but Old Hollywood-inspired creations in "La La Land").
RELATED ARTICLES:
Leading up to the 2018 Creative Arts Emmys on Sept. 8, the Contemporary category is stacked with a diverse range of shows, stories and aesthetics: Michelle Cole for "Black-ish," Allyson Fanger for "Grace and Frankie" and Lou Eyrich for "The Assassination of Gianni Versace: American Crime Story" join Nieddu and Bahmet.
So what does it take to be critically recognized by the industry for a modern day-set costume? Nieddu, a Pat Field alum who acknowledges the creative leeway that a music industry-set series allows, credits the nominees as being parts of hit shows that offer the "visibility" for voters to reward the hard work behind the costumes. Bahmet feels that it's a team effort. A show with acting, writing, direction and production all coming together "seamlessly" helps bring costume recognition to the forefront.
"Then, of course," she says. "The more showy it is, the more likely it is to get recognized, as well."
Top photo from 'Empire:' Chuck Hodes/FOX
Follow Hala Bahmet @hvbahmet, Paolo Nieddu @pniddy, Salvador Perez @salvadorperezcostumes, Cynthia Summers @cynthiasummers and Paul Tazewell @paultazewell.
Never miss the latest fashion industry news. Sign up for the Fashionista daily newsletter.