Dior Couture Celebrated Its Esteemed Atelier With the Fall 2018 Collection
Maria Grazia Chiuri's latest showing for the brand was a lovely display of simplicity, femininity and classic elegance, with a modern twist on house codes.
One of the more endearing aspects of the 2014 documentary "Dior and I" — which follows former Dior Creative Director Raf Simons as he prepares for his first couture show at the French house — is the focus on the highly skilled, yet largely behind-the-scenes members of the atelier. The dozens of artisans cutting, sewing, draping and pinning the collection often toil around the clock for weeks on end before the pieces hit the runway, but outside of industry circles, it's not necessarily common knowledge that each haute couture creation takes a village. On Monday in Paris, Maria Grazia Chiuri dedicated both the Musée Rodin set and the show booklet to the work of the Dior atelier, and the Fall 2018 couture range was a lovely display of simplicity, femininity and classic elegance that proved both their expertise and their dedication to house codes.  
Since Chiuri took the creative lead at Dior in 2016, she's made it a priority to woo millennial shoppers; her ready-to-wear collections have been heavy on the logos, political messaging (particularly the "We Should All Be Feminist" T-shirts that took over your Instagram feeds) and nostalgia, with the return of the early-2000s saddle bag and Dior monogram print poised to hit a fever pitch any day now. However, the Fall 2018 couture offering could easily cater to women of all ages — that is, those who are able to afford the handmade goods — and included both day- and eveningwear options that would be smart, timeless additions to any wardrobe.
In a muted color palette that included black, navy, grey, nude, blush pink, earthy green and gold, the collection started out with a series of updated Dior signatures: structured coats and suiting pieces in substantial fabrics; airy dresses with belted, nipped-in waists and relaxed, pleated skirts; a take on the house's famous petal gown; tailored jackets with dramatic, voluminous sleeves; and modest-yet-modern long-sleeved gowns. About halfway through the show, a series of metallic gold suits highlighted the atelier's tailoring and brought attention to different areas of the body: A deep-V cut blazer had plenty of sex appeal, and jackets that rounded out at the hip hearkened back to the early days of Dior.
The eveningwear was practical enough for an everyday customer, but easily exquisite enough for a celebrity red-carpet appearance. From a sleeveless gown with flower appliqués and a waist belt, to intricate, colorful embroideries and hand-painted lace, to the easy, breezy pleated dresses in bright colors that seemed to float as the models walked, these were special occasion pieces that clients could turn to time and time again. This was a couture show after all, with no shortage of showstoppers towards the finale. A gown with a plunging neckline and feathered skirt, a series of sheer, sparkling embroidered confections and the closing satin dresses in shades like peridot and ruby were rich and well-constructed — they are likely the pieces already reserved for one of Dior's celebrity ambassadors. (We're looking at you, J. Law.)
See every look from the Fall 2018 Dior Couture collection in the gallery below.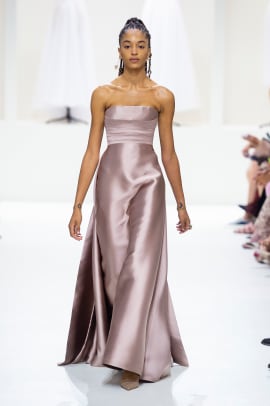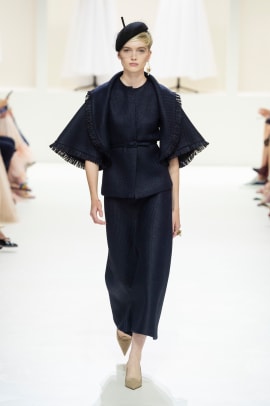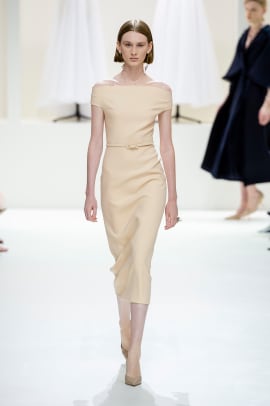 Want the latest fashion industry news first? Sign up for our daily newsletter.