Dior's Fall 2018 Ad Campaign Was Inspired by French New Wave Films
And, perhaps, Gucci?
For the Dior Fall 2018 collection, Maria Grazia Chiuri found inspiration in the historic May 1968 riots that consumed Paris, covering the set with fashion images and protest slogans to invoke that time period.
Rather than go literal for the Fall 2018 ad campaign by staging faux protests — a tactic which has not historically gone over well in fashion — Dior channeled the era through one of its greatest artistic achievements: French New Wave cinema. Films like "The 400 Blows," "Breathless" and "Band of Outsiders" would set the tone for the coming decade, and indeed influence art and movies through to today. 
Dior specifically was inspired by Jean-Luc Godard's classic movie "Une Femme Est Une Femme" and attempts to capture the feel of the film through adding subtitles to the campaign images. Shot by Pamela Hanson, models including Ruth Bell and Lineisy Montero pose cinematically on the streets of Paris, as though in freeze-frame from one of Godard's films. Dior claims to have a long history with the French New Wave: According to a release, Jean-Pierre Melville asked Christian Dior himself to handle costumes for his pre-New Wave movie "Les Enfants Terrible," and Dior's Avenue Montaigne flagship appears in the background of Godard's "Breathless." 
If the ads feel somewhat familiar, there are certainly shades of Gucci's Fall 2016 ad campaign (which featured subtitles of would-be background noises), as well as Sarah Bahbah's art, which almost definitely has popped up in your Instagram feed within recent months. 
See the full Dior Fall 2018 ad campaign below: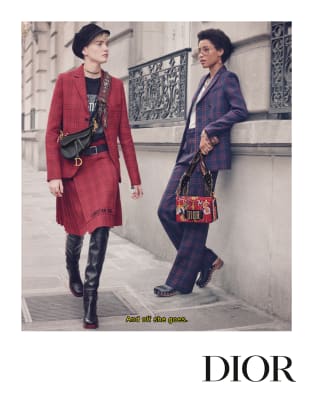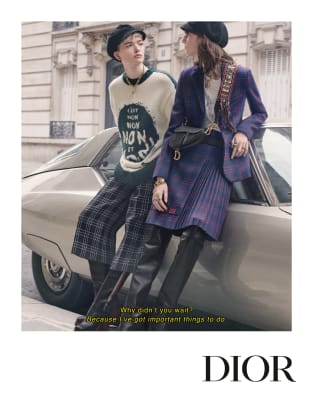 Want the latest fashion industry news first? Sign up for our daily newsletter.