Dior's Aughts-Era 'It' Bag Is Back and It's Bigger Than Ever
Giddy-up! The Saddle Bag launches in stores on Thursday.
Dior's instantly recognizable Saddle Bag, designed nearly two decades ago during John Galliano's reign, has made its way from the dark depths of The RealReal and eBay back into stores. The early aughts staple that went well with denim minis and mid-series Carrie Bradshaw made its official 2018 debut back in February when Maria Grazia Chiuri sent a handful of models down the runway clutching the all-too-familiar, kidney-shaped classic. 
The purse has a a history that dates back to 1999, when Galliano was in his third year at Dior. Its design was in reference to the world of equestrianism, with an oblong form alluding to a horse and a D-shaped stirrup dangling off its strap. The first iterations came in camel leather, a denim blue and grey logo. But as its popularity grew among the Juicy Couture-clad masses, so too did its style variations. In a matter of years, the saddle sack became an "It" girl item, seen on the likes of everyone from Paris Hilton to Sienna Miller.
Then, in 2007, it went all quiet on the Saddle Bag front. We didn't see them again until around 2014, when Beyoncé was spotted toting around the sartorial relic. Unsurprisingly, the singer helped reinvigorate the handbag, and ever since, Dior's Saddle Bags have been cropping up all over the place.
Chiuri must have taken notice, because the accessory punctuated her patchworked and protest-inspired Fall 2018 collection. "I thought this collection would be an opportunity to revive its timeless beauty," Chiuri said of the bag's resurrection in a press statement. "I consider this icon of the house's recent history the perfect accessory to deal with this battle that is daily life." 
The modern-day versions are available in two sizes — a mini and a large — and come with a strap to allow it to be worn cross-body. They also come in various styles: There's a monochrome leather one, a '70s-inspired patchwork emblazoned one and an oblique canvas embellished one with nine pieces of finely-beaded embroidery. 
"The Saddle Bag is a bag that is worn in exactly the same way as a shirt or jacket, and it's so comfortable to wear with its long strap that you almost forget it's there," Chiuri said. "The Saddle Bag is also practical because it allows you to carry everything you need with you. It's for this reason that I wanted it larger and more robust, but also very colorful, embroidered or with beaded fringe, because, like a chameleon, it adapts to all situations."
Dior's infamous Saddle Bag returns to stores on Thursday, and you can browse the new styles in the gallery below.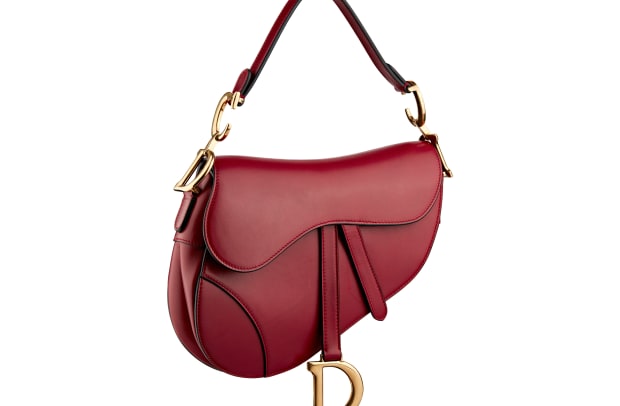 Stay current on the latest trends, news and people shaping the fashion industry. Sign up for our daily newsletter.