Nuns, Gladiator Cosplayers and Celebrity Offspring Star in Dolce & Gabbana's Latest Campaign
Not to mention a dress that looks like it was lifted straight from the Met's "Heavenly Bodies" exhibition.
Dolce & Gabbana's Fall 2018 ad campaign is here, and it's just as much a riot of color, texture and pattern as fans of the brand would expect. Oh, and it's chock-full of millennials and celebrity offspring, continuing the brand's preferred casting theme of seasons past. 
Shot by longtime D&G collaborators the Morelli brothers on location in Rome, the womenswear campaign plays up prototypical Roman scenarios. First, there's the food: models eating pasta or posing in front of a gelato stand. Then, there's the places: models depicted in front of the Trevi fountain or the Colosseum. Next, there's the tourists: models hanging out with folks who look convincingly like people the photographer might have plucked off a street corner on their way to visit the Sistine chapel. (There's also a few guys who appear to be street performers dressed up as Roman gladiators sprinkled in there, because why not.)
Lastly, there's the Catholicism, which is referenced bluntly in both the scenarios the models find themselves in — i.e. sandwiched between two nuns — and in the clothing itself. One top reads "fashion sinner" in sparkly letters, while a dress spells out "fashion devotion." Blingy cross earrings and necklaces are prominent, and one pair of particularly noteworthy sunglasses has a doll-sized cherub reclining over the wearer's forehead. For those who have attended the Met's "Heavenly Bodies: Fashion and the Catholic Imagination" exhibition, a black and red coat dress seemingly inspired by the cassock also stands out, as it looks remarkably like a Sorelle Fontana piece on display at the museum.
While the womenswear campaign seems to employ more traditional models, the menswear campaign relies on a tried-and-true Dolce & Gabbana tactic: The casting of young royalty from outside the fashion realm, many of whom are the children of stars. Shot by the Morelli brothers in Milan in front of the Duomo, the menswear portion of the campaign features P Diddy's son Christian Combs, Pierce Brosnan's son Paris Brosnan, Gary Oldman's son Charlie Oldman, Jude Law's son Raff Law and internet star Cameron Dallas, to name a few.
Take a look at all the images from Dolce & Gabbana's Fall 2018 ad campaign below.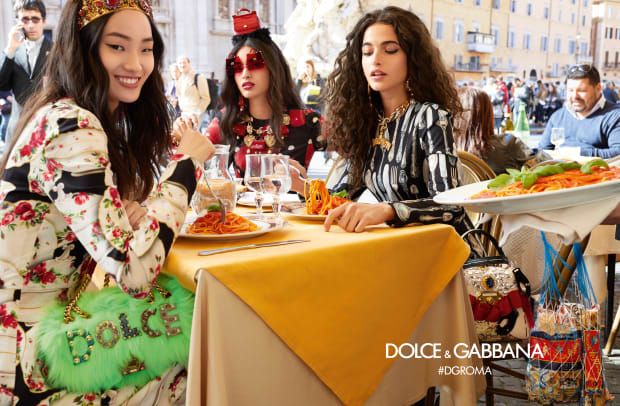 Stay current on the latest trends, news and people shaping the fashion industry. Sign up for our daily newsletter.