Gucci and Dapper Dan's First Collaboration Is Here
You can now officially shop for pieces born of the creative synergy between Dapper Dan and Alessandro Michele.
The history of Dapper Dan's relationship with Gucci is the stuff of fashion lore, as he went from knocking off the Gucci logo in his own designs throughout the '80s and '90s to having Gucci knock off one of his designs on the runway in 2017. It's a story that could've ended with lawsuits and nasty headlines, but instead, it took an unexpectedly pleasant turn: Gucci and Dapper Dan made peace with one another and began working together. 
Gucci flew Dap to Italy, helped him reopen his famed Harlem atelier and put him in a Gucci tailoring ad campaign. And on Tuesday, the first ever collaborative collection between Dapper Dan and Gucci became shoppable online and in select international Gucci flagships.
Full of big woven chains, all-over interlocking GG logos, one-off screen prints and vintage silhouettes, the collection honors the kinds of designs that helped Dapper Dan become a part of the wardrobes of figures like LL Cool J, Salt-N-Pepa and Floyd Mayweather Jr. For the lookbook featuring the new collection, the brand employed photographer Ari Marcopoulos to shoot a combination of models and Harlem locals in a style reminiscent of old-school street style shots.
"Taking inspiration from archive imagery from the '80s showing Dapper Dan's custom pieces, the gallery of pictures shot in and around the streets of Harlem New York have a similar street aesthetic to the original photographs," the brand shared in a release. "Featuring young personalities from the neighborhood together with models wearing the ready-to-wear and accessories of the Gucci-Dapper Dan collection, the lookbook pays homage to the celebrated designer's heritage." 
Check out the whole lookbook below, then shop the collection on gucci.com.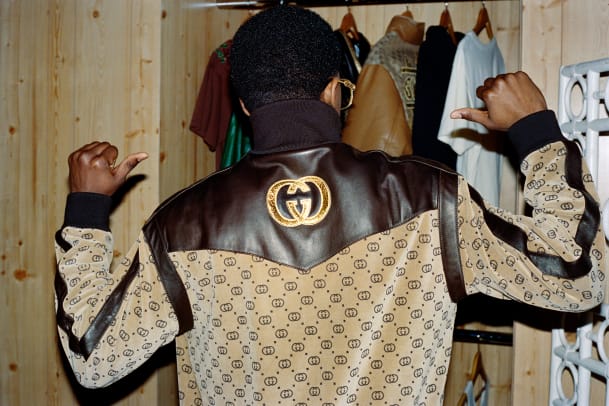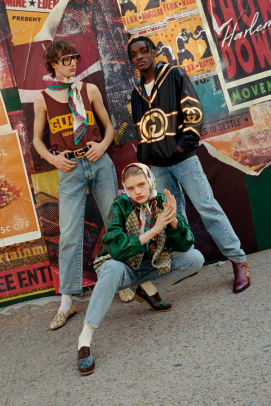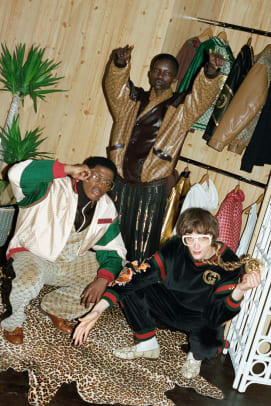 Stay current on the latest trends, news and people shaping the fashion industry. Sign up for our daily newsletter.