Gucci's Fall 2018 Campaign Makes Hoarding Look Chic
Alessandro Michele and Glen Luchford have done it again.
In what is a testament to the incredibly deep wells of their imaginations, Alessandro Michele and Glen Luchford somehow continue to out-Gucci themselves with every seasonal ad campaign. Whether it's with cows, UFOs, dancers, student protesters, exotic birds or Harry Styles, each one manages to delight in ways that other brands' images rarely do — and Fall 2018 is no exception.
Gucci's latest campaign is titled Gucci Collectors; and, no, it does not feature Michele stans who have been collecting his designs since he joined the Italian house in 2015 (of which we're sure there are several). Instead, Gucci-clad models like Stella Lucia are photographed surrounded by alarming quantities of collected objects and tchotchkes like toy cars, paintings, antiques, wigs, stuffed animals and frames filled with dead butterflies. 
A Gucci press release describes this phenomenon as "idiosyncratic curation," though others might describe it as hoarding. Of course, the campaign seeks to remove any negative connotation such a practice might have: Per the release, the images "champion the notion that those who the mainstream often considers to be oddballs are frequently the most interesting and creative people, and that true individuality is a badge of pride."
We can't think of a more Gucci agenda to be honest, and can't help but wonder if the campaign might be inspired by Michele's own proclivities. Judging by the array of random objects, artworks, vintage jewelry and live animals documented on his personal Instagram account, we wouldn't be too surprised.
See the full Gucci Fall 2018 campaign in the gallery below.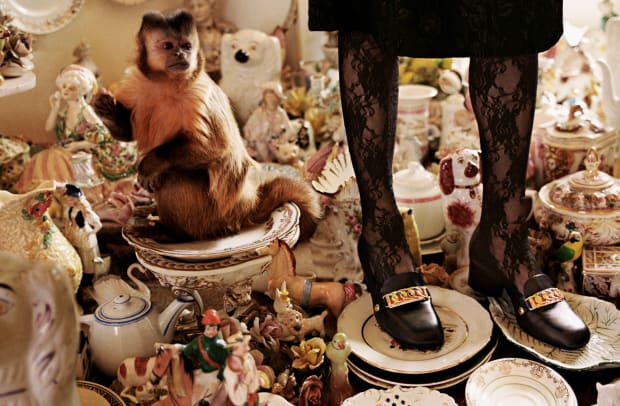 Never miss the latest fashion industry news. Sign up for the Fashionista daily newsletter.