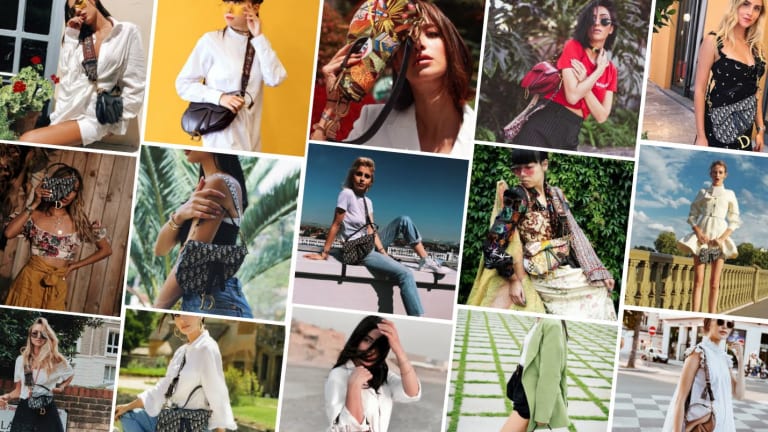 Can Mass Influencer Marketing Backfire for Brands?
When the same "It" item is seeded to hundreds of Instagram stars, there's a danger that oversaturation can decrease consumers' desire.
When I dropped by the Dior showroom in Paris back in February, a swarm of international buyers and editors had formed around one particular accessory on display: the Saddle Bag. Following its debut in Dior's Spring 2000 collection, the John Galliano-era item quickly became the holy grail of "It" bags, worn by the most iconic style stars of the early aughts, including paparazzi target Paris Hilton and Sarah Jessica Parker's fashion-obsessed "Sex and the City" protagonist Carrie Bradshaw. The Fall 2018 rerelease of the Saddle Bag makes sense from a marketing perspective: Both mass and luxury brands have heavily relied on nostalgia, logomania and hype to attract a younger generation of consumers, and this monogrammed piece is essentially the trifecta. Plus, vintage Dior prints have steadily gained popularity among the Instagirl set, all but ensuring the bag's commercial success.
Fast-forward six months to last Thursday, and the official Saddle Bag revival hit stores — a fact that became immediately evident if you scrolled through your social feeds. Dozens of global influencers posted photos featuring the bag in meticulous succession, resulting in an impressive display of synchronized #SponCon. In a matter of hours, I personally saw the bag on Instagram upwards of 30 times, styled in myriad ways. Despite the fact that this group included many of the industry's most influential names, the rollout had the opposite of the desired effect on me: If I never see another Dior Saddle Bag again, it'll be too soon. 
Gifting influencers product to feature in their posts has proven to move the needle in terms of sales, and perhaps more importantly, it's a key factor in building brand awareness among millennial and Gen Z shoppers. But when this type of seeding appears calculated, inorganic and, in this particular case, relentless, fashion houses run the risk of overexposing the pieces they're promoting — or even worse, decreasing customers' desire for them on account of their ubiquity.
"I have a video going up tomorrow and it is [of] my updated vintage bag collection, and one of the bags in the video is a vintage Christian Dior Saddle Bag that I managed to find, and I feel like such an idiot now posting it," blogger Karen Blanchard (aka @karenbritchick) told her 66,000 followers on Instagram Stories Thursday. "After seeing so many in my feed, I feel like I'm going to get a major backlash. What do I do? Do I still post it, because I love it and I love vintage and I love the vintage Saddle Bag, but what do I do?"
Related Articles 
Ever since Maria Grazia Chiuri became Dior's artistic director in 2016, she's made a play for the youths by incorporating eye-catching logos and buzzy slogans into her collections. These, along with the resurgence of the traditional Dior monogram, have helped bring a freshness and renewed relevance to the storied French house, especially when women like Bella Hadid, Kylie Jenner, Chiara Ferragni and Shiona Turini regularly incorporate both vintage and new items from the brand into their wardrobes. However, once this authenticity is taken out of the equation, the marketing strategy may turn sour. 
"I think it's a bad idea," says Taylor Lorenz, a staff writer The Atlantic who frequently covers influencer marketing. "What they've done is completely saturated the market and the bag is going to have a shorter shelf life because of it. You don't want to see the same thing on your feed every two seconds; that's why people are constantly moving on from one thing to the next. If you send [an item] to that many influencers — many with overlapping fan bases — it's going to be too much. I personally think that will backfire." 
Though consumers today are acutely aware of gifting and freebies — even when posts are not accompanied by a proper FTC disclosure — they often don't care. However, when a fashion house makes too coordinated of an effort, sending out product to tons of people in one big push that's not necessarily strategic, it can come off as cheesy — or worse, desperate. Over the weekend in China, Hong Kong-based influencer Elle Lee was mocked by her followers for her contribution to the Saddle Bag relaunch campaign, as her content made the piece look "cheap" and tacky. (According to Jing Daily, the item retails for between $2,650 and $6,000 in China.) When shoppers are looking to make a high-end purchase, this can be the kiss of death. 
Lorenz points out that, in the case of luxury brands like Dior, the main objective is striking a balance between an air of exclusivity and accessibility. If a heavy digital marketing push is centered around a trendy piece that can quickly become a cliché, it runs the risk of getting tired very quickly. But if it's a classic, coveted item that people still can't get access to — or if a label only produces a limited quantity of product that can't easily be purchased in-store or online — people will still want it. "You need to be somewhat aspirational — that's what makes people overpay for certain items," she explains. 
"Whenever you're doing influencer marketing at-scale as a luxury brand, you're risking alienating a lot of your core consumers," adds Dina Fierro, digital marketer and consultant with over 15 years of experience in the fashion industry. "People who are buying high-value products from the house of Dior, I think they could see this kind of marketing and be repelled by it — especially repelled by the [specific] product."
Fashion brands, particularly legacy houses such as Dior, have been notably late to the game in terms of embracing digital and coming up with innovative influencer marketing methods, which is why their efforts can feel in-your-face and inorganic. 
"There's a different level of sophistication around influencer marketing by market and by region of the world. When we look at Europe versus the U.S. in particular, the U.S. is a very mature market as it relates to influencer marketing, and most of the brands who are based in the U.S. have worked out a lot of this nuance and understand what's going to feel authentic in-feed," says Fierro. "In order for influencer marketing to be effective, you want it to feel authentic — as opposed to feeling like a carefully orchestrated and meticulously timed campaign." 
Though the Saddle Bag relaunch was clearly well-planned and highly visible, Fierro notes that the lack of both disclosures and diversity in the campaign were striking, making it feel very one-note and irrelevant from a marketer's perspective. Plus, the inclusion of mainly international megainfluencers (as opposed to niche microinfluencers) can have mixed results. "A lot of fashion influencers look the same, dress the same, all will have the same bag at the 'right' time, and while there is something about wanting to fit in with those people, a lot of more influential influencers are overlooked," says Lorenz.
While the most discerning luxury shoppers might see this sort of major Instagram "moment" as a turn off, the next generation of fashion enthusiasts who are discovering logos for the first time highly value this sort of visibility on Instagram. Another prime example of a legacy house going nostalgia-wild lately is Fendi, which has reintroduced its classic double-F Zucca print in recent runway collections, making vintage versions highly covetable. In addition, the biggest influencers of them all — Kendall Jenner, the Hadid sisters and, most recently, Kim Kardashian West — have starred in ad campaigns for the Italian brand, bringing Fendi back into both the industry and pop culture conversations in a way they haven't been for quite some time. 
"For the younger consumer, [these campaigns are] driving desire for Dior or Fendi as a place to go for that gateway luxury purchase," Fierro says. "You have the opportunity to reach a new wave of consumers — presumably a younger wave of consumers that didn't necessarily have awareness of the Saddle Bag the first go-round."  
As fashion and beauty brands continue to struggle with creative ways to keep themselves relevant, the attention Dior's drummed up about the Saddle Bag will likely prove to be a win for the French house in the long run — although this particular product could turn out to be a flash in the pan. "There's a very short window between when something seems trendy and cool and when it's completely played-out," Lorenz says. "There's always some fashion item, jewelry item or 'look' on Instagram that every influencer gets, it's really hot and then you're kind of like, 'Okay, I'm bored, I've seen this one million times.'"
Want the latest fashion industry news first? Sign up for our daily newsletter.