Everyone Had the Best Time at the 'Mamma Mia! Here We Go Again' Premiere
The red (er, blue) carpet was like a giant party, and all your faves dressed for the occasion.
Yes folks, there's another "Mamma Mia!" movie happening — and yes, it's confusing that it's a prequel/sequel and that Cher plays Meryl Streep's mother, despite their three-year age difference IRL. But ignore all of that for a moment and instead, take some time to appreciate just how much fun everyone involved with the film (full title: "Mamma Mia! Here We Go Again") seems to be having. 
On Monday evening, its cast members — including Lily James, Amanda Seyfried, Cher, Streep, Christine Baranski, Pierce Brosnan and Colin Firth — and some famous non-cast members — such as Tom Hanks and Rita Wilson — showed up to celebrate on the red (er, blue) carpet, and all of them treated the occasion like the most happening party they'd ever been to. Attendees were all smiles (see James above) and PDA (see Cher and Streep below), and honestly, it was just the best.
What's more, all your faves dressed in delightful ensembles to match all those good vibes. James, the film's star, chose a voluminous, pale-blue gown (vaguely reminiscent of the one she wore for her famous role as Cinderella in the 2015 film) for the premiere in her home country. Streep also chose something from the same color family, though she went for a deeper, jewel-toned royal blue Marni dress, which she belted and accessorized with a clutch and a pair of very chill sunglasses. Cher and Seyfried were a bit more subdued, both wearing head-to-toe black, though they each brought a bit of lightheartedness to their looks with embellishments like lace and embroidery, respectively. 
It looked like one hell of a party; just looking at the photos is pratically enough to get the chorus of the musical's earworm-y song good and stuck in your head for the rest of the day, so you're welcome for that.
In the gallery below, see the stand-out looks from the event.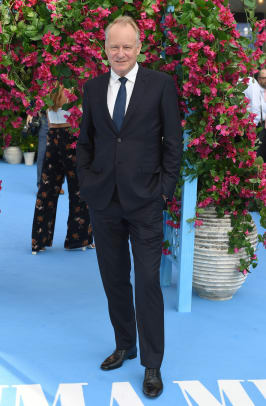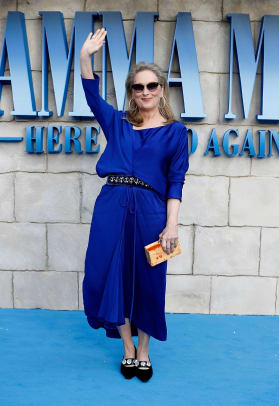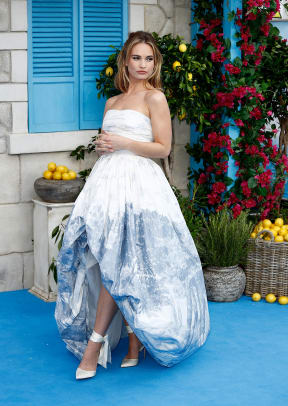 Never miss the latest fashion industry news. Sign up for the Fashionista daily newsletter.