Meghan Markle Wore A(nother) Thing: Emilia Wickstead Dress Edition
It's a somewhat controversial choice.
Ever since announcing her engagement to Prince Harry, the world's eyes have been fixed on Meghan Markle — and her style. We'll be following the Meghan Markle Effect™ with our column, "Meghan Markle Wore a Thing."
Meghan Markle, Duchess of Sussex, has worn a lot of things lately. But on Tuesday, she may have set a personal wearing-things record: After spending the morning in a black Dior boatneck dress at the RAF100 Service and then changing into Givenchy separates (while keeping her tidy hairstyle intact) to head to Ireland, she donned a third ensemble — a belted black Emilia Wickstead dress — for a garden party at the British Ambassador's residence at Glencaim House in Dublin.
The Duchess accessorized the sleeveless, square-neck LBD with Aquazzura shoes and Birks earrings, according to the all-knowing @MeghansMirror. She also changed up her beauty look for her third public appearance of the day, letting her hair down into soft, vintage-y waves with a deep side part.
The Duchess looked nothing short of lovely, but it's also worth noting that this dress is a somewhat controversial choice for her. Following the royal wedding, Wickstead was reportedly outspoken about what she perceived as similarities between the Duchess's Givenchy gown and her own designs (though she later issued a statement declaring otherwise). We guess this means there are no hard feelings.
See more things the Duchess of Sussex has worn in the gallery below: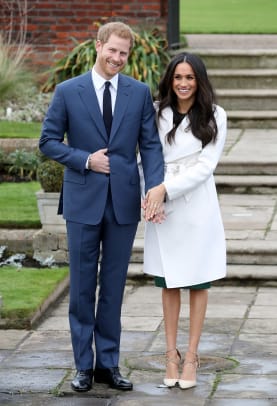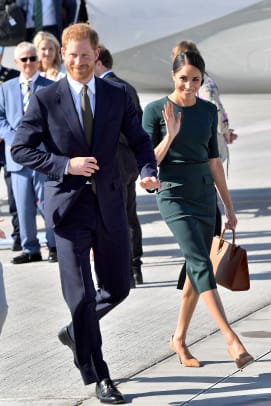 Want the latest fashion industry news first? Sign up for our daily newsletter.