Meghan Markle Wore a Thing: Givenchy Skirt and Top Edition
The Duke and Duchess just touched down in Dublin wearing forest green.
Ever since announcing her engagement to Prince Harry, the world's eyes have been fixed on Meghan Markle — and her style. We'll be following the Meghan Markle Effect™ with our column, "Meghan Markle Wore a Thing."
Keeping up with the Kardashians is a part-time gig, but keeping up with the Duke and Duchess of Sussex is a full-time job: Since being spotted at Westminster Abbey earlier in the day on Tuesday, they have already changed outfits and countries within a matter of hours. Some of us are still enjoying our first cup of coffee, while Meghan Markle has mingled with dignitaries in Dior and then flew on a private jet to Dublin where she emerged in a forest green Givenchy blouse-and-skirt combo. 
In the last 24 hours, Markle ventured outside of her sartorial comfort zone and picked elegant ensembles made by Dior and Ralph Lauren. But her risk-taking streak could only last so long: we knew the royal would eventually settle back in her Givenchy ways. This particular getup by the label consisted of a patch pocket pencil skirt in a rich green color and a matching short sleeve blouse. She teamed the skirt and top with tan suede pointed-toe pumps and a roasted almond-colored  Strathberry Midi Tote. 
The jet-setting Markle kept the same slicked-back nape bun from earlier in the day but ditched the fascinator, perhaps to create a more "common" look. The Duke also wore a green tie, which made the royal duo appear ready for a (refined) St. Patrick's Day party. 
The Duke and Duchess will spend the next two days in Ireland, where they will begin by visiting Leo Varadkar on Merrion Street at the Department of the Taoiseach. Later on, they will attend a summer garden party at the British Ambassdor's headquarters, meaning Markle will continue to wear many more things.  
See more things the Duchess of Sussex has worn in the gallery below: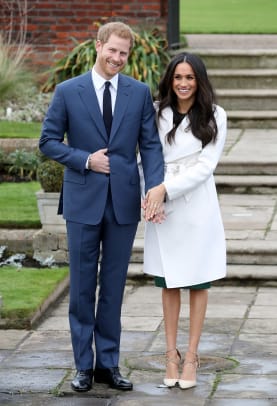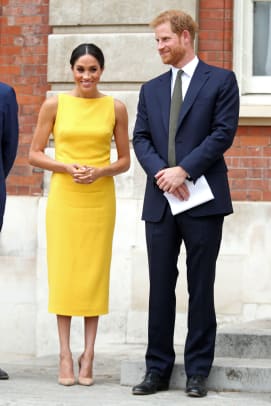 Stay current on the latest trends, news and people shaping the fashion industry. Sign up for our daily newsletter.