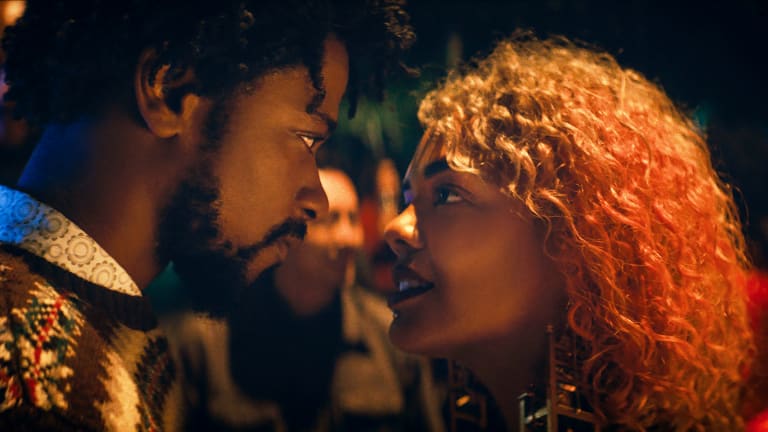 How Costumes Help Deliver the Powerful Social Commentary in 'Sorry to Bother You'
Especially with Tessa Thompson's (literally) statement-making fashion by costume designer Deirdra Govan.
Warning: Very mild spoilers below.
"This movie is about black and brown people — a multicultural mélange of all of us," says Deirdra Govan, costume designer for "Sorry to Bother You," the buzzy new film written and directed by rapper Boots Riley. 
Set in an alternative version of Oakland, Calif., the Sundance darling packs a plethora of thought-provoking social commentary into a fast-paced satirical comedy. "Sorry to Bother You" takes on race and identity, labor, incarceration and capitalism, eventually crashing into a bonkers almost-sci-fi climactic point. Govan's costumes, which are (to borrow her words) a mélange of vivid prints, plaids, stripes and paisleys that jump off the screen, textures you can practically feel and evocative color palettes that help bring the story and compelling themes to life.
"I'm not afraid of color and I'm not afraid of pattern," she tells me over the phone, while on lunch break from her latest project (more on that later). "I am a fan of mixing and matching, but really understanding how colors, textures and patterns work." 
Working off of Riley's wildly inventive script that gave her generous creative license, Govan also researched both historical and current events to design a visual for each of the characters — hence references like Black Lives Matter T-shirts for protest scenes and inspirations spanning different decades. 
"Because these characters are so rich, each one has their own individual style and they all have a signature mark," Govan says. "It was trying to find what each character's signature mark would be and how it could be very resonate and supportive of their character." 
Living in his uncle's garage, Cassius "Cash" Green (Lakeith Stanfield) lands a job as a telemarketer at a RegalView, a floor full of sad-face office drones, including best friend Salvador (Jermaine Fowler) and unionizer Squeeze (Steven Yeun), all wearing their uniforms of muted earth-tones. Starting his entry-level role, Cassius has a wardrobe of short-sleeve button-downs layered under a striped knit vest or Fair Isle sweater, maybe accessorized with a vintage-looking tie, which he probably borrowed from and never returned to his dad. "It's almost like his mother still might have dressed him," says Govan.
After using his "white voice," at the suggestion of cubical mate Langston (Danny Glover, in a "black cowboy" aesthetic of plaid Western shirts and bolos), Cash advances to the seductively aspirational "Power Caller" floor, headed up by Etro-suit, eye-patch and bowler hat-wearing Mr. Blank (Omari Hardwick). His "dad knits" evolve into a tweedy brown and pink plaid skinny suit and sleeker power suiting, expressing a flashier "new money" vibe to match the "hi-def" and saturated jewel tones of the Power Caller floor denizens, which are in stark contrast to the neutrals downstairs.
"He's trying to emulate Mr. Blank," explains Govan. "But his interpretation of emulating what he should look like is still a little bit like, 'Oh that suit looks like it's from the '80s or the '70s and it looks a little dated,' but it's still put together and it still works. It still could transition to 'Oh, okay. That's a little cool.'"
The Power Caller group's biggest client is WorryFree, which essentially solicits people to volunteer themselves for incarceration and indentured labor. The company is headed up by the coked-up, unhinged tech guru Steve Lift (Armie Hammer), with a colonizer-on-safari wardrobe full of linen scarves, deep-plunge T-shirts, mandals, equestrian gear and lots of jewelry. "It was a mixture of Steve Jobs for the greater good and then Julian Assange for the not so great," says Govan, about her character brainstorms with Hammer. But the WorryFree CEO's penchant for wearing sarongs and caftans goes beyond a desire for comfort.
"His look is essentially is one of entitlement," she continues. "Not only because he's a caucasian male and he's wealthy, but he's fitting the bill of cultural appropriation. He's borrowing from this culture and and he's borrowing from that culture simply because he can." 
RELATED ARTICLES
Socially conscious artist, activist and Cash's love interest Detroit (Tessa Thompson) expresses her convictions and her profession via her fashion. A through-line in the movie, Detroit's literal statement earrings, which are inspired by the '80s bamboo door-knockers, display sentiments, like: "Murder, Murder Murder/Kill, Kill, Kill," "Wildly Original" and "Tell Homeland Security/We are the Bomb." To bring Riley's scripted phrases to the screen, Govan found Oakland-based artist and children's book writer/illustrator J.Otto Seibold to create the striking bubble font which was then laser-cut into acrylic by a local artisan. 
Watch very carefully to catch additional social commentary art-pieces in the form of jewelry on Detroit, like a gold-painted man in an electric chair and a set of pink sparkly penises. "That was also an endeavor," says Govan, who spent two hours painstakingly applying glitter and earring hooks to male genitalia-shaped candles sourced from a bachelorette party supply store.
Detroit also wears her work on her back with her artfully graffitied and paint-splattered leather moto-jacket, an oversized denim set (below) and vintage men's coveralls — tailored to fit her, of course. "She doesn't need a business card. She is wearing her business card," says Govan. Crunched for time (and bandwidth) in creating upwards of 100 costumes for the film, the designer took Riley's suggestion and asked Oakland art cooperative Omiiroo, which already provided sculptures for a gallery scene, to help paint Detroit's costumes.
"It was a very critical part," says Govan, also a multidisciplinary designer whose work is exhibited at the Equal Justice Initiative's The Legacy Museum: From Enslavement to Mass Incarceration in Montgomery, Alabama. "She's a real painter. She's a real artist. She would paint on her clothes. She would take oil sticks ad color on her jackets."
Govan also conceptualized and designed a bikini fashioned out of three black gloves for Detroit to wear during a performance art scene. Again, Riley gave her creative license to create a look that was impactful for the moment (and not exploitative) for Thompson to wear. "It's a statement of 'I'm going to put on this glove-hand bikini because my body is mine,'" explains Govan, about the look and the strategically-placed third glove giving the middle finger. She and her team only had 48 hours to develop and produce the costume. The expedited process featured experimentation with fishnet stockings and a range of gloves, from latex to dishwashing, before Govan found the perfect leather ones at an army surplus store in Oakland.
Speaking of, the costume designer also made a point to shop locally in the East Bay's largest city to outfit the alterna-Oakland-set cast of "Sorry to Bother You." She and her team pounded the pavement; they meticulously searched through vintage stores, "dumpster dived" through thrift shops and even met with local collectors for that one perfect, story-telling piece. "It's really understanding how to leverage your resources," Govan says. "That's what this movie was about in terms of fashioning the looks for these characters because I definitely sourced every nook and cranny in Oakland that I could because I wanted it to be of Oakland."
Now Govan is across the country on the Brooklyn set of another socially and politically relevant movie, "The Sun is Also a Star," which stars one of the most socially conscious actresses in the business, Yara Shahidi. Based on Nicola Yoon's bestselling YA love story, the upcoming film centers around Natasha Kingsley (Shahidi), an undocumented immigrant, who falls in love with Daniel Bae, a Korean American aspiring poet, played by "Riverdale"'s dreamy new Reggie, Charles Melton.
"This project is really, really special and timely — especially with what we're going through right now in this country," say Govan. While she modestly says that the costumes in the upcoming movie have more of a "day to day clothing" aesthetic, the star of the movie is Shahidi, who also leads TV's most fashionable series sand regularly blows our minds on the red carpet.
"There are a few exciting surprises that I'm creating for Yara's character," Govan hints. Watch this space. We will be.
Follow Deirdra Govan on Instagram @thereeldesign. "Sorry to Bother You" opens in theaters on Friday, July 6. 
Top photo: Annapurna Pictures
Never miss the latest fashion industry news. Sign up for the Fashionista daily newsletter.