Valentino's Stunning Fall 2018 Couture Collection Brought the House's Founder to Tears
Immensely talented designer Pierpaolo Piccioli closed out couture week with a show that won't soon be forgotten.
Anyone who works in or studies fashion will tell you that, once in a blue moon, a runway show happens that is so sublime, inspired and flawlessly executed that it'll be talked about (and used as a point of comparison) for years to come. This rare phenomenon occurred on Wednesday in Paris, when designer Pierpaolo Piccioli presented his Fall 2018 Haute Couture collection for Valentino, which, according to accounts from the likes of Sally Singer and Laura Brown, left the house's founder Valentino Garavani in tears. (The rest of the guests gave Piccioli an enthusiastic standing ovation.)
The 63-look range was a stunning display of color-mixing, gravity-defying construction and proportion play, patchwork, embroidery and texture. Drawing inspiration from a myriad of sources that included Ziggy Stardust, Greek mythology and Baroque art, the Italian designer's ornate creations looked straight out of a dream. Whether it was an emerald green sequined cape worn over a simple silk blouse and tailored trousers, a ruffled red dress that seemed to spiral around the model's body, an airy feathered gown in which Kaia Gerber floated down the runway like a cloud, or the voluminous, marigold taffeta finale number, each piece is worthy of a closer look — maybe several. 
Piccioli proved long ago that he has mastered the magic of couture, and while these particular pieces might be too intricate (or daring) for typical customers or red carpet clients, it's not far-fetched to think they'll one day be on display in someplace like the Met. 
See every look from the Fall 2018 Valentino Couture collection in the gallery below.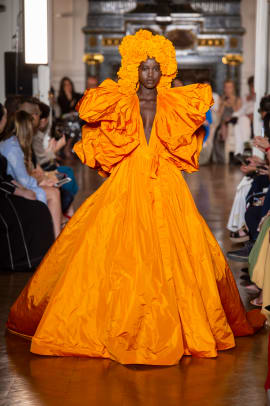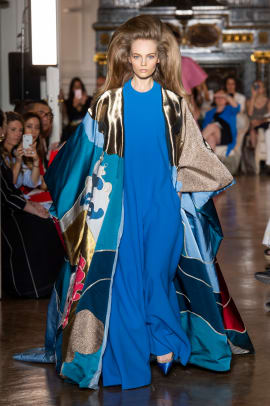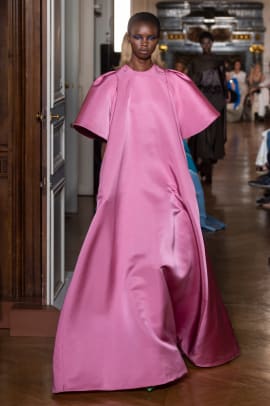 Want the latest fashion industry news first? Sign up for our daily newsletter.