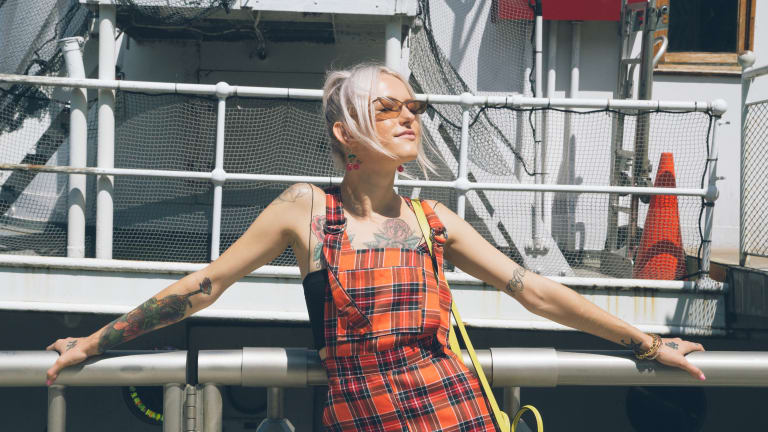 How I Shop: Bria Vinaite
"I love when you put on an outfit and you feel like the best, most confident version of yourself — you can sort of face anything and feel really good about it."
We all buy clothes, but no two people shop the same. It can be a social experience, and a deeply personal one; at times, it can be impulsive and entertaining, at others, purpose-driven, a chore. Where do you shop? When do you shop? How do you decide what you need, how much to spend and what's "you"? These are some of the questions we're putting to prominent figures in our column "How I Shop."
More often than not, the internet can feel like a dark pit of despair, with the flawlessly filtered, frequently sponsored outfit posts that flood social media each day only sending you deeper into the spiral. Fortunately for humanity, certain people online act as rays of digital sunshine, sharing wholesome memes, candid dance videos, millennial-friendly inspirational quotes and funky looks of the day, making for a must-follow — and an accessible friend for those in need of a smile. 
Actress Bria Vinaite is one of those people. Though you may recognize her from her breakout role in Sean Baker's magical 2017 film "The Florida Project," chances are you've come across her on Instagram, where her account @chronicflowers — yes, that's a weed reference — boasts over 113,000 followers. Based in Brooklyn, the happy-go-lucky 25-year-old spontaneously chronicles her day-to-day adventures with friends, most of which involve bold apparel and accessories choices. 
With her colorful tattoos and equally bright hair — which has been dyed nearly every shade of the rainbow — as well as her cheery, confident approach to getting dressed, it was inevitable that she would catch the industry's attention. She attended this year's CFDA Awards as Sies Marjan designer Sander Lak's date (he won the Swarovski Award for Emerging Talent); starred in a Gap campaign alongside SZA, Awkwafina and Metro Boomin; was invited to sit front row at a Gucci show in Milan and has become a very popular guest at fashion parties. The latter is quite fortunate, as she's just as fun IRL as she is online, guaranteeing that anywhere she shows up won't be a stuffy snooze-fest. 
Ahead of fashion month, where Vinaite will certainly make an appearance or two, she invited us down to her favorite pier on the west side of Manhattan to hang, talk shopping, and take some photos. Unfortunately, no blunts were passed (next time!), but we left her feeling high on life, as she's truly a breath of fresh air. 
"I definitely liked fashion as a kid, but it wasn't until I was a teenager that I felt comfortable dressing how I wanted to dress. Some of the things I wanted to wear were a little crazy, so I had to reach a certain age where it was appropriate before I could start exploring all the sorts of things I wanted to wear.
I shopped pretty much everywhere, but consignment stores were always my thing. Growing up in New York, that's a very lovely sort of thing that we have. I think the first one I really went to a lot was Tokio 7, and just being able to look through designer pieces and find like that one crazy dress. Even Beacon's Closet with low change, all that. I would save for purses and shoes, and not spend as much on my clothes. That sort of shifted as I grew older, as well. 
When I was younger I ruined so many clothes — so many dresses trying to make them shorter, but made them too short. I had a sewing machine for so long and would always make things tighter or shorter. I really liked more form-fitting clothes, but now I'm more about loose and comfortable. [Back then] I wouldn't mind buying pieces a few sizes up because I knew I could always tailor them to my body.
As I grew up, I think individuality became more important as I started dressing. The absolute worst thing is showing up somewhere and someone's wearing the fucking same outfit. And that's happened to me like twice in my life! I just never want that to be a situation ever again.
For my 18th birthday, I saved and I bought myself my first Louis Vuitton bag, and I was so excited. It was such a moment. That was my first big purchase. And then, shoes-wise, it was a pair of Louis Vuittons that I ended up never wearing, because I was delusional, and I bought some crazy stilettos that felt like they were going to snap my ankles every time I put them on. I literally bought them and wore them, like, three times, and then I sold them. [With clothes], you have more of them, so it's not something I think super hard about, but if you're investing the money to buy an expensive bag or an expensive shoe, I will think about it for months before I buy it. The way I go about it is, I try to calculate how much it would cost me to wear it each time for X amount of times — then it's like, 'Is it worth it? Would I pay that?'
I love bracelets and earrings. I really enjoy mixing fun stuff with more serious stuff. I always wear, like, little cherry earrings, or I'll put on a really cute bracelet to make [a look] not as serious. Most of my fun jewelry is from ASOS. The only fine jewelry I really have is Tiffany. It's such an iconic brand, and it makes me feel so classy and so good every time I put it on.
I haven't properly shopped in a really long time. I think when I was younger, I used to have problems with shopping, and I'm saving for a house, so every time I want to buy something, I'm like, 'Do I want a home, or do I want a purse?' I think because of that, I have to really, really want something in order to buy it. The last thing I bought myself was a super-impulsive purchase, and I haven't done one of those since I was probably, like, 20 or 21. I was killing time waiting for my friend, and I walked into Prada and saw the fucking neon flame shoes. My brain turned off and I bought them. I walked out and I was like, 'Why did I do that?!' They don't take returns, so I was stuck with them. So I mean, I was happy about them, but I don't want to wear them until it's a special occasion.
I have a really hard time getting rid of things. I just did that maybe two months ago. There was a bunch of stuff that I got rid of, but I've been getting a lot of clothes lately, and it keeps accumulating. I don't want to throw anything out, because then I'm like, 'Who knows? Maybe I'll wear this shirt one day.' And I've had times where I've given stuff away or whatever, and then two months later I think of a shirt that was in that pile. That sort of thing keeps me holding on to everything.
The last few events that I went to I styled myself for, which has been fun, because I wanted to see if I could get myself together. I love working with stylists, but I also feel like it's really hard to be able to get a person's personal style completely right not fully knowing them. I feel like I've made enough friends in the industry — Sandy Liang, Adam Selman — who let me borrow stuff. I'm really excited that I get to meet people that really inspire me and sort of push my fashion sense a little further and make me feel really good in their clothes. I love when you put on an outfit and you feel like the best, most confident version of yourself, and you can just sort of face anything and feel really good about it.
I feel like some of the riskiest outfits I've worn ended up being the most well-received, and that's always interesting to me. I went to accept an award at the Toronto Film Critic Awards last year, and I worked a full Discount Universe look. The whole outfit was see-through with all these rhinestones, then I wore this crazy coat over it that was also DU. At first I was a little bit nervous, because I was like, 'You know, this is an awards thing. Should I be wearing something so crazy?' But every single person came up to me and was so excited about my outfit — to the point where Sean Baker literally called me the next day and was like, 'I got emails that your outfit was so amazing. Everyone was so happy about it.' I remember just being nervous to wear it, and that sort of made me feel like I could wear what I'm feeling and push those boundaries, and still have people understand what I'm trying to do.
My whole thing with the 'actress' stuff that really bugs me out is how many people always say that I should 'dress like an actress.' I'm like, 'What the fuck does that mean? What does an actress dress like? I'm an actress. What are you saying?' I think that's always made me want to be like, 'No. I'm wearing what I want.' I don't feel like any sort of job or person should be thrown into a particular category to dress a certain way all the time. That's not okay. I think it's fun to explore with fashion, and I think that, if I am able to wear the things that I've always dreamed of wearing, why not? Why not have fun with it, and why not take risks? I'm 25 years old. This is the time I'm supposed to be doing that, you know? I'm just trying to live my best fashion life."
All photos by Whitney Bauck for Fashionista; Bria's hair and makeup by Glamsquad
This interview has been edited and condensed for clarity.
Stay current on the latest trends, news and people shaping the fashion industry. Sign up for our daily newsletter.