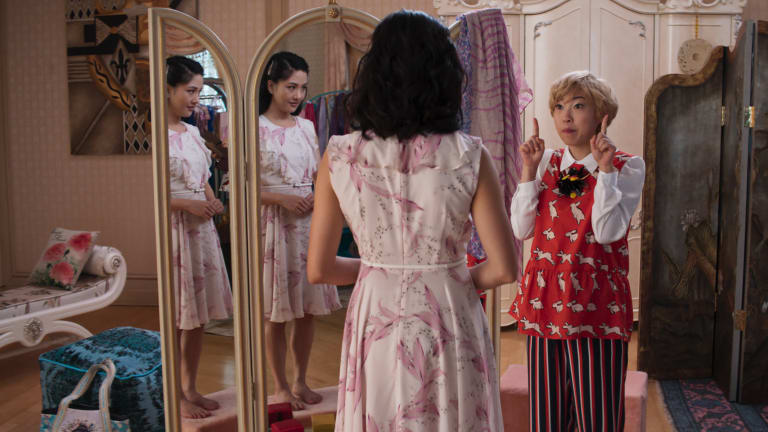 The Fabulous Costumes of 'Crazy Rich Asians' Are Stacked With Dolce & Gabbana, Valentino and Lots of Asian Designers
"You want to mix in the local culture," says costume designer Mary E. Vogt. "That was really really beautiful."
Warning: Spoilers for "Crazy Rich Asians" below.
As a Chinese American from the midwestern suburbs, I grew up obsessed with soapy, high-drama TV and movies featuring the drop dead gorgeous leads, the most glamorous wardrobes, flashy cars and champagne-filled parties. Of course, my favorites enjoyed one other commonality: a homogenous cast of people that didn't look anything like me. This went on for decades, with a sprinkling here and there — like Tia Carrere in "Wayne's World" or ... Nelly Yuki on "Gossip Girl?" — until now, that is because "Crazy Rich Asians," the first Hollywood studio movie featuring Asian-American leads in 25 years, hits theaters on Wednesday.
All of the impossibly glitzy, impeccably, if not over-the-top, dressed and expensive beverage-quaffing characters that I'd gape at on, say the original "Dynasty," "Beverly Hills, 90210" or "The O.C." are now representative of people who look like me. Yes, the crazy rich characters in Kevin Kwan's 2013 best-selling book reflect a small and very elite community of South East Asians based in Singapore, but, hey, this is my dream come true on the big screen (and the red carpet tour).
As for the posh wardrobes I've mentioned more than once, the costumes by Mary E. Vogt play an integral part in feeling like I'm part of the glittery, once out-of-reach party — and, of course, tell the story of Chinese American economics professor Rachel Chu (Constance Wu, a star) traveling to Singapore to meet her low-key wealthy and clearly dreamy boyfriend Nick Young's (Henry Golding) at times crazy and definitely filthy rich family.
For inspiration to authentically dress rarified and refined Peranakan — or Straights-born Chinese — in Nick's circle, Vogt first looked at vintage '30s photos from Kwan's family, who immigrated to Singapore from China. She also found color palette inspiration by watching Wong Kar Wai's lush 1960s Shanghai-set film, "In the Mood For Love" — one of director Jon M. Chu's favorites — "about five times."
"I tried to keep that movie in mind when I was doing clothes," Vogt says, over the phone, about the rich and saturated hues she used for the Singapore scenes, while contrasting with "black, white and grays" for Nick and Rachel back in New York. "A little bit of 'Wizard of Oz,'" she adds. "When we're in Kansas, it's sepia tones and you go to Oz, it's colorful, so when we went to Singapore we had a lot of color."
Rachel, who gets a hint of Nick's family bank accounts after being quickly whisked away to the First Class lounge upon arrival at JFK (goals), starts her fish-out-of-water arrival in Singapore in modest, professional and ultimately underwhelming fare for the occasion. Before her introduction to the dynastic Shang-Young family at Nick's grandmother's palatial estate, Tyersall Park, she's is given a quick primer on Singapore high society by college friend Peik Lin (the irrepressible Awkwafina). Rachel's new money fairy godmother also lends her a shimmering pleated Missoni dress (above) plucked from a walk-in closet the size of a New York studio apartment. While stunning on Rachel, the dress itself is much more understated as compared to Peik Lin's wardrobe full of crazy Stella McCartney animal prints, bold pajama sets and chunky, studded statement platforms from the likes of Gucci.
"It's a Peik Lin kind of dress, like Peik Lin trying to be a little bit more elegant than she normally is," says Vogt about meshing the contrasting needs and aesthetics of two differing characters into one fashion piece. "It's not as much fun as Peik Lin normally is." 
Although, Rachel, who's probably more interested in teaching game theory than retail therapy at Barneys (or Paragon, since it's Singapore), does enjoy a classic Cinderella movie moment: the outfit makeover montage. Peik Lin and Oliver T'sien (Nico Santos), Nick's cousin and Young family fixer, provide the added bonus of hilariously snarky commentary. Vogt procured around 15 dresses for the scene, featuring both choreography by Chu, who's also directed two "Step Up" movies and "Justin Bieber's Believe," and LOL improv, courtesy of Awkwafina and Santos.
"I wanted to give [Chu] a lot of dresses that had a lot of personality of their own, so he could play with them," says Vogt. Hence, a silver mesh Michael Kors that was deemed "the day disco died," a sheer embroidered dress with hands sewn onto the bodice — which, in this case, kind of writes the joke itself — from Maria Grazia Chiuri's debut collection for Dior spring 2017 and a sculptural and heavily embellished look by local designer Carven Ong, which elicited a spontaneous and unscripted "ebola virus!"
Ong, who is based in Kuala Lumpur, Malaysia, where most of the movie was filmed, also custom-built the Vogt-designed gold sequin jumpsuit and Swarovski-crystal-embellished wedding dress worn by Nick's best friend's fiancée, Araminta Lee (dancer-actress Sonoya Mizuno). "Oh great, this is how we repay him!" laughs Vogt. "We insult his dress and call it an 'ebola virus' dress. I hope he has a sense of humor about it."
Although, for Rachel, going head to head with Nick's impossibly elegant and very intimidating mother Eleanor isn't quite as carefree and lively — and the costumes help highlight the tension, with a little help from the legendary Yeoh herself. "She was very influential in how [she and Wu] would look together and how the clothes would look together," says Vogt. "She didn't want to play the part bitchy or too edgy, because she felt that her character was a strong woman, but all her motivation came from protecting her family and making sure that the son was taken care of."
For a tense moment atop the majestic stairs of Tyersall Park, Vogt dressed Rachel in an ultra-feminine floral dress by Giamba (top photo) to counter Eleanor's crisp white trousers and Diane Von Furstenberg wrap front blouse in a gorgeous emerald green — to match her ginormous ring from Yeoh's personal collection. "Eleanor looked very strong and very powerful as opposed to Rachel, who looked very soft and vulnerable, so the contrast of those two things really worked." Vogt explains. "I thought Eleanor was going to knock her down the stairs."
As for grand entrances, Astrid ("Humans" actress and model Gemma Chan, who was born for the role) makes one of the most anticipated ones at the beginning of the movie. Nick's cousin and close confidante is known as Singapore's chicest woman who's just as stunning in a $12 vintage dress as an haute couture gown to match her million dollar "Stephen Chia" (or in real life, Mouawad) earrings. "Gemma loved Audrey Hepburn. Who doesn't?" asks Vogt, about Astrid's soft rose pink and cowl neck dress and matching oversize sunglasses look by Dior — perfect for diamond shopping. 
"It was very architectural looking dress, so it was soft and strong at the same time," she adds. "Plus, you can't go wrong with a great big pair of fabulous sunglasses." (Side note: for very accurate wardrobe credits, check out "Crazy Rich Asians" fashion stan account @crazyrichasianswardrobe.)
While the movie is packed with high-end Western designers — according to The Hollywood Reporter, Ralph Lauren sent 30 dresses while Marchesa lent Rachel's floral-embellished gown worn to Araminta's wedding — the director and Vogt also focused on celebrating local Asian fashion. Vogt credits two of her assistants from Kuala Lumpur, who tapped their regional knowledge, design school alumni and fashion connections to find homegrown talent including Malaysia's Ong and Dubai-based Pinoy couture designer Michael Cinco, who designed the yellow gown Princess Intan (Kris Aquino) wears to the wedding. Hong Kong jewelry designer Michelle Ong lent pieces from her line, Carnet, and Shanghai's Shiatzy Chen created the regal gold embroidered shawl worn by Nick's grandmother Su Yi (Asian cinematic treasure Lisa Lu) to the dumpling wrapping gathering.
Vogt also recruited the local historical Peranakan Association members to wear their own impressive and culturally significant formal-wear as the most glamorous extras on earth for the spectacular wedding reception scene. "We didn't want everyone to look [as if we] could have shot this anywhere," Vogt says. "Even though the people in Singapore wear a lot of high-end Western clothing, you want to mix in the local culture. That was really really beautiful."
RELATED ARTICLES
To help outfit the hunky men of "Crazy Rich Asians" in made-to-measure movie star suiting, Vogt commissioned local bespoke tailors, including Kuala Lumpur's Wardrobe and Lord's 1974, which custom-designed Nick's "daaaang, it's the Asian Bachelor" white linen suit. Singapore-based Aston Blake made delightfully douchey Bernard Tai's (Jimmy O. Yang) scene-stealing jacquard groomsman jacket (above). Vogt mixed in posh European labels as well, including a blink and you (won't want to) miss it brown sequin Prada suit worn by Ken Jeong (as Versace-loving Peik Lin's dad Wye Mun Goh) at the end of the movie and loads of Dolce & Gabbana, especially for Nick.
"Dolce & Gabbana makes really beautiful men's suits, if you've got the body for them," says Vogt — and we know that the leading men of "Crazy Rich Asians" do. Because, ironically for a costume story, some of the best representation via wardrobe in this movie involves minimum amounts of clothing — if any at all.
Top photo: Sanja Bucko
Never miss the latest fashion industry news. Sign up for the Fashionista daily newsletter.